Lost, Found & Missing Dogs & Cats
---
The County of Annapolis is proud to say we have a safe place to hold cats and dogs that have been found roaming at large from within the County or the two Towns (Annapolis Royal (dogs only) and Middleton).
The County has several arrangements with animal rescue agencies to transfer cats and dogs that have been held in our facility for over 72 hours when there has been no contact made with the owner.
Animal Control Officers are available between 8:30 a.m. and 4:30 p.m. Monday to Friday except holidays. Emergency after-hours services for fierce and dangerous or injured animals is available between 4:30 p.m. and 8:30 a.m. by calling and leaving a message at 902-532-8407; calls will be checked periodically. Messages may be left outside of regular hours regarding non-emergency matters which will be responded to the next regular working day.
Bylaw Enforcement / Animal Control Officers are not available evenings or weekends but if the situation is an emergency (a serious situation or occurrence that happens unexpectedly and demands immediate action), please call RCMP and your information will be forwarded to a Bylaw Enforcement / Animal Control Officer.

Cruelty concerns/complaints such as abandonment, neglect or abuse must be reported to the Provincial SPCA Office at 902-835-4798 or toll-free 1-888-703-7722 or email: animals@spcans.ca

If you are missing your dog or cat, our staff will help you get the word out by posting it on our website: AnnapolisCounty.ca and Facebook. We also suggest you post and check Facebook pages such as Lost Dog Network (ns.lostdognetwork.com) and Lost & Found Pets in Annapolis Valley Nova Scotia Canada.
We need your help to keep your animals safe by ensuring that you do not allow your animal to run at large.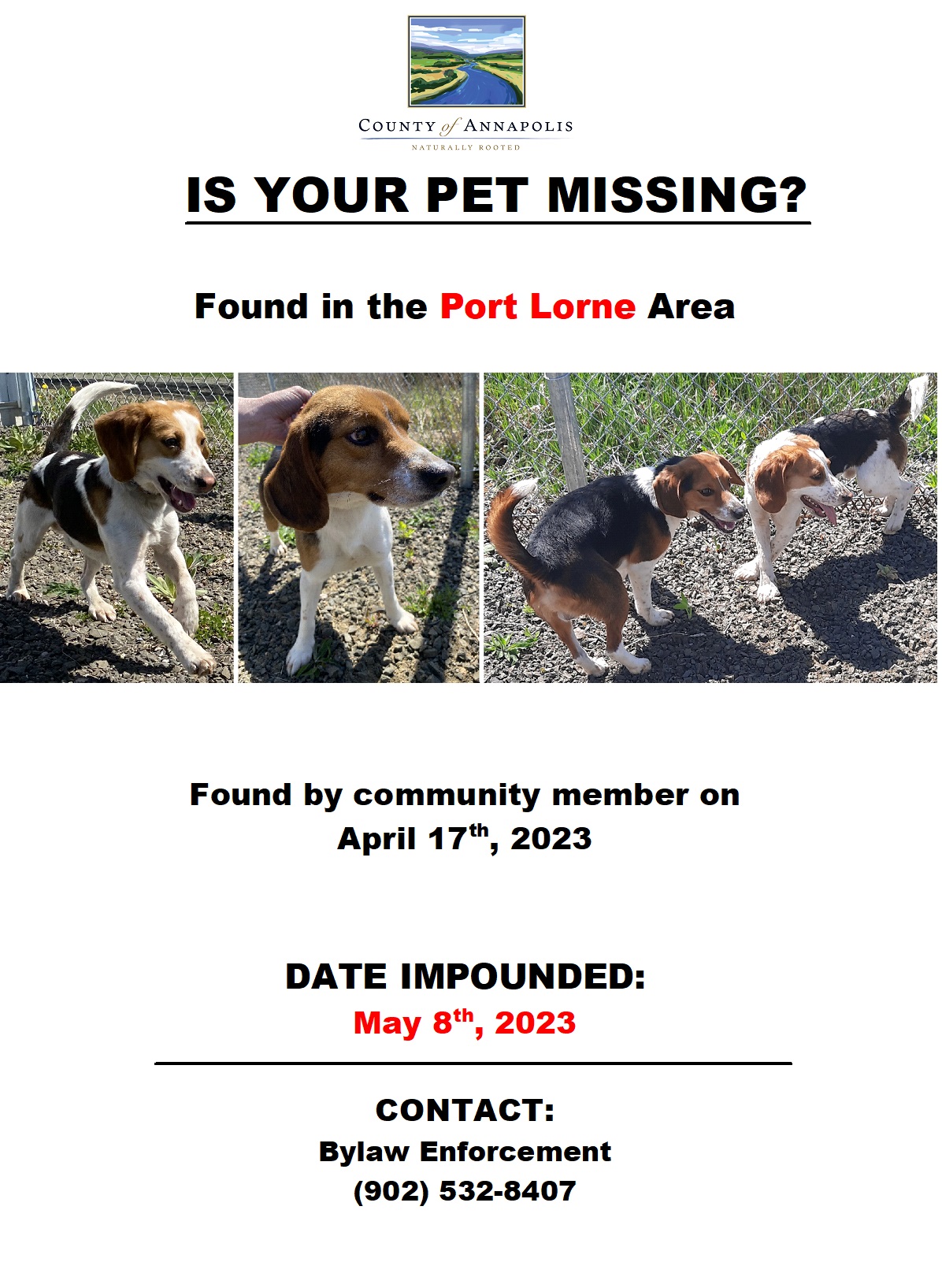 ---

DUE TO AN ISSUE WITH AVAILABILITY OF A RESCUE AGENCY, WE ARE UNABLE TO PICK UP ANY CATS UNTIL FURTHER NOTICE.