Annapolis Royal Office Open to the Public
The County Administration Office in Annapolis Royal will be open to the public commencing February 1, 2021. Other municipal sites and offices will currently remain closed to the public. Hours of service to the public will be 9:00 am to 12 noon and 1:00 pm to 4:00 pm.
Although our Annapolis Royal Office is being opened to the public, we continue to operate under the provincial state of emergency. In order to adhere to required protocols, not all municipal employees will be on site. Please consider the following before coming to our office:
Before You Come To The Office . . .
Consider the reason for your visit – Staff are available by phone and email to answer questions and arrange many services you may need. If you need to speak with a specific employee, please contact them by phone or email in advance to arrange an appointment.
Payments - Tax, sewer and water payments may be made through automated teller machines, telpay/internet banking services and pre-authorized payments plans. Cheque payments may also be left in the drop box at the Annapolis Royal Office.
COVID-19 Protocols – Please review our protocols below prior to your visit: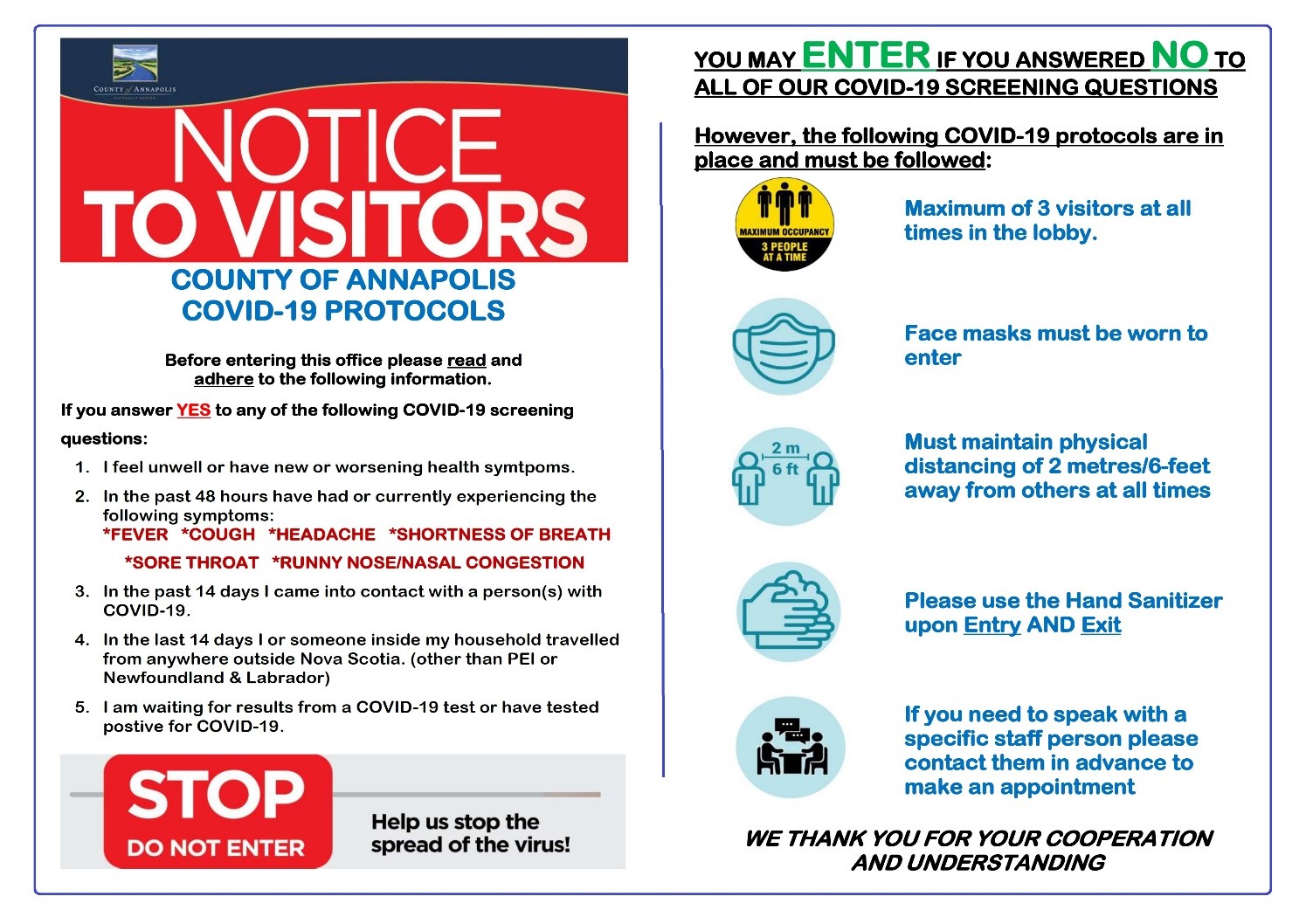 New Posts To This Site
Route 3 – Sandy Bottom Lake

Sandy Bottom Lake offers a variety of recreational experiences for the whole family. Raven Haven
Beachside Family Park is both a day and overnight recreational park owned and operated by the Municipality
of the County of Annapolis.

The park site offers camping that includes full service and unserviced tent/trailer sites, cabin rentals
and a hostel, supervised swimming, canoe, kayak and pedal boat rentals, washrooms, a canteen and picnic
facilities. Raven Haven is a member of Hosteling Canada and Hosteling International.
The park offers public access to the lake throughout the paddle season. It is open between mid June
to Labour Day weekend.

The lake, although densely populated in some areas for cottage development, has many natural and
secluded sections of shoreline that provide an opportunity for a quiet paddle. Sandy Bottom Lake is also the
connection to the Milford Lakes and Mersey River routes. During higher water, it is possible to paddle across
the lake, through Charlton Meadows, and with a few short portages, link into Lily Lake at Highway 8 and
beyond.

Many prefer to explore the lakeshore perimeter, small coves and the island in the western section of
the lake. Charlton Meadows is a highlight for many paddlers, as once you paddle across the lake and enter
the narrows, you are in the middle of the "wilderness" where turtles and waterfowl can be observed. Due to
beaver activity, the narrows are sometimes blocked, necessitating a small lift. The Meadows are definitely
worth an exploration.


Click here
for a map and more details about this route.