Flushing of Hydrants Granville Ferry
Granville Ferry hydrants will be flushed on September 22, 2021
Customers may experience some pressure fluctuations.
The water may become cloudy but is still safe to drink.
County of Annapolis offices in Annapolis Royal and Lawrencetown are open to the public.
Hours of service will be 8:30 am to 4:30 pm.
BEFORE YOU COME TO OUR OFFICE . . .
Although open to the public, we continue to operate under a Declared State of Emergency. Please take into consideration the following before coming to our office:
Consider the reason for your visit – Staff are available by phone and email to answer questions and arrange many services you may need. If you need to speak with a specific employee, please contact them by phone or email in advance to arrange an appointment. To View the Staff Directory Click Here
Payments - Tax, sewer, and water payments may be made through automated teller machines, telpay / internet banking services and pre-authorized payment plans. Cheque payments may also be left in the drop box at the Annapolis Royal Office.
COVID-19 Protocols – Please review our protocols below prior to your visit: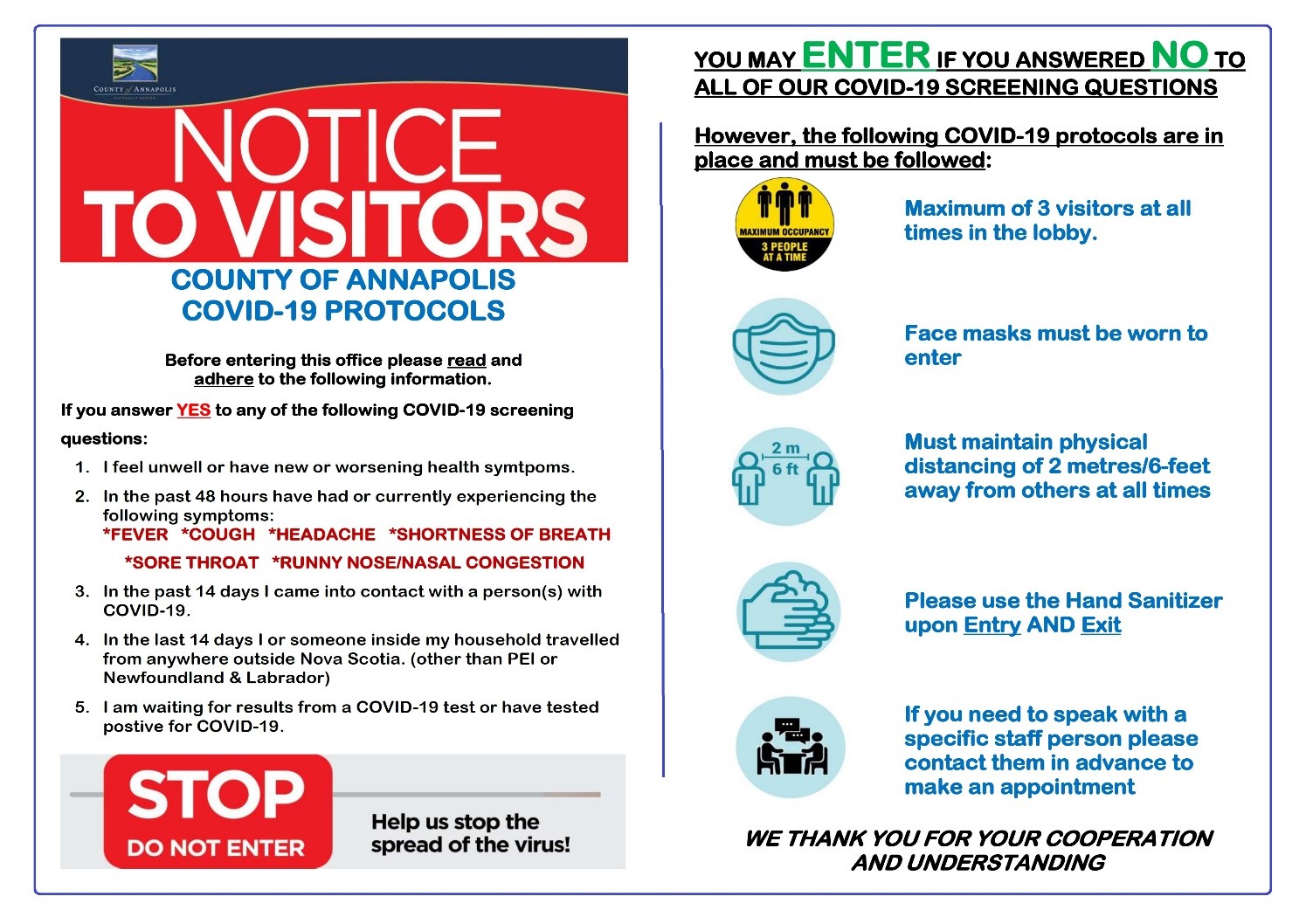 New Posts To This Site
.1

Route 1 – Lambs and Crotchet Lakes
The route consists of two lakes and a connecting stream, and is part of the Nova Scotia Power
Lequille Development. Historically, these lakes and the Ten Mile River system were the site of numerous log
drives. Evidence of this activity can still be seen in the Ten Mile River and Crotchet Lake Runs, where
obstructing rocks were dynamited and removed by hand from the channels. The Mickey Hill Provincial Park
fronts on Lambs Lake and offers a very good sand beach for swimming.
Crotchet Lake is more remote, and also offers a good sand beach and campsite on the large island.
Recent extensive logging has been carried out on the north and northeast sides of these lakes. The portages
along Crotchet Lake Runs are not well marked, but can be used with care.
Click here

for more a maps and more details of the route.