Staying Informed - click a tab to view more details
2018 Winter Snowshoeing Hiking Series
The County of Annapolis is hosting a series of free, entry-level guided hikes to help everyone enjoy some of the beautiful scenery Annapolis County has to offer! Join us in exploring Annapolis County in all its winter beauty!
Saturday, February 3rd, 6:00 pm - Postponed to Friday, March 2nd, 7pm (Due to icy conditions)
French Basin Trail (1.2 kms) - Rated Easy
(112 Prince Albert St., Annapolis Royal)
Join us as we partner with the Town of Annapolis Royal to offer this Moonlight Snowshoe Hike through the beautiful winter landscape.
Saturday, February 10th, 1:00 pm
Cornwallis Interpretative Trail (1.5 kms) - Rated Moderate
(Parking lot at top of Broadway Ave., Cornwallis Park)
Discover the wooded wonderland behind Cornwallis Park while enjoying this interpretative trail.
Saturday, February 17th, 1:00 pm
Mersey River Chalets (approx. 2 kms) - Rated Easy
(315 Mersey River Chalets Rd., Maitland Bridge)
A huge thank you to Mersey River Chalets for inviting us to explore their breath-taking winter wonderland. Come enjoy this quiet and solitary setting.
Click
HERE
to register now!
If you have any questions, please contact
Nadine
.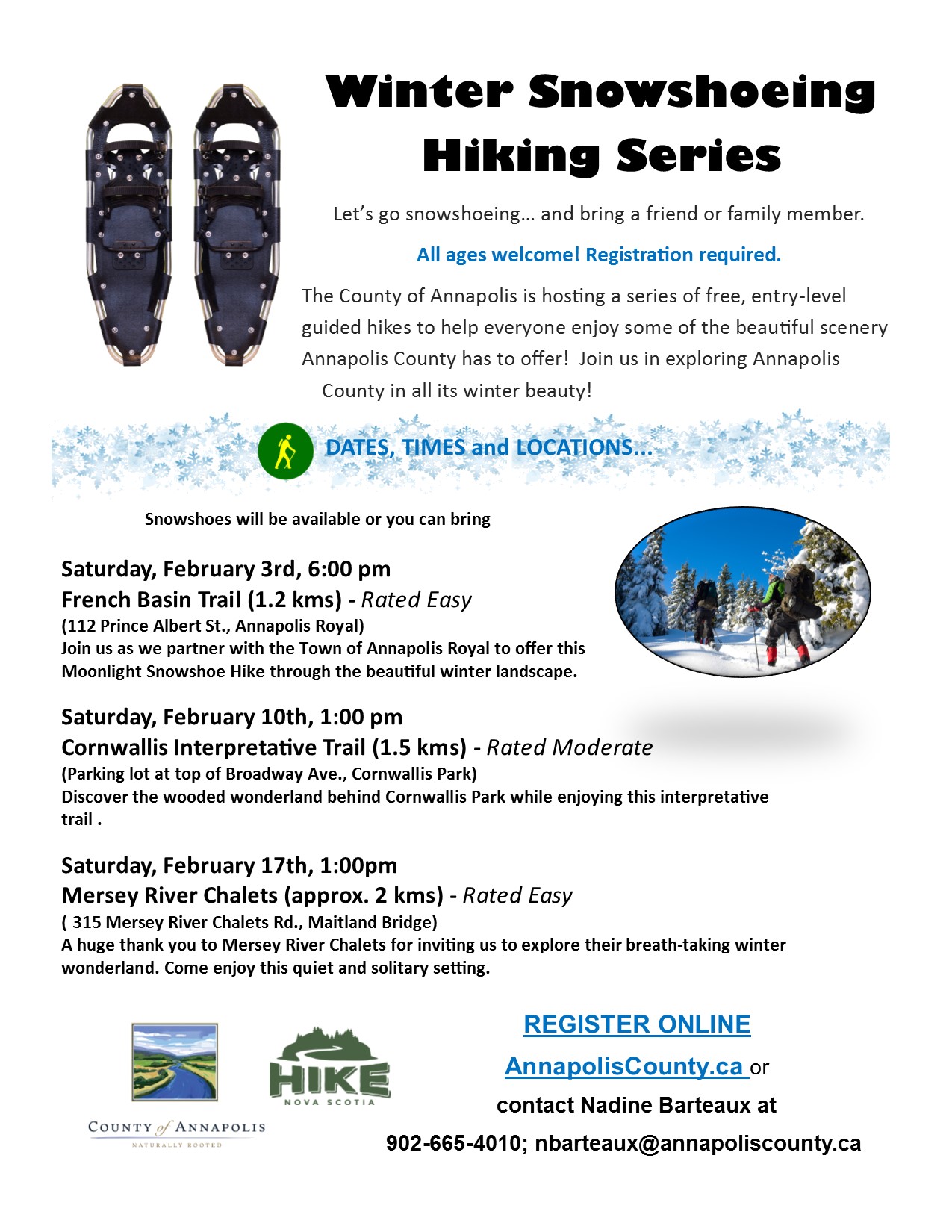 Information on this Website is provided as a public service by the Municipality of the County of Annapolis. Although we make every effort to ensure that all information is accurate and complete, we cannot guarantee that all information is current or accurate. Users should verify the information before acting on it.
The use of this Web site is subject to the following terms and conditions and constitutes the user's agreement to those terms and conditions. Information on this web site is provided by the municipality solely for the user's information and it is provided without warranty, guarantee, or responsibility of any kind, either expressed or implied. The Municipality of the County of Annapolis and its employees will not be liable for any loss or damages of any nature, direct or indirect, arising from use of the information provided on this Website or information provided at any other site that can be accessed from this site.
Links from this site to other sites are presented as a convenience to users. The Municipality of the County of Annapolis does not accept any responsibility for the content, accuracy, reliability, or currency found on external sites.