Flushing of Hydrants Granville Ferry
Granville Ferry hydrants will be flushed on September 22, 2021
Customers may experience some pressure fluctuations.
The water may become cloudy but is still safe to drink.
County of Annapolis offices in Annapolis Royal and Lawrencetown are open to the public.
Hours of service will be 8:30 am to 4:30 pm.
BEFORE YOU COME TO OUR OFFICE . . .
Although open to the public, we continue to operate under a Declared State of Emergency. Please take into consideration the following before coming to our office:
Consider the reason for your visit – Staff are available by phone and email to answer questions and arrange many services you may need. If you need to speak with a specific employee, please contact them by phone or email in advance to arrange an appointment. To View the Staff Directory Click Here
Payments - Tax, sewer, and water payments may be made through automated teller machines, telpay / internet banking services and pre-authorized payment plans. Cheque payments may also be left in the drop box at the Annapolis Royal Office.
COVID-19 Protocols – Please review our protocols below prior to your visit: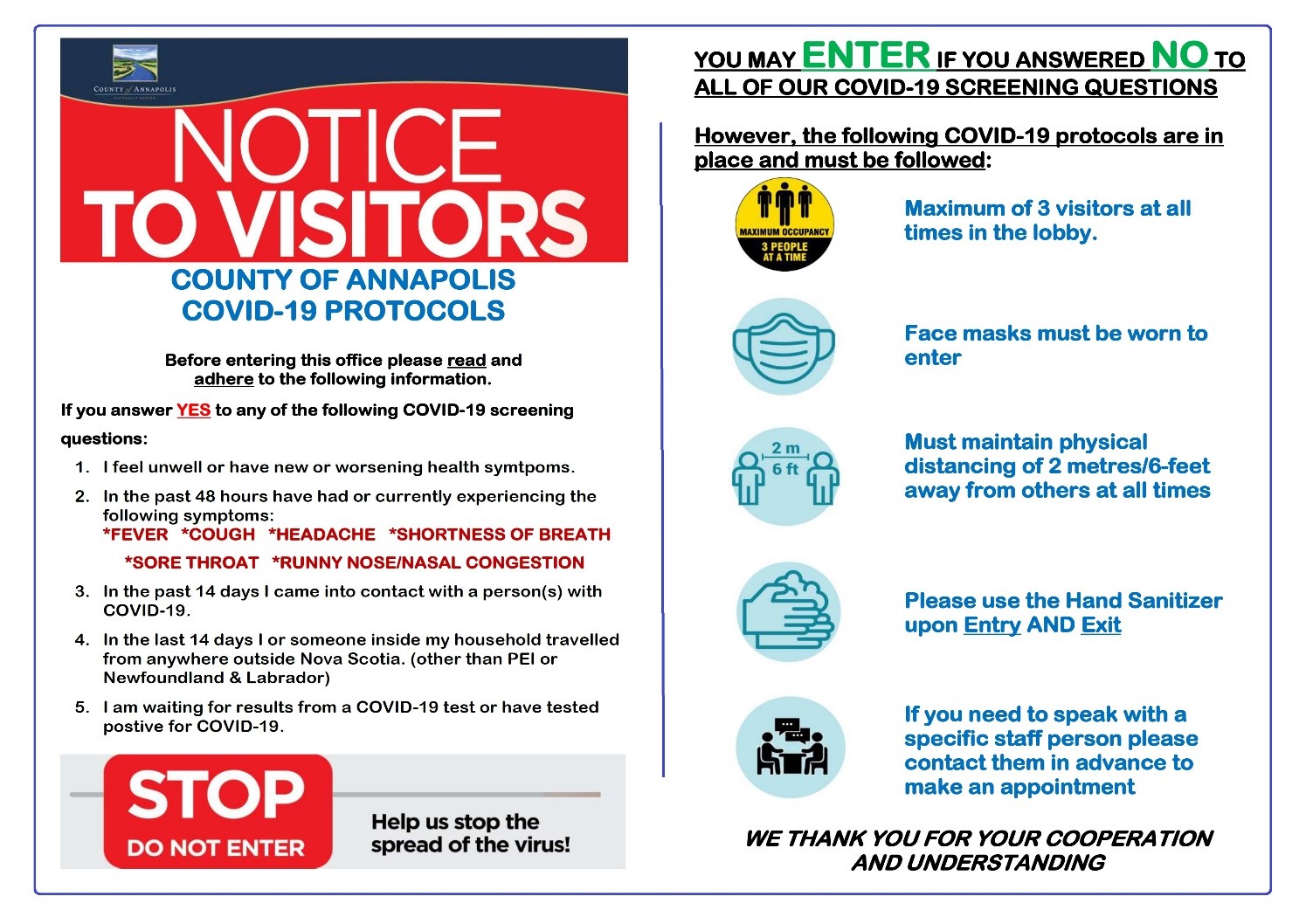 New Posts To This Site
Route 18 – Nictaux River

This route, except for a short paddle through Shannon Lake, follows the Nictaux River entirely, as it
winds its way down the north face of the South Mountain, on its way to the Annapolis Valley floor. Winding
through undeveloped woodland, it offers a genuine feeling of remoteness, and will test the paddler's moving
water skills. There are three sets of rapids on the route, and all can be bypassed via portages. The river is part
of the Nova Scotia Power Nictaux Development, and water levels will fluctuate with the demands of power
generation. It is recommended that this route be taken only during moderate to high water levels. Low water
levels do not allow enough water volumes for easy passage down the route. This route can be done in whole
(2 days) or in parts depending on what access area you chose.

Please note that the South Shore Annapolis Valley Trail is a multi-use trail. There is a waterfall located
at the eastern area of the dam. Refer to Michael Haynes' Hiking Trails of Mainland Nova Scotia for a more
detailed description. Due to water fluctuations, many prefer to paddle the canal and carry into the head pond
of the Nictaux Dam for a paddle exploration and return in one day.


Click here
for a map and more details about this route.