Flushing of Hydrants Granville Ferry
Granville Ferry hydrants will be flushed on September 22, 2021
Customers may experience some pressure fluctuations.
The water may become cloudy but is still safe to drink.
County of Annapolis offices in Annapolis Royal and Lawrencetown are open to the public.
Hours of service will be 8:30 am to 4:30 pm.
BEFORE YOU COME TO OUR OFFICE . . .
Although open to the public, we continue to operate under a Declared State of Emergency. Please take into consideration the following before coming to our office:
Consider the reason for your visit – Staff are available by phone and email to answer questions and arrange many services you may need. If you need to speak with a specific employee, please contact them by phone or email in advance to arrange an appointment. To View the Staff Directory Click Here
Payments - Tax, sewer, and water payments may be made through automated teller machines, telpay / internet banking services and pre-authorized payment plans. Cheque payments may also be left in the drop box at the Annapolis Royal Office.
COVID-19 Protocols – Please review our protocols below prior to your visit: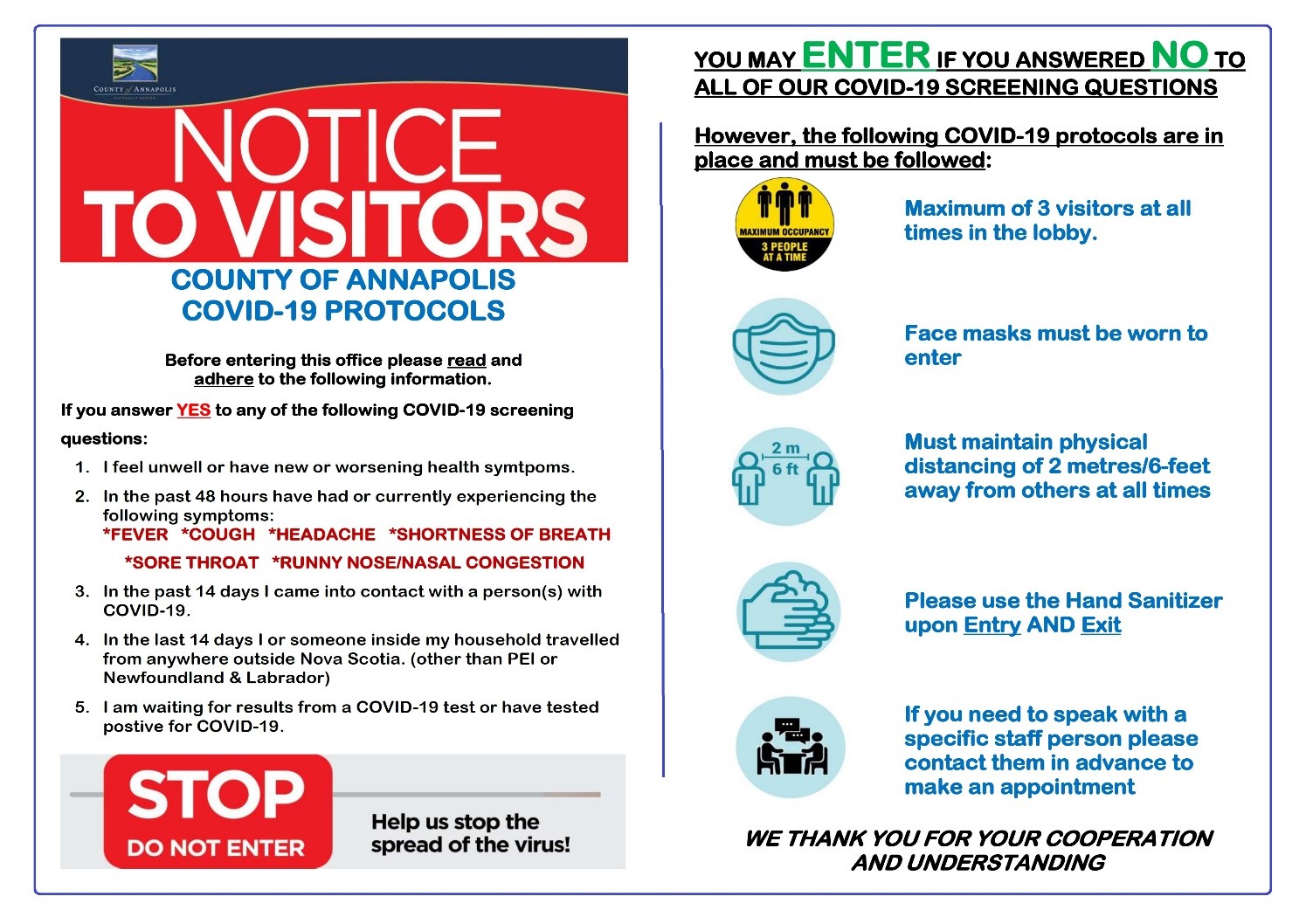 New Posts To This Site
Route 22 – West Branch Medway River
This route is NOT recommended for NOVICE or INTERMEDIATE paddlers

The route follows the West Branch of the Medway River, and the Medway River proper throughout its
entire length. Although there are a number of stillwaters along the river, the majority of the route is a series of
"drop pools" connected by rips, runs, and falls. Navigating these sections requires a high level of technical
whitewater skills and safety consciousness. Navigability is affected dramatically by water levels, and is
generally limited to spring and fall. River canoes equipped with air bags are recommended. Inspection of runs
for obstacles and reading of water prior to navigating is also recommended. The route is recommended for
EXPERT paddlers only.

The river was traditionally used for log driving, and evidence of this activity can be seen in old dams
and sluiceways, and runs cleared of rocks. These old dams and sluiceways must be approached with caution,
as many iron bolts, spikes and other hardware are imbedded in submerged timbers near them. The river flows
through the former Bowater Mersey's Medway District, now Crown lands, where logging activity may be
encountered, and the Medway Lakes Wilderness Area, where vehicle access is restricted.
The area is not developed, and offers the experienced paddler an opportunity for exciting paddling in
a remote setting.


Click here
for a map and more details about this route.