Transfer facility keeps waste moving out of Annapolis County
Father and son team help ramp up and run West Paradise garbage, recyclables, compost operation
By Lawrence Powell
For Annapolis County


WEST PARADISE, NS – Steam rises from the loader bucket as Malcolm Francis moves compost from a pile in the corner to a roll-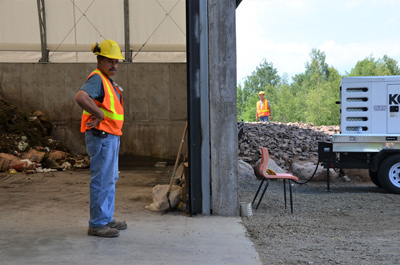 Malcolm Francis, left, stands near the grates were leachate from compost drains into a pipe. Marvin Francis is outside standing atop the large tanks that collect the liquid. They work at the West Paradise Transfer Station owned by Annapolis County. LAWRENCE POWELL PHOTOoff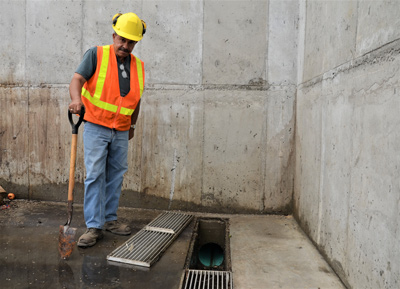 Malcolm Francis lifts up a grate where leachate from compost runs into a pipe that then goes into giant holding tanks. There is very little leachate and Malcolm expects the tanks might need to be pumped out a couple times a year. He manages the West Paradise Transfer Station that has been operating for several months now. LAWRENCE POWELL PHOTOcontainer that will be hauled away to a facility in Aylesford.

The truck driver scrapes a shovel across the smooth concrete floor to get the last bits before hauling the container back onto the vehicle. He rolls out the long black tarp to cover the load and heads east.
It takes only a few minutes to load a day's worth of compostable waste. When it's gone Malcolm points out grates in the floor where leachate from the compost drains into a pipe and out to giant 1,500-gallon tanks near the big front door. When the time comes they'll have the leachate pumped out and disposed of properly.
"The warmer the weather gets the more leachate you'll get," Malcolm said. "The compost is starting to work, as it's supposed to, which creates a lot of liquids."
He notes that the building's floor is slanted just right for those liquids to collect at the grates, and every morning any leachate still on the floor from overnight is sprayed into the pipe and the tanks.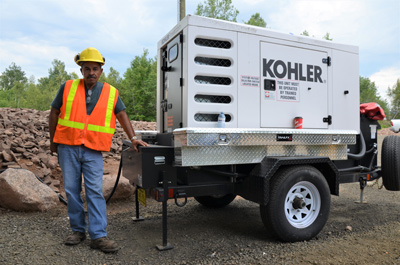 Malcolm Francis stands beside the generator that supplies power to the West Paradise Transfer Station owned by Annapolis County. Although poles are in place, Nova Scotia Power has yet to connect the facility to the electrical grid. LAWRENCE POWELL PHOTOIt's late July during a heatwave. It's 27C but the big doors are open and a breeze blows through the facility. They use a generator to provide electricity to open those doors. Power poles are in the ground, but the facility hasn't been connected to the grid by Nova Scotia Power.
EXPERIENCE
Malcolm Francis knows what he's doing. He's been in waste management going back decades. He maneuvers the loader with deft touches in tight quarters. He backs it into a corner just as another truck arrives to drop off garbage and bags of recyclables such as bottles and cans, plastics, and paper and cardboard.
This operation? Malcolm wants people to know that it's not a dump. It's a waste transfer facility where bagged garbage, recyclables, and compost are dropped off by contracted haulers, loaded into bigger trucks, and taken away. There is nothing buried on the site and nothing remains on the site for more than a day or two.
"We have a lot of confidence in the ability and experience of both Malcolm and Marvin and we wouldn't have been able to get to this point today without their expertise," said Annapolis County Warden Timothy Habinski. "We managed to get the operation up and running very efficiently in a remarkably short period of time because of their help."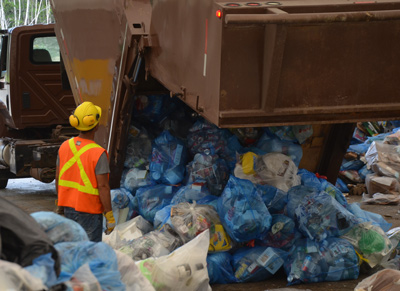 Marvin Francis watches as a truck unloads recyclables at the West Paradise Transfer Station. The facility handles bagged garbage, recyclables, and compost. Most of the waste is only in the building for a short time – sometimes only hours – before it's shipped out for proper disposal. LAWRENCE POWELL PHOTOMarvin is Malcolm's son, also with many years of waste management experience in Annapolis County.
The site was selected by the county in part because it was already in operation as a construction and debris site without any difficulty and without any complaints.
"That use was not posing any difficulty for the neighbours," said Habinski, adding there is only one home within sight line of the entrance and even that is quite a considerable distance from the facility itself.
"We took all those things into account in selection of the site," he said.
"I think it's a great building," said Malcolm. "So far we have the room to look after the materials we have coming in. They're not in here for long. They're basically in and out, sometimes in the same day. So there's nothing here very long."
NO ODOR
There's hardly any odor from the compost or the piles of bags and there's not apt to be because they won't be there for long. There's a trailer from an 18-wheeler parked across the back of the building in a sunken bay where Malcolm will dump load after load of recyclables before day's end. Paper and cardboard. The driver will be there at 6 a.m. sharp to haul it away.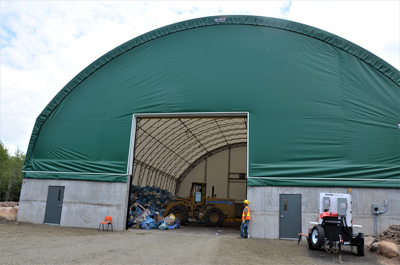 The West Paradise Transfer Station has been in operation for several months in Annapolis County. The fabric-covered building is a stop-off for garbage, recyclables, and compost before it is loaded on to larger vehicles and shipped out of county. LAWRENCE POWELL PHOTOMalcolm leaves Marvin to direct the latest truck into the drop-off area so it can unload the various waste streams in separate piles. The elder Francis is ready with the loader to push everything into the appropriate bigger piles against the concrete wall of the large building. It's a scene they repeat several times throughout the day at the Municipality of the County of Annapolis' West Paradise Transfer Station.
"I started with Annapolis County back in, I think it was '86, out at the old Graywood incinerator," Malcolm said. "I was there as lead hand supervisor up until October 4 of '99 when we moved on to Valley Waste. And I was with Valley Waste under the same title until 2016."
Malcolm was dismissed by Valley Waste but went to the labour board and later received a settlement for an undisclosed amount.
Marvin has been in waste management since 2006, having also worked for Valley Waste.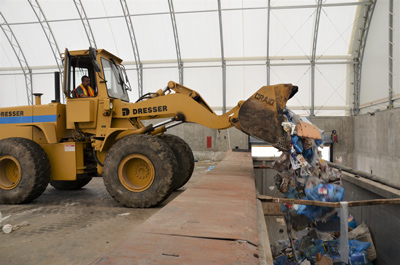 Malcolm Francis loads paper and cardboard recyclable material into the trailer of an 18-wheeler at the West Paradise Transfer Station. It's late in the day, and the truck driver will pick up the trailer at 6 a.m. and haul the contents out of the county. LAWRENCE POWELL PHOTOHe uses hand signals to direct the big trucks as they back into the building. It's a choreography he and the drivers have performed countless times. Four trucks twice a day.
GOOD LOCATION
Malcolm said the location of the transfer station is good. It's well away from Button Brook and there are no other water features on the property that he's aware of. "It's well away from the main road. It's well away from home owners. To be quite honest I can't see anything wrong with the site that they picked."
The fabric-covered building is situated in a small bowl almost a kilometre above Highway 201.
Albert Rice owned and operated the property as a construction debris business for several years prior to selling the land to the County but is currently in control of the site. The County has a contractual agreement with him. But both Malcolm and Marvin are county employees.
Rice said that contrary to what some people may believe, there are no hazardous wastes entering the facility – household or industrial – unlike other sites in the county.
"There's nothing that can come out of that building that can hurt the environment," Rice said in reference to fears that leachate would escape into the soil. He said that's a moot point anyway with the leachate collection system in place and the fact the organics will eventually be ground up, composted, and spread on farmers' fields.
REGULATIONS AND TRAINING
Marvin said they follow all regulations required to operate such a facility.
"We're also doing some safety training to get our courses back up to standard," Malcolm said. "Being off, in my case, for four years most of mine had expired. But I'm back on track now renewing them. Marvin as well. We're all doing online courses as we speak. These are courses that you need to work in an environment like this. And not just your WHMIS (Workplace Hazardous Materials Information System) and first aid training. I mean personal protection equipment training, lockout/tagout, transportation of dangerous goods. The list goes on."
THE TRUCKS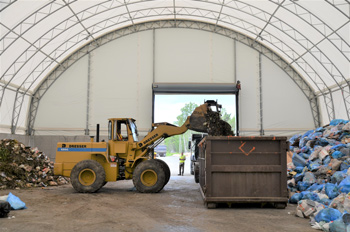 Malcolm Francis loads compost onto a roll-off container while the truck driver waits. The day's-worth of table scraps, yard waste, and other organics will be taken to Aylesford for proper composting. LAWRENCE POWELL PHOTO"Per day, we have four regular curb-side trucks hauling into us. Those trucks, for the most part, would make two trips per day," Malcolm said. "The odd time it would be three trips per day. We have a roll-off that comes in about every other day."
There's also the roll-off container for compost every other day, plus the 18-wheeler that transports garbage to a landfill and hauls away the County's recyclables, cardboard/paper, and bluebag plastics. Malcom said with the low weights they contend with, it would be ridiculous to think trucks in and out of the West Paradise Transfer Station are a threat to Highway 201.
As for the site itself, there's not a scrap of litter outside the building; the grounds are surrounded by berms; and it's set among trees almost a kilometer from Highway 201.
CARBON FOOTPRINT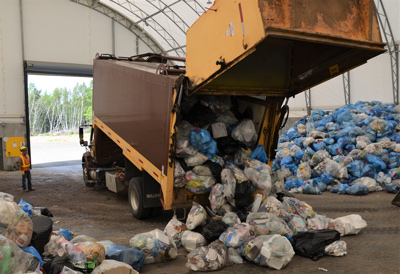 Clearbag garbage is one of the waste streams that come in to the West Paradise Transfer Station. Contracted haulers drop off the various streams which are then loaded onto larger trucks and taken out of county. LAWRENCE POWELL PHOTO"The biggest difference that we attained in our operation from having a transfer facility is the significant reduction in our carbon footprint as a municipality," Habinski said. "On the mail out that we sent to residents we presented the figures for carbon when we're running right from curb all the way to the actual landfills for the three streams of (waste) versus using a transfer facility. The carbon emissions drop by 80 per cent or more. And that's always been a real concern for the municipality – even with the initial compost contract Valley Waste had, switching it from Aylesford to Colchester added 1,300 metric tons of carbon waste annually just from the one change of the contract. So we're taking waste a much shorter distance and now we're taking it as efficiently as we can from start point to finish point in order to reduce that carbon footprint as much as possible."
He thinks that something Annapolis County residents should be proud of.
"Even though we're a small municipality, we have a joint obligation with the rest of humanity to reduce our carbon production to slow global warming," he said. "This is one of the steps a municipality both can, and absolutely should, be taking. We should be taking this into consideration in many of our decisions. Having this transfer facility functioning is one of the ways we accomplish that."