Upper Clements' steam locomotive on track for Middleton
Annapolis County giving 75-ton, 115-year old engine, boxcars to railway museum
By Lawrence Powell
For Annapolis County
UPPER CLEMENTS, NS -- John MacDonald's a little kid again. So is Bill Linley. At least for a couple of hours.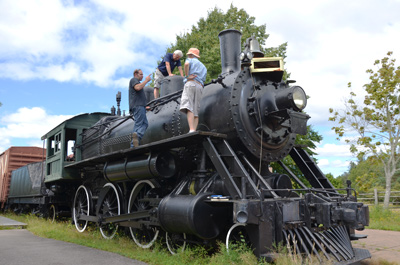 Adam Cudmore from A.W. Leil Cranes, Annapolis County Councillor John MacDonald, and train enthusiast Bill Linley assess the 115-year-old steam locomotive at the former Upper Clements Park. Annapolis County's municipal council has given it to the Middleton Railway Museum Society. LAWRENCE POWELL PHOTOThe pair climbs all over the steam locomotive at Upper Clements Park. They crawl under it. They're in the cab. They check out the tender and four boxcars.
The park is closed. Aging infrastructure and lack of revenue had the place on the brink of bankruptcy before the Municipality of the County of Annapolis offered to buy the once-popular attraction as the site for the first franchise of Gourdonstoun, an international, private boarding school in Scotland.
MacDonald, a railroader for 35 years, is also a municipal councillor and he arranged with park security to inspect the train on behalf of the Middleton Railway Museum and museum board chair Dianne Legard. She's asked for the train and has plans to move it to the iconic railway station at the other end of the County. She's currently exploring funding opportunities to move the massive train and has a meeting set up for Monday with her local MLA Stephen McNeil. She wants it all done before the snow flies.
MacDonald has put the train on municipal council's agenda for the Aug. 18 regular meeting and hopes other councillors are on board, so to speak, with giving the train away.
THE TRAIN
MacDonald leans against an old wooden fence. The locomotive is in the background. Linley, from Port Lorne and an expert on trains and railways, sits at a picnic table.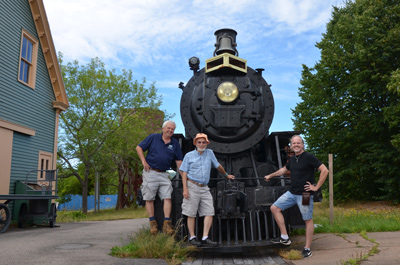 John MacDonald, Bill Linley, and Annapolis County Warden Timothy Habinski pose with the massive steam locomotive at the former Upper Clements Park. Council voted unanimously to give the train to the Middleton Railway Museum Society. LAWRENCE POWELL PHOTO"I think it's a masterpiece of engineering," MacDonald said. "This thing was built to go 100 miles an hour in 1905 on steel rails. It just blows me away. I was a railroader 35 years and I'm very excited about this project and what it can do for the downtown in the place I live."
He describes the engine as a 10-wheeler steam locomotive, built in 1905 at Montreal Locomotive Works. He and Linley, and Adam Cudmore from A. W. Leil Cranes & Equipment in Dartmouth, are taking measurements and estimating weights as they explore the possibility and feasibility of moving all the rolling stock down the highway.
The engine itself weighs 75 tons and with the smoke stack and other equipment on top of the boiler is about 15 feet high. They need it to be about 12 feet, so some gear will have to be unbolted. But it's all do-able and Cudmore is confident the train can be moved.
ROLLING STOCK
Directly behind the engine is the tender car.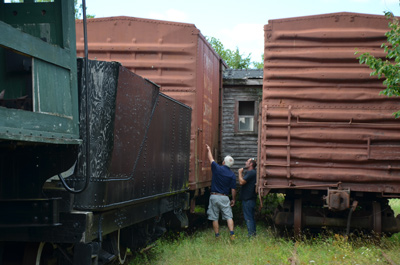 Municipal Councillor John MacDonald A. W. Leil Cranes' Adam Cudmore look at the boxcars at the former Upper Clements Park. If all goes well, they will be on a track in Middleton before the snow flies. LAWRENCE POWELL PHOTO"That would have held the coal and the water in between stops where they'd refill fuel and water to keep this beautiful piece of machinery going," said MacDonald. "Along with that there are four boxcars just post-World War II vintage – late 40s – sitting here. And you know what, they make great storage, they make great museum pieces—there's all kinds of uses for those things. Then there are the rails."
Stamped on the lengths of rail is '1887 Intercolonial Railway.'
"That's the railway that ran from Bridgewater up to Middleton and from Nictaux to Port Wade," MacDonald said. "That was old Intercolonial Railway turf. And 1887? I challenge you to find a chunk of that anywhere. It's good stuff."
Like Legard, MacDonald wants it all saved and on display.
"It's surplus on account of Gordonstoun school is working with the municipality and the province and others to build their school on this property – the old Upper Clements Park – and it's just not suitable to have on the school playground," he said. "This belongs where all can enjoy it in a museum. That's where it belongs and that's where I hope it ends up before the snow flies. "
WEIGHTS & DIMENSIONS
Linley's knowledge of trains is essential. He and Cudmore spend a lot of time discussing if things come apart. How they come apart. Linley has access to information on weights and dimensions, but they measure everything anyway.
"We were confirming the weights and the dimensions so that the feasibility of road transport could be explored," Linley said. "It's critical that you stay within height limitations and also weight limitations. From my reference books and contact with friends in the railway industry that I was able to come up with the construction weight of the locomotive and cars and the basic dimensions. We took some confirming measurements today and found that we were all in the ball park."
Weight probably won't be a problem, but height might be an issue.
"We did talk about the possibility that you might get three (nuts) off with the big wrench but the wrench isn't big enough to take off that fourth one, so you get out the torch and make it happen," he said. "But something like that can easily be restored by a knowing craftsman. And it's similar with the cab of the locomotive. It's deteriorated wood as you can see. It would be pretty easy for a skilled carpenter to replicate that. I'm sure over the life of the engine it's had several cabs."
LIFETIME INTEREST
"I've had a lifetime interest in railways. I've written four books on railways now and I'm working on my fifth," he said. "A couple of those have been about local railways. One about railways in the Maritimes and illustrated with all of my own photographs."
He's currently the chair of the Nova Scotia Railway Heritage Society.
"Our society is strong and mighty. We have an active website and lots of questions flow in on a daily basis that keep me on my toes, and networking amongst members and friends to help preserve and interpret the railway heritage of the province," he said.
"The engine was built in Montreal in 1905 and it is of the type that was purchased by the Canadian Northern Railway," he said. "That was the railway that purchased the old railway between Lunenburg, Bridgewater, Middleton, and Port Wade. So there's a strong connection."
The locomotive at the former theme park may not be the exact one that your grandparents or great-grandparents saw or heard or rode on in the Valley. But it's close.
"An engine very, very similar to this one probably ran on a mixed train carrying freight and passengers on a daily basis between Lunenburg, Bridgewater, and Middleton until the 1950s," he said. "On a tri-weekly basis the train continued to Port Wade until the late 19-teens where the (iron) ore was shipped to go to the refinery at Londonderry. It (the ore) came from Nictaux."
ROMANCE
There's a romance about the railway. Lots of stories. MacDonald talks of engineers stopping the train to cut Christmas trees that would be dropped off at the edge of town and later distributed to those who needed them.
Linley said sometimes when trains had to stop to unhook boxcars, or pick them up, you could hop down and pick a couple of bowls of blueberries while you waited. "That's where the name Blueberry Express comes from," he said.
And back in the days of steam locomotives, some of the less-well-to-do families might discover heaps of coal trackside behind their houses, enough to heat their homes for a day or two.
There were pennies flattened on the rails. The vibration felt from miles away. Long plumes of smoke and steam. A headlight so massive it could be seen for miles.
And there was the whistle. This one won't blow anymore, but John MacDonald hopes with the locomotive eventually in place in Middleton, people can at least imagine that lonely call echoing down through more than a century.
He can.
THE MOTION: It was moved by Councillor Wayne Fowler, seconded by Deputy Warden Martha Roberts, to accommodate the request of the Middleton Railway Museum Society, by providing them with artifacts from the former Upper Clements theme park which include the steam engine; coal tender; four box cars; water tower; baggage cart; all rails; railway ties, bolts, anchors, spikes and the board walk; and that the Middleton Railway Museum Society be responsible for the transportation and any related costs for relocating the items. Motion carried unanimously.