Nova Scotia declares a Provincial State of Emergency - as of March 22, 2020 -EXTENDED TO APRIL 19, 2020 (updates April 7, 2020)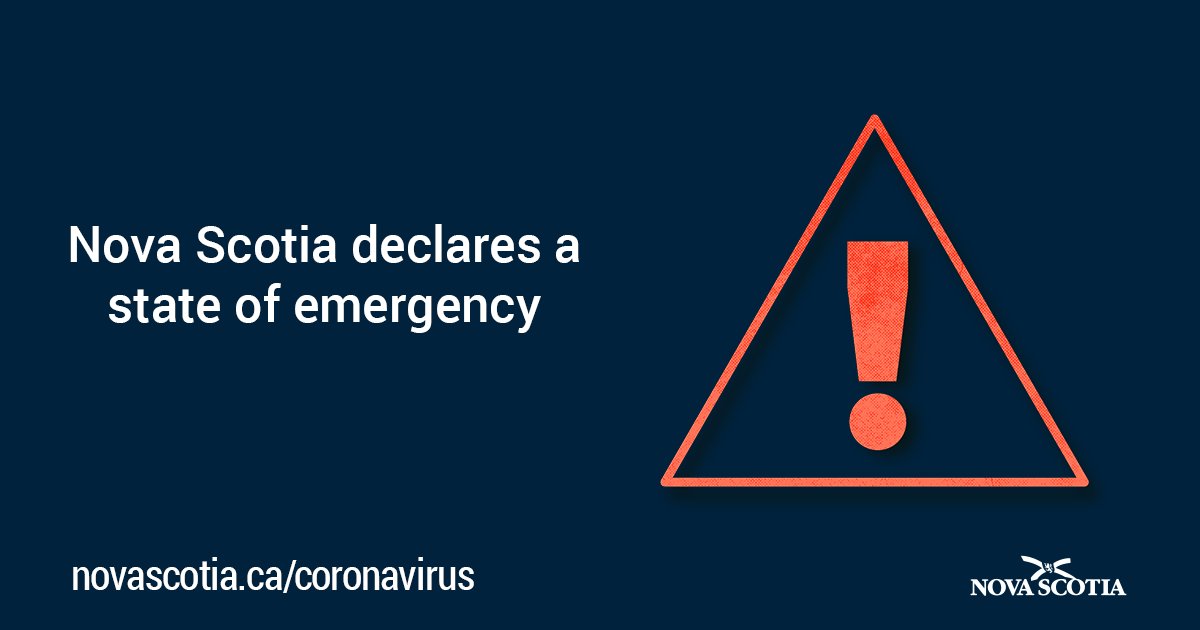 Provincial State of Emergency
On 22 March, the Province of Nova Scotia declared a state of emergency to help contain the spread of COVID-19. The state of emergency will be in effect for 14 days and may be renewed. The emergency order is valid until noon on 5 April 2020.
Renewal of Provincial State of Emergency by Minister - The declaration of a Provincial State of Emergency is renewed until 12:00 pm (noon) on Sunday, April 19, 2020.
https://novascotia.ca/coronavirus/Direction-of-the-Minister-under-a-Declared-State-of-Emergency.pdf

Health Protection Act Order
Emergency Management Act Declaration and Orders
Police Act Order
Under the state of emergency police are authorized to enforce orders under the Health Protection Act. If Nova Scotians and businesses do not practise social distancing and self-isolation, they will face fines of $1,000 for individuals and $7,500 for businesses. Multiple fines can be given each day an individual or business fails to comply. Police can also enforce offences under the Emergency Management Act. For example, fines for charging higher than fair market prices for goods and services.
If you're aware of someone who isn't following provincial direction, talk to them first – they may need help. If you need to call police, please call a non-emergency number for the police that serve your community. Do not call 911.




For more information on Covid-19/Coronavirus please visit:
https://novascotia.ca/coronavirus