Novel Coronavirus (COVID-19) - Important Information
Advice for Nova Scotians
Nova Scotia's health care system is actively monitoring and detecting potential cases of novel coronavirus. This work includes:
establishing a patient screening process for use by all front-line health care workers
monitoring hospitals for potential cases
applying effective public health and infection control measures communicating directly with community organizations and universities
sharing accurate, up-to-date information with our partners and Nova Scotians
There are currently no vaccines available to protect you against the novel coronavirus. Nova Scotians are encouraged to think about the actions they can take to stay healthy and prevent the spread of any respiratory illness, including COVID-19.
To help protect older Nova Scotians and those most at risk for severe illness, the province is restricting visitors who have travelled outside the country in the last 14 days from entering long term care homes. As always, anyone who is feeling unwell should not enter a facility.
The Government website –
https://novascotia.ca/coronavirus
– is where people can find the most up-to-date information. The website had a significant update today and will continue to be updated as more information is available. It is also in French -
https://novascotia.ca/coronavirus/fr.


The
Nova Scotia Department of Health and Wellness
has released two fact sheets that include– one for families and one for employers / community organizations – that contain guidance on actions they can take to stay health and prevent the spread of respiratory illness:
Also here are hand washing posters available: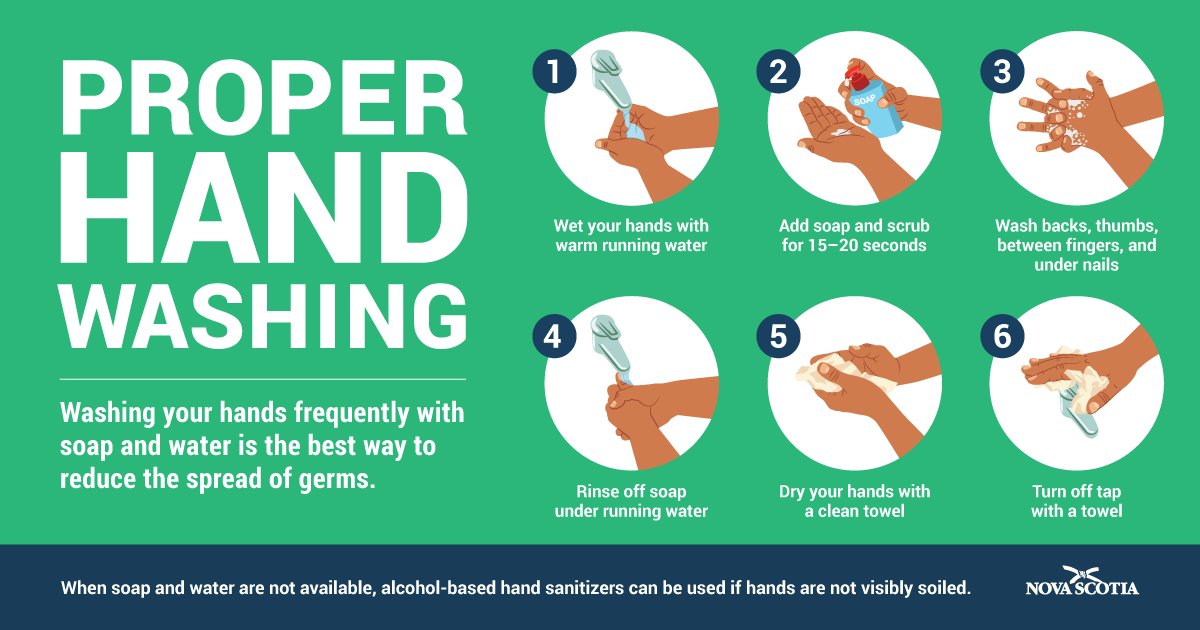 It is recommend they be posted not only in washrooms and kitchens, but also in high traffic areas.
Dr. Strang and colleagues from NSHA and IWK provided an update about COVID-19 preparedness. This press conference can be watched at https://www.youtube.com/watch?v=HGfSPVf_G3U.

Public Health Agency of Canada (PHAC)
Currently, the Public Health Agency of Canada (PHAC) has assessed the public health risk associated with COVID-19 as low for Canada.
COVID-19 symptoms include fever, cough and difficulty breathing. Should you experience these symptoms and have recently travelled internationally to an affected region, avoid contact with others and contact your healthcare professional or nearest hospital.
We can all help to prevent the spread of infection through the following measures:
Wash your hands with soap & water for at least 20 seconds
Avoid touching your eyes, nose or mouth with unwashed hands
Avoid close contact with people who are sick
Cough or Sneeze into your sleeve and not your hands
Stay at home if you are sick to avoid spreading illness to others
Learn more about 'Being Prepared' for COVID-19 on the Public Health Agency of Canada Website
The Government of Canada has set up a novel coronavirus information line that can be reached toll free at 1-833-784-4397.