2017 Bicycle Annapolis County Week - June 2-11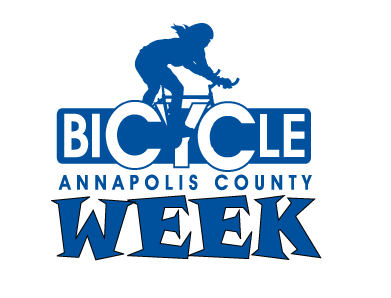 We had a super successful Bicycle Week with nearly 100 students participating in Bike to School! It was a great way to kick-off the week and a great indication of how successful it would be.
Our Bike Rodeos attracted more than 100 riders! Wow! A huge thank you goes out to Rodena Renaud, RCMP Community Program Officer - Annapolis Detachment and Noah Scanlan, Town of Annapolis Royal Active Living Coordinator for all their assistance. And, to Chris Hiltz and members of the Cool Moves BMX Group who joined us this year to talk about the importance of wearing your safety gear and provided some amazing demonstrations.

The Picture Contest was a major success with hundreds of entries being submitted. A huge thank you goes out to Lori Whitman-Price and Murray Freeman for taking on the difficult task of judging the amazing submissions. A big shout out to Shawn's Sporting Excellence and Walmart - Digby for their partnership in providing the bikes awarded to our grand prize winners.

The Grand Prize winners were:

Serenity Cheeseman (BRES) (category 3-5)
Brooklyn Cress-Long (CRMS) (category P-2)

And, finally, a large THANK YOU to the elementary schools - Clark Rutherford Memorial School; Champlain Elementary School; Bridgetown Regional Elementary School; Lawrencetown Consolidated School and Annapolis East Elementary School - whose support and assistance made this a fun, successful week for everyone!

________________________________________________________________________________

Bicycle Annapolis County Week happens in June of each year. During the week it is hoped that people will dust off that old bike, pump up the tires and get rolling!

The 2017 Bicycle Annapolis County Week will be celebrated from June 2nd-11th.


Picture Contest -
This contest is open to all elementary school aged children (Grades P-5) in Annapolis County. Entry forms can be picked up at your elementary school, at the Bridgetown Municipal Office (271 Granville St.), by contacting
Nadine
or by printing one off
right here!
For the best results, print the entry form on a legal size paper [11X14]). Pictures are due back Friday, June 2nd, 12:00 pm (noon). Entry forms can be dropped off at any of the locations mentioned above. Various prizes will be presented at each school. Two grand prize winners of a new bike will be chosen from all entries collected - Category 1: Primary - Grade 2 and Category 2: Grades 3-5. Winners announced on Thursday, June 10th, 12:00 pm (Noon).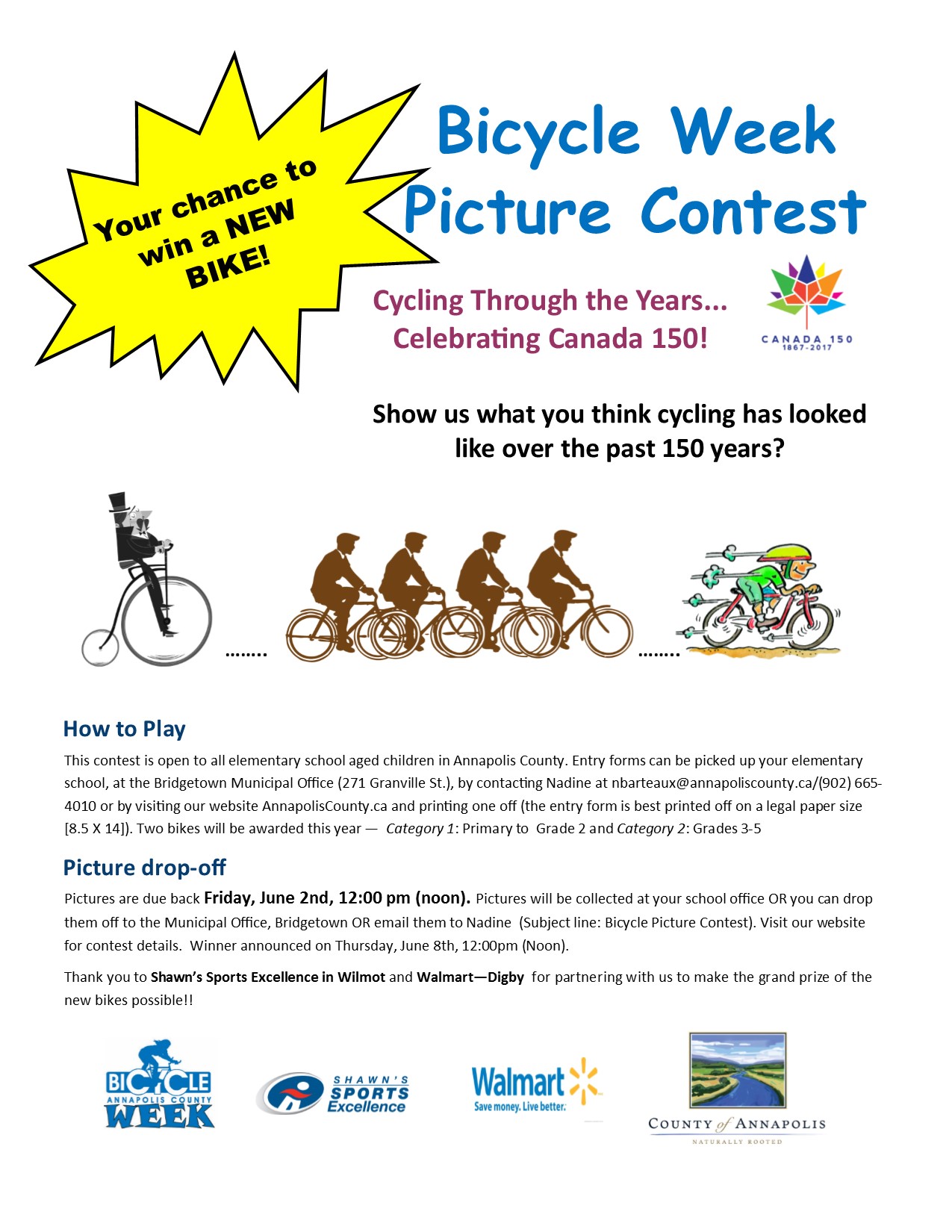 Bike Rodeos -
Elementary school-aged children are invited to come on out and join County of Annapolis staff and guests for fun while learning about bicycle safety and a chance to win some neat prizes. Don't forget to bring your bike and helmet!
Clark Rutherford Memorial School - June 5th, 2:30 - 3:30 pm
CRMS Registration Form
Champlain Elementary School - June 6th, 2:30 -3:30 pm
CES Registration Form
Bridgetown Regional Elementary School - June 7th, 2:30 - 3:30 pm
BRES Registration Form
Lawrencetown Consolidated School - June 8th, 2:30 - 3:30 pm
LCS Registration Form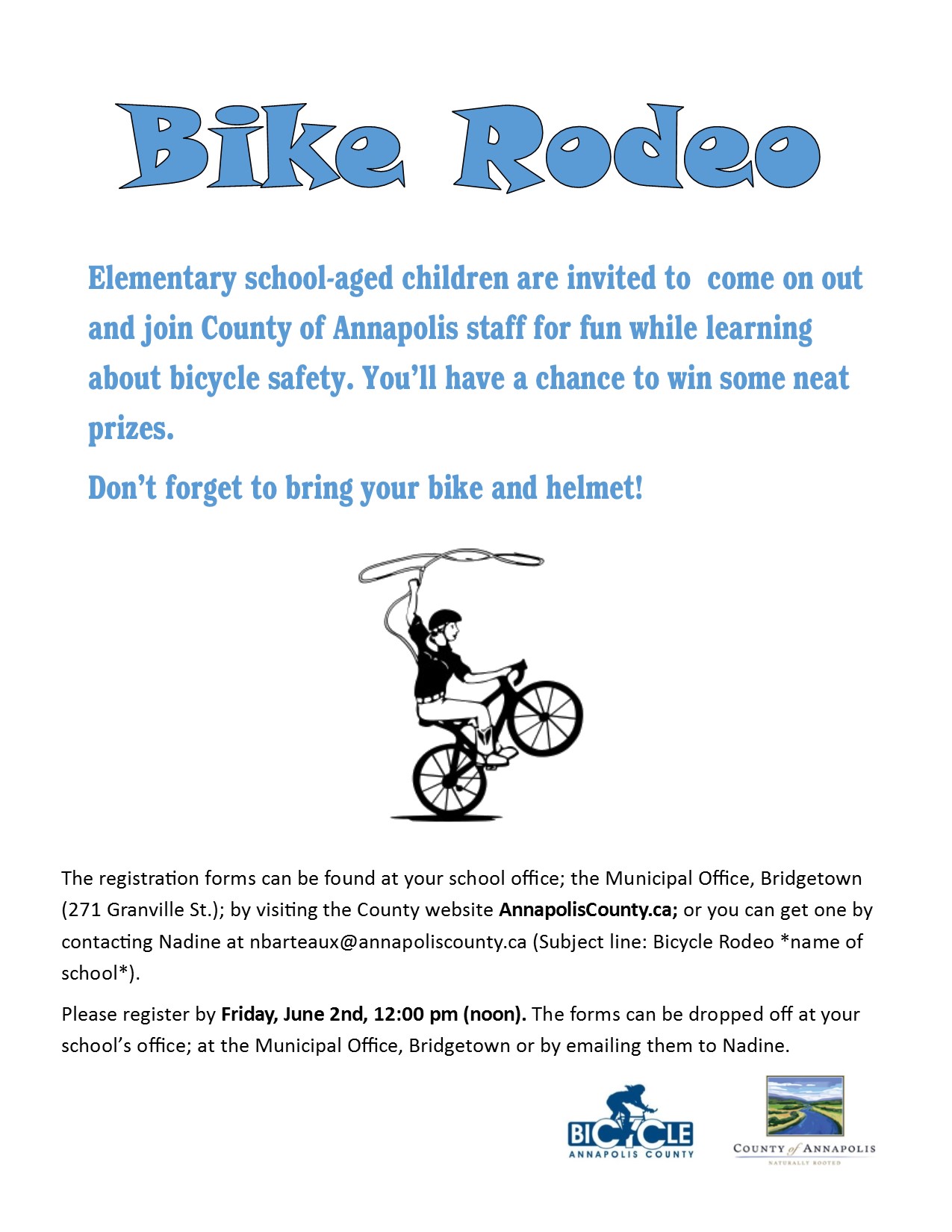 Bike to School -
Ride your bike to school on
June 2nd
and kick-off Bicycle Week Annapolis County! Let someone in the school office know you participated and you'll be entered for a prize draw! Don't miss your chance to win a prize!!!