Rec's In The House
Rec's In The House! provides you with fun activities to do from home. We want you to stay active, stay mentally healthy, and stay home!
A featured activity will be posted each day and then will be moved to its corresponding tab (shown below). Activities will remain there for you to check out later or do again if it becomes a family favourite.
Here's our daily themes:

Masterpiece Monday - Each week we will provide a themed activity and ask you to send us your masterpiece via email. This may involve, drawing, painting, colouring, a diorama...the possibilities are endless. The activity will be broken up by age categories with a winner in each age group. The winners will be announced the following Monday. Details of each activity will be explained as it is published weekly.
Trivia Tuesday - Sharpen your minds for some family-fun, trivia! Each week you will be challenged with some questions that will test your knowledge on an array of topics. We will try our best to keep them as locally-themed as possible.
Wellness Wednesday - On this day we are asking everyone to take some time to check in and reward yourself for being awesome! We'll provide some wellness tips and activities that will assist in maintaining a healthy you!
Tasty Thursday - This may become a favourite! Every Thursday check in and discover a new recipe that you and your family can make together and eat together.
Fundy Y Friday
- We have partnered with the Fundy YMCA in an effort to keep everyone physically active and mentally healthy. Every Friday an amazing volunteer from the Fundy Y will be offering a session via Zoom.
If you have any suggestions or ideas you'd like to share, whether it be a favourite recipe, some trivia knowledge, a craft, or a wellness tip, please let us know! We'd love to hear from you:
Nadine Barteaux, Recreation and Special Projects Officer
-
nbarteaux@annapoliscounty.ca
Nancy Chisholm, Recreation and Programs Officer
-
nchisholm@annapoliscounty.ca
________________________________________________
Hi Everyone! I just wanted to share some news with you...today will be our last Rec's In The House (at least for a while). The purpose of Rec's In The House was to provide people with some "stay at home" ideas they could share with their family while being told to "Stay the Blazes Home". In light of restrictions being lessened and kids returning to school, it has been to temporarily retire this feature.


Although we'll miss bringing you these weekly tid-bits, the fact we can pause it is a good thing.


Please continue to take care and stay safe!
Fitness Friday - Dec 4
Today we are going back to bootcamp...this is a more intense workout but still aimed at beginners. Get ready to sweat it out!
https://ymca360.org/on-demand/category/16/videos/170
Masterpiece Monday
Masterpiece Monday - Nov 30

This is it, the last day of November...holiday festivities can officially begin! People are thinking about Christmas shopping and I personally think homemade gifts can be the best. So, here's a craft the little ones can wrap up for their mom, dad, grandparent...anyone they love. Or, they can just use it to start the decorating fun!

Handprint Wreath


Materials:
Paper plate
2 Sheets of green construction paper
Scrap or larger piece of red construction paper (other colors are optional)
Scissors
Small circle paper punches
Glue stick

Directions:
1. Folding, tracing and cutting: Fold the green construction paper into sixths for preschoolers, eighths for smaller kids or quarters for bigger kids. With fingers pointed towards the short fold, trace the child's hand. Cut out the hand while the paper is still folded. Repeat with other hand on the second sheet of green paper. Cut a circle from the center of your paper plate to leave a wreath sized circle. There should be enough left to allow the hands to be glued on.
2. Paper punching: Using your small circle punch, punch out as many red berries as desired from the red paper. Additional colors can be added as well if desired, I think of them as Christmas lights. We also added a free-hand bow in yellow (that looks an awful lot like scissors, now that I look at it!), which is optional as well.
3. Gluing: Using a glue stick, glue all the hands onto the paper plate rim, covering the plate, with fingers pointed outward- or if you're fancy, with each hand's fingers overlapping the palm of the one next to it. Once all hands have been added, use the glue stick to add the berries (and lights and bow, if using).
Ta-da! Now you have a lovely wreath to hang or give as a gift!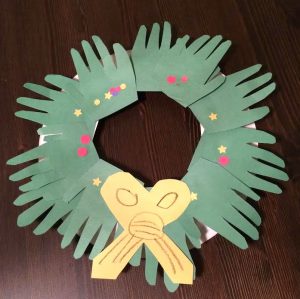 (Craft idea found at lalymom.com)

Masterpiece Monday
We are staying with the winter theme today and our snowman theme (I love snowman...can you tell?). This guy is really cute and is easy to make with the kids.


MELTED SNOWMAN TEA LIGHT ORNAMENTS
MATERIALS
Tea Light

Ribbon

1

piece

White, Brown, and Black Cardstock Paper

Glue stick/hot glue gun

Black sharpie

Snow glitter

Scissors

Glitter glue, pom poms, colored paper, etc.

(Optional)
INSTRUCTIONS
Cut three circles out of white cardstock paper; large, medium, and small size making sure they will fit around the tea light. (Optional: Use a sharpie and lightly go around the edges of the circles to make them stand out more)

Poke the circles through the middle of the tea light. Draw eyes and dots for a mouth around the smallest circle using a sharpie.

Cut out 2 brown arms and glue them on the biggest circle.

Cut out a black hat or a colored pom pom hat and glue on the small/medium circle.

Using a glue stick, put it all over the snowman. Shake the snow glitter on and dump excess.

Cut a ribbon and make a "V" with hot glue around the light switch on the back. Attach the ribbon and hold for a few seconds.

Hang on the Christmas tree and turn on the light!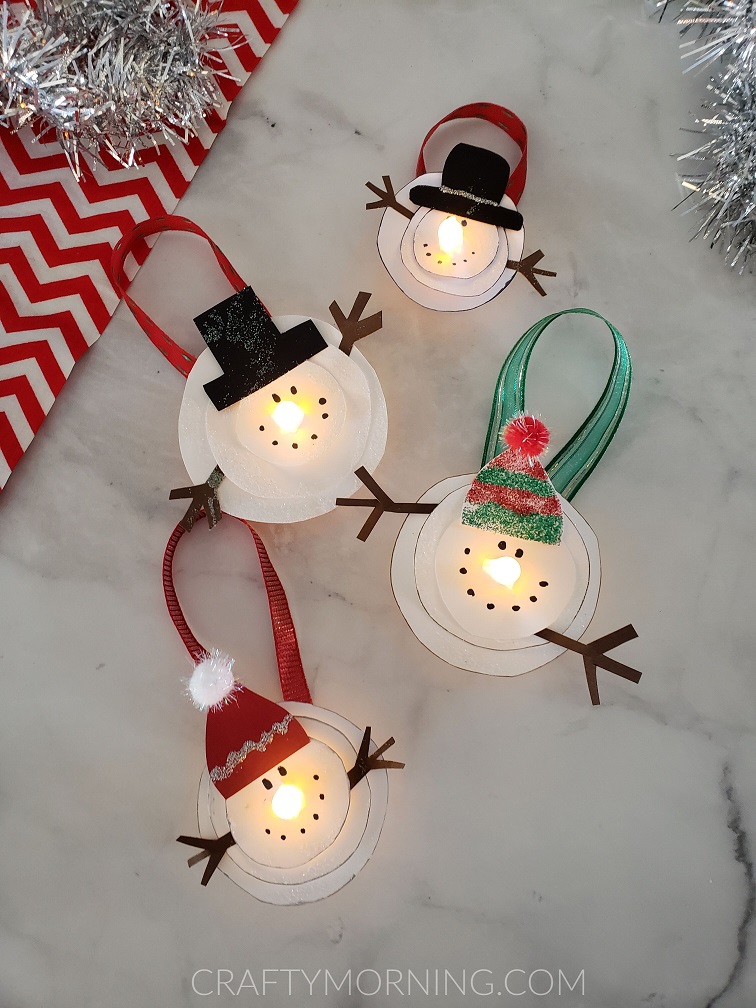 See online craft instruction at Crafty Morning


Masterpiece Monday - Nov 16
Although we're dealing with a wind/rain storm today, there is no question winter weather is just around the corner so we're going to start some fun winter-themed crafts for the kids. Everyone loves a snowman so today we're making one where snow is not a requirement...

Paper Snowman


What you need:
2 sheets of white paper (plain print paper will do although construction paper will work best)
paper in any other color (and a bit for orange nose, can also be drawn)
black marker
glue, scissors
optional – buttons, cupcake liner, sequin
Directions:

Start by cutting strips of paper in two, different lengths. Create the different lengths by cutting strips across the sheets of white paper - one set cutting along the length and one set cutting along the width (strips being about half an inch / 1 cm wide).
Now assemble the paper balls. If you don't know how you can check out this link (paper balls), the procedure is the same, with the difference you'll be making two, different size balls for one snowman.
Draw on or stick on all the details, the eyes, nose and buttons. Cut a long strip of color paper and make a scarf. You can also use a cupcake liner as a hat, it looks kind of cute.
You can make a whole bunch of them and make a garland. Your snowman will be super cute and won't melt!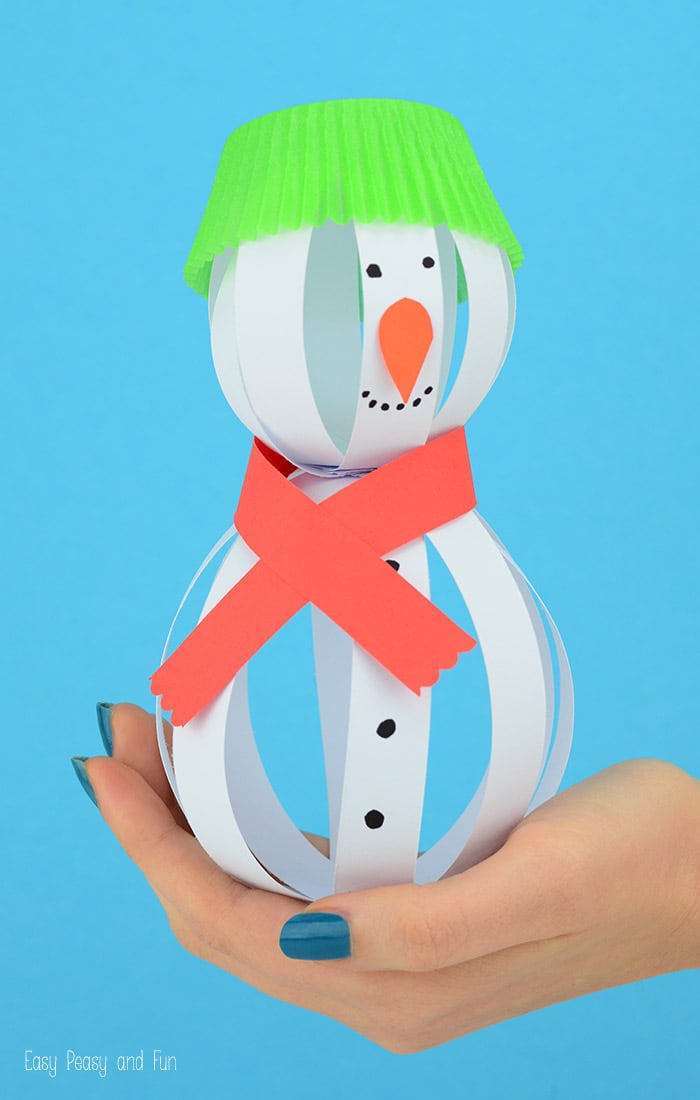 Masterpiece Monday - Nov 9


Today is another Remembrance Day craft. This one is not only fun to do, it also creates a pin on poppy with a variety of uses. Lest we Forget.


What You Need:
coffee filters
food colouring or liquid watercolours (we used both, and used shades of red, orange, pink and purple)
black buttons
paint brushes
ice cube tray or small bowls
pipe cleaner
safety pin
plastic table cloth
Instructions:
Because this craft involves food colouring, be sure to protect the surface that you're working on.
Start by adding a small amount of water to an ice cube tray. For really vibrant colours fill each ice cube section about half-way with water then add the colour.
Here's a tip - place the ice cube tray in a shallow pan to prevent it from being tipped over. Give the little crafters each several coffee filters. Poppies have a lot of texture, so crumple, wrinkle and twist the coffee filters before painting them.
Next, the fun begins as the kids get to work with their paintbrushes, dabbing and smearing.

At times, to intensify the colour and to make the absorption process more noticeable, you can add a drop or two of food colouring directly to the wet coffee filter and let them swish the colours around with their paintbrushes. To dry the coffee filters, place them on cookie sheets until dry.
When they are fully dried they're ready to be turned into flowers. To do that, layer two coffee filters and pinched them together at the back. Wrap a small length a pipe cleaner around the pinched section of paper to secure everything together. To finish, glue black buttons to the centres of the poppies. Now, you can use a safety pin to create your very own poppy pin.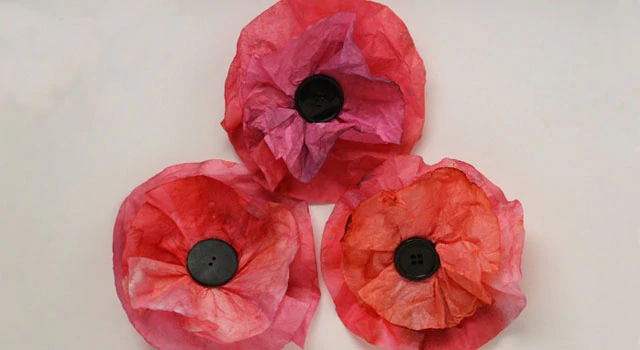 This craft was found online at https://sugarspiceandglitter.com/10-poppy-crafts-remembrance-day/


Masterpiece Monday - Nov 2

Remembrance Day Hands Wreath

For the next couple weeks we're going to create crafts based on a very important day...Remembrance Day. This is a great opportunity have fun with the kids while reminding them of this very special event. And, it's really easy.


Materials:
glue,
scissors,
red paint or construction paper.
Wreath Instructions:
There are two ways to do this craft. One is to trace the child's hand onto paper and cut out the prints. The second is to make paint handprints on the paper and cut those out.
Make eight handprints (4 of each colour).
Cut out the prints and glue to form a wreath.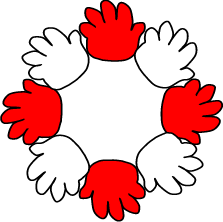 Masterpiece Monday - Oct 26

It's just days before Halloween so you had to know this was coming...a slimy, scary, Halloween craft! We're making Halloween Slime today (sorry, not sorry)! I found this ghoulish idea online (goodhousekeeping.com).


WHAT YOU'LL NEED

:

5 oz clear glue
1 Tbsp baking soda
Green glitter paint (or any Halloweenie colour)
3 Tbsp saline solution
Googly eyes
DIRECTIONS

:

Squeeze 5 oz glue into bowl.
Add 1 Tbsp baking soda.
Add glitter paint, starting with a small amount until you reach desired color.
Stir until combined, then MIX in 3 Tbsp of saline solution.
Roll slime in hands until it no longer sticks— this can take 5 full minutes. HINT: If it is still too sticky, add saline solution.
Add eyes and you are good to goo!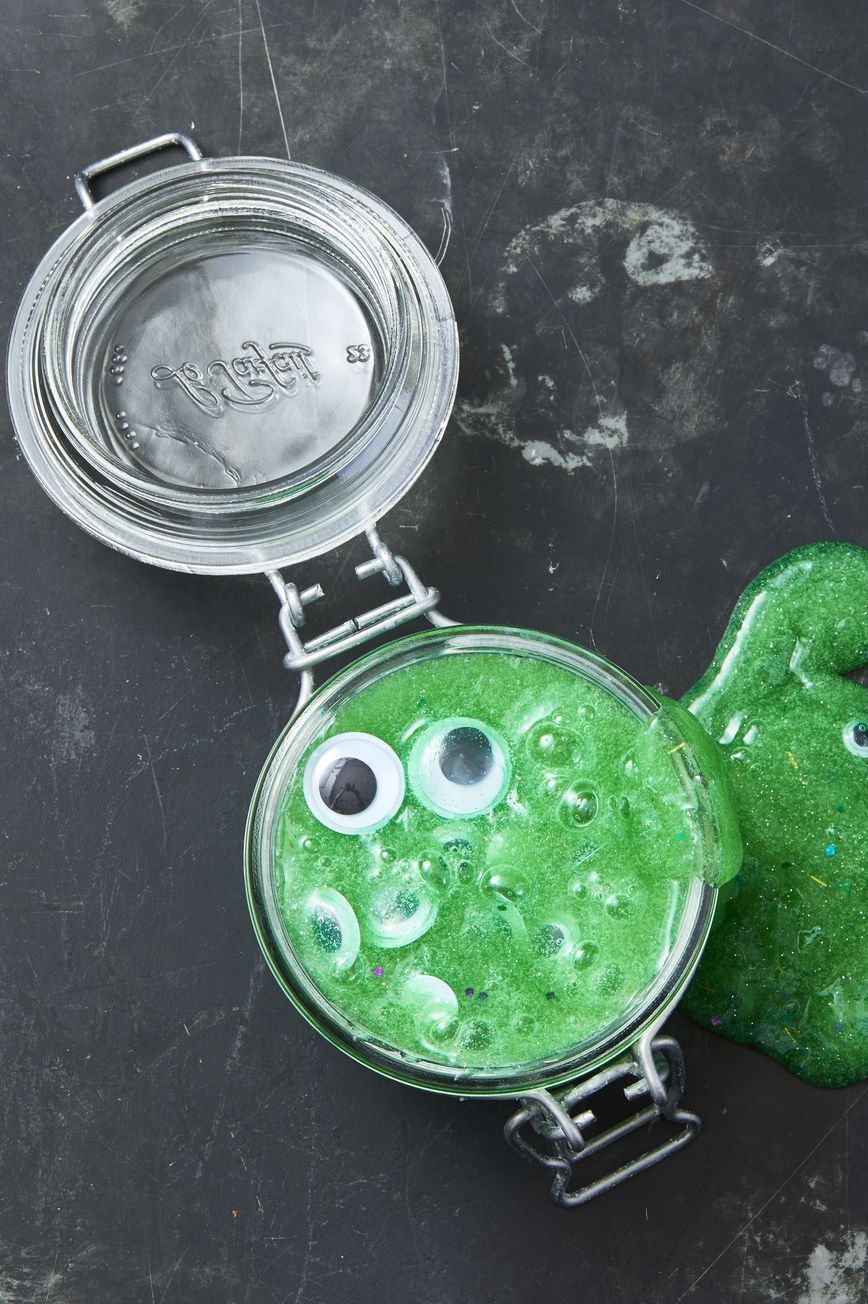 Masterpiece Monday - Oct 19

Today is a simple craft but it can take the imagination to many places. But, this one does need an adult to get things started. Today, we're potatoe stamping!

Supplies:

potatoes
paint
paint brush
paper

Instructions:

Adults: Find some long and thin potatoes and chop them in half. Then use a sharp knife to carve out the desired shape (in this case it was a leaf). Give your little ones some paint and a brush and let them get to it. Just dip your potatoe in the paint and start stamping. You can even join is because it's really fun and gives you some family time being creative.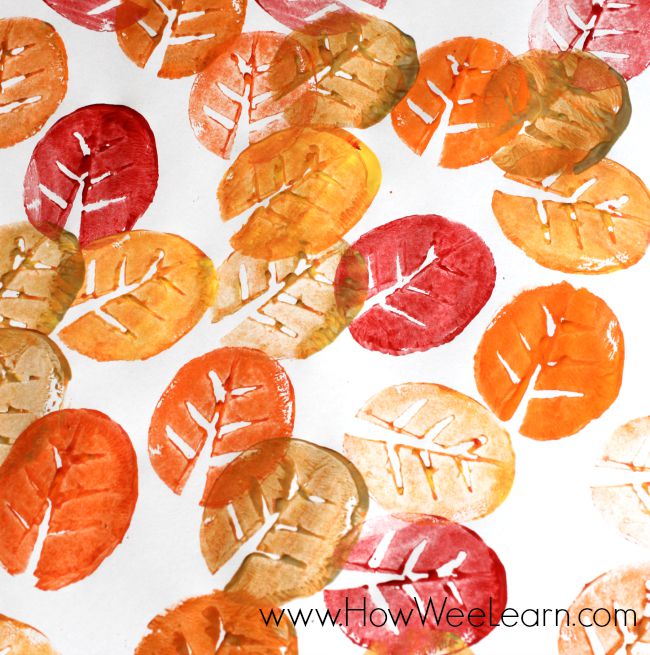 Oct 10th
Pumpkin Spice Play dough

Yes, I'm jumping on the pumpkin spice bandwagon but this one was too good to pass up!! Who doesn't love getting creative with play dough and it smells like pumpkin spice!!! Amazing! This is as fall as it gets!

P.S. Adult supervision will be needed for this one.


Ingredients:
1 cup flour
1 cup water
1/4 cup of salt (a little more if you use kosher)
1 tablespoon coconut oil*
2 teaspoons cream of tartar
2 teaspoons pumpkin pie spice (or a mix of cinnamon/nutmeg/cloves)
optional: food coloring or natural food based dyes (such as beet juice and turmeric)
Directions:
Combine all ingredients (except coloring) in a large pot.
Stir over medium heat until a big ball forms. (It should be smooth and no longer sticky.)
Remove from pot and allow to cool until the dough can be worked by hand.
Divide the dough into however many different colors you want.
Work the colors into the dough by adding a few drops at a time and kneading. (We used food coloring for red, yellow, and orange and left one brown. Similar colors could be achieved with natural juices: beet, carrot, turmeric.)
Enjoy!
* Coconut oil is a secret ingredient. They say it makes the best play dough ever.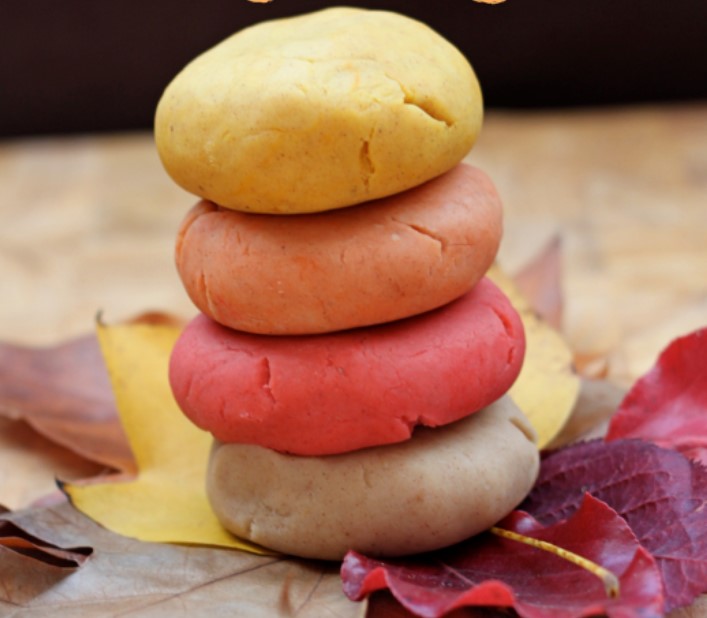 Sept 29

We're only a couple weeks away from Thanksgiving so I chose a fun, turkey-themed craft today. This projects includes some beautiful colourful fall leaves, so it's a great opportunity to get outside to collect some supplies.


What you need:
Directions:
Print out our template. There are two pages included, one with only one turkey on it that can be used as a base (you can skip this one) and one with two turkeys for kids to color in and cut out. Color in the turkey with markers, crayons, chalk, colouring pencils, etc. Once colored, cut out the turkey and it's feet. Take the other sheet of paper, with the turkey craft base and apply a generous amount of glue on the tail area. Alternatively you can also apply glue on the leaves only. Stick the leaves on the turkey template. If you want a multi-colored turkey tail, we recommend you make the base with larger red leaves, and place smaller yellow leaves on top of them. Continue sticking leaves on the template, adding glue either on the leaves or on the base as you go. Once happy with how the turkey tail is starting to look, glue on two turkey feet on the base (you can also glue them directly on the colored body, whichever feels easier). Take the colored turkey body, apply a generous amount of glue on the back. Press the turkey body to the base. Give the glue some time to dry.
Voila! You've made a fun looking turkey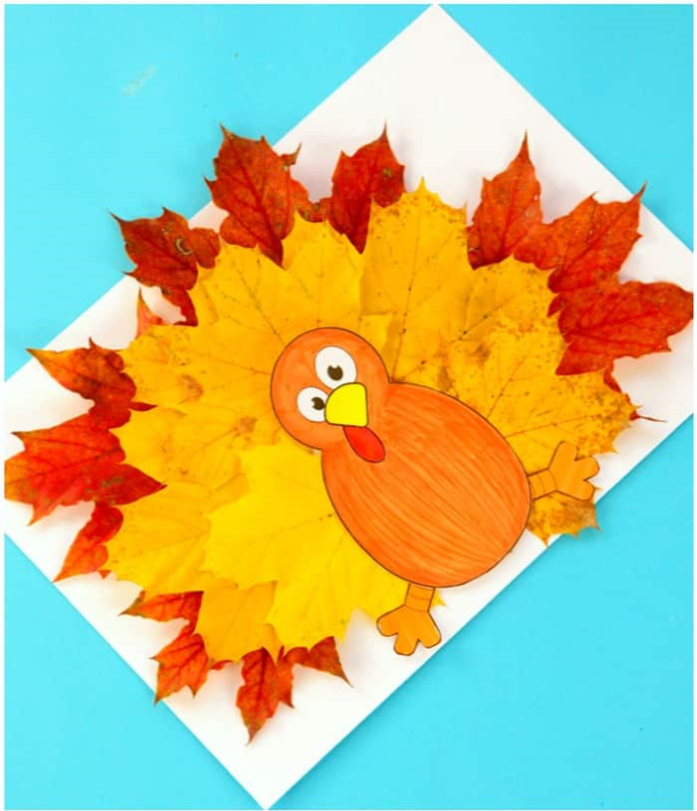 Masterpiece Monday - September 21


Bookmark Craft Using Pressed Flowers and Leaves

We have to face the fact that summer is leaving so let's make something that can preserve a piece of it. This craft actually will take a few days of preparation but it will be fun and worth it. Now, go grab a pretty flower or some plant pieces from your garden and follow the instructions...


Materials
Various leaves and flowers
Cardstock
Scissors
Glue
Contact paper or laminator
Single hole punch
Yarn, string, or raffia ribbon
Directions
1. To make this bookmark craft, you'll need some pressed leaves and flowers. Here's how we pressed ours:
Take a nature walk or head into your own backyard and pick some small flowers and leaves.
Press your flowers and leaves by placing them inside the pages of a thick book for 3-4 days.
Once your flowers and leaves are pressed and dry, carefully remove them from the book.
2. Cut some cardstock the size you'd like your bookmark to be. (i.e. 6 inches x 2 inches.)

3. Use your pressed flowers and leaves to make a design on your cardstock. Once you're happy with the design, you'll want to lightly attach the flowers and leaves to your bookmark before you permanently cover them up. You can use a glue stick.

4. Next you'll want to cover the bookmarks with plastic to protect them during use. You can use a laminator, but you can also cover your bookmark with clear contact paper.

5. Once you've covered your bookmark, trim off the excess plastic.


6. Now it's time to add the finishing details- get as creative as you'd like! Some suggestions are a small single hole punch to punch holes around the border of bookmark and then thread some cord (i.e yarn) around the border and tie it off at the top.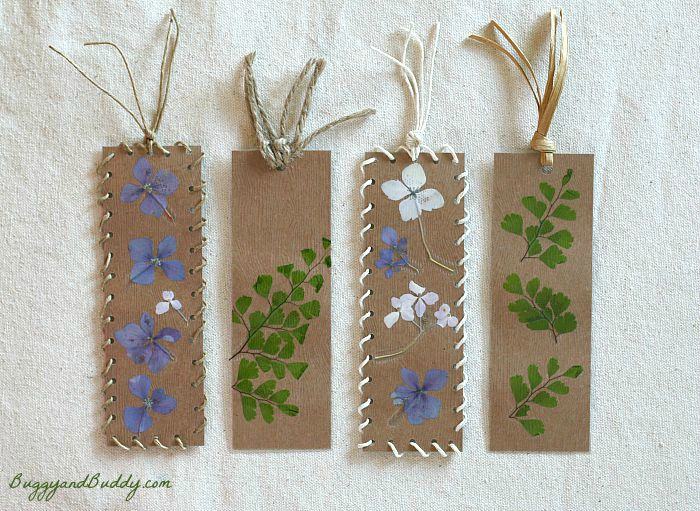 Masterpiece Monday - Sept 7
Here we are a day before school starts...I thought it might be a good time to slow things down a bit and focus on some quiet, relaxing tasks. Today, we are going to do some colouring to ease our minds...
Adult Colouring Page: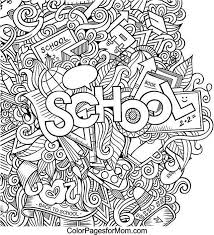 Youth Colouring Page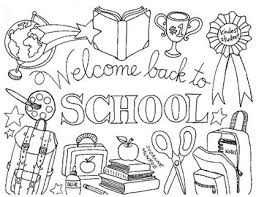 Toddler Colouring Page
Masterpiece Monday
August 31

School is just around the corner so let's do a fun craft the the kids can use when they return to classes...

DIY Bookworm Paper Roll Pencil Holder


What you need:
paper rolls (store bought, toilet paper rolls, kitchen towel rolls…)
green paper or paint
red paper
white paper
gray construction paper
scissors
glue
black marker
stapler (younger kids can use glue instead of stapler)

Directions:

Paint the paper rolls green or wrap them in green paper (regular print paper works best). Make glasses. Draw a glasses outline – we used a lid of a small cream to trace two circles overlapping one another. Cut them out. Also cut two smaller white circles. Glue them inside the gray glasses and draw black dots for eyes. Now glue the glasses on one of the green paper rolls. Draw the mouth on the paper roll. Staple all the green paper rolls together. You can staple the one with the glasses a bit higher than the others. Now to make the book for the bookworm. Cut a red rectangle and fold it in half. This makes the book cover. Also cut white rectangles (make them smaller than the red one), fold them in half and scribble on the pages to get the book look. Glue or staple the pages and the book cover together. Cut two hands out of green paper. Glue them on the bookworm. Apply glue at the end of the hands (you can fold them a bit). Glue the book to the bookworm's hands. All done, your DIY Bookworm Paper Roll Pencil Holder is all done and ready to hold some pencils!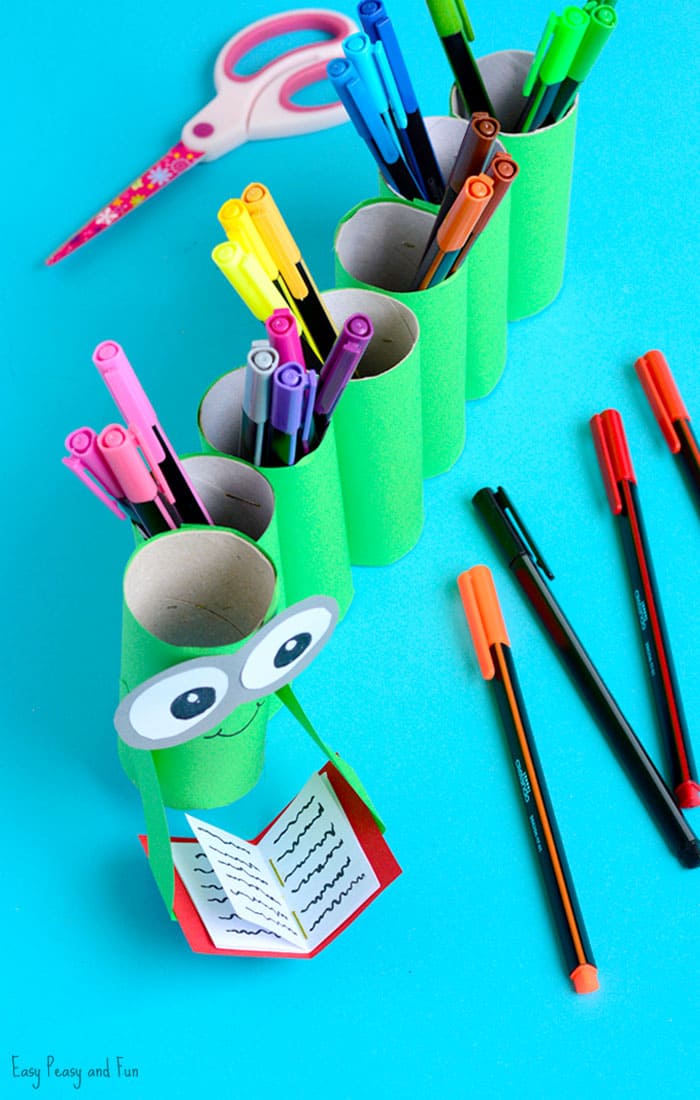 Masterpiece Monday
August 21 - Paper Airplane challenge
I found this fun game online (goodhousekeeping.com) and just had to share...get ready for some all-ages play with this DIY target game: Cut holes in a piece of poster board and assign a point value to each. Prop up with bookends, then send paper airplanes soaring!
Step 1: Crease letter-size paper the long way, then fold top corners into center seam.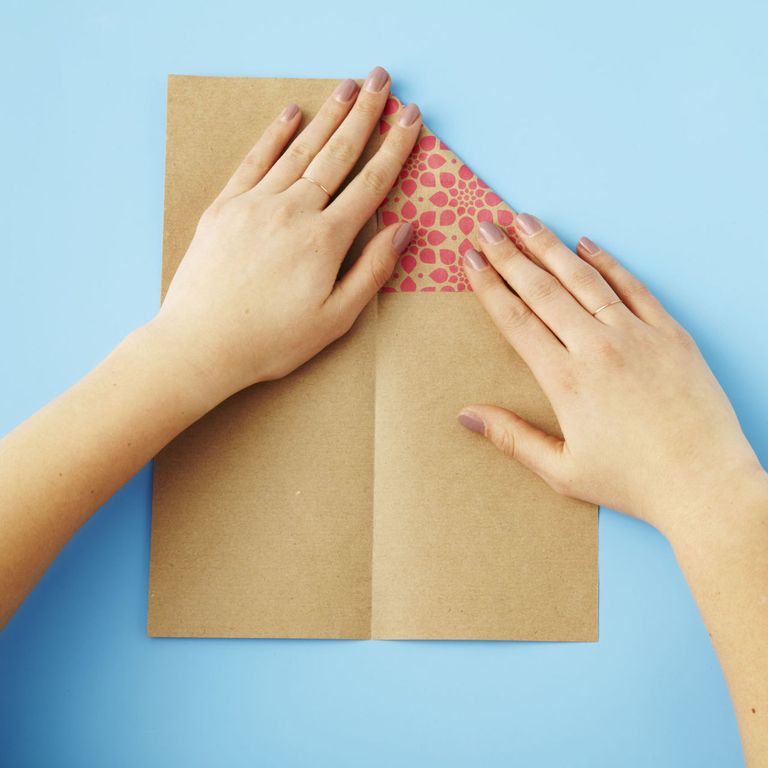 Step 2: Lower point to about 1 inch above bottom edge.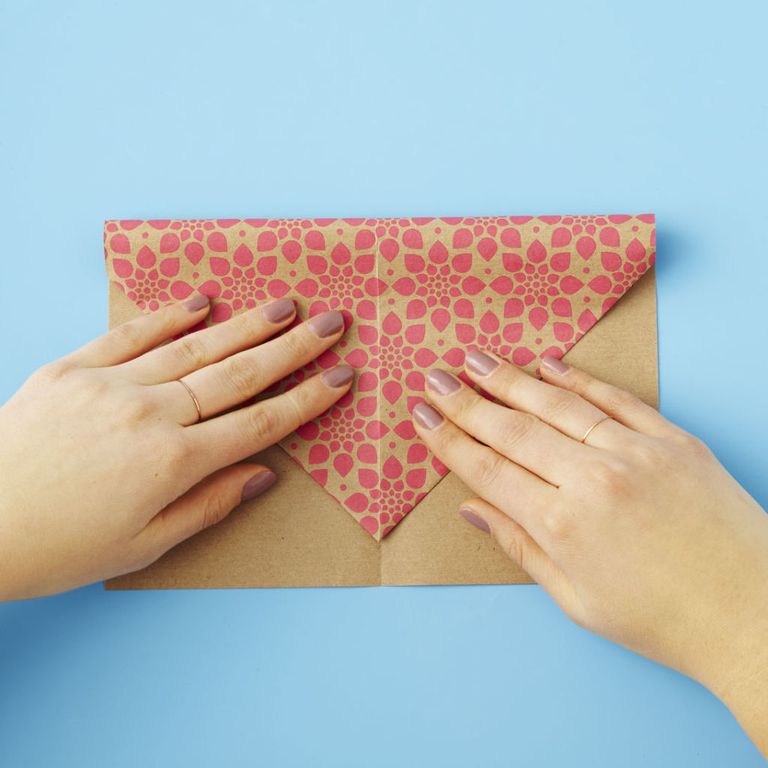 Step 3: Repeat step 1, then lift small triangle under folds so it points up.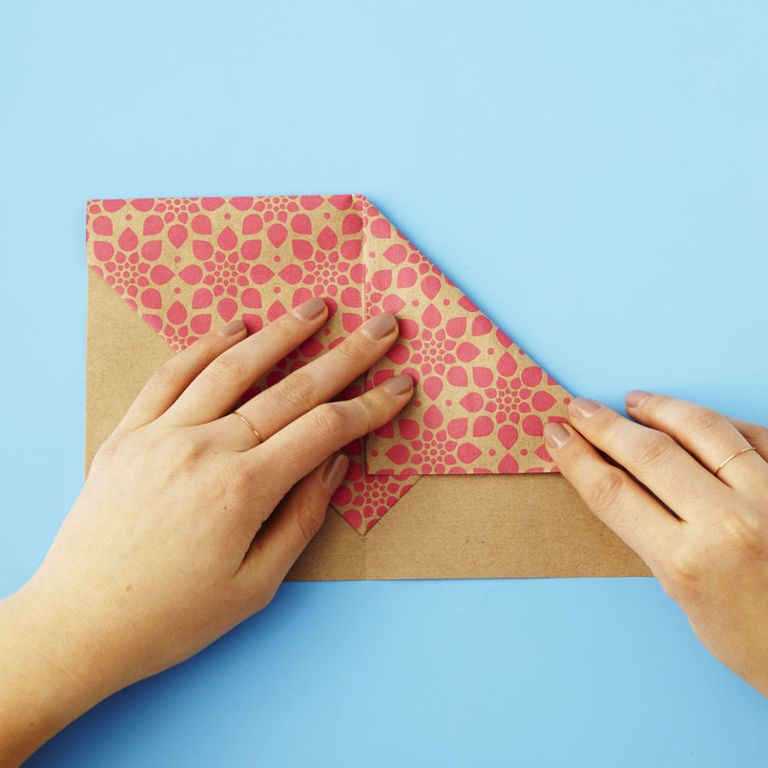 Step 4: Uncurl a paper clip, leaving a hook on one end. Glue or tape it to center seam so hook hangs.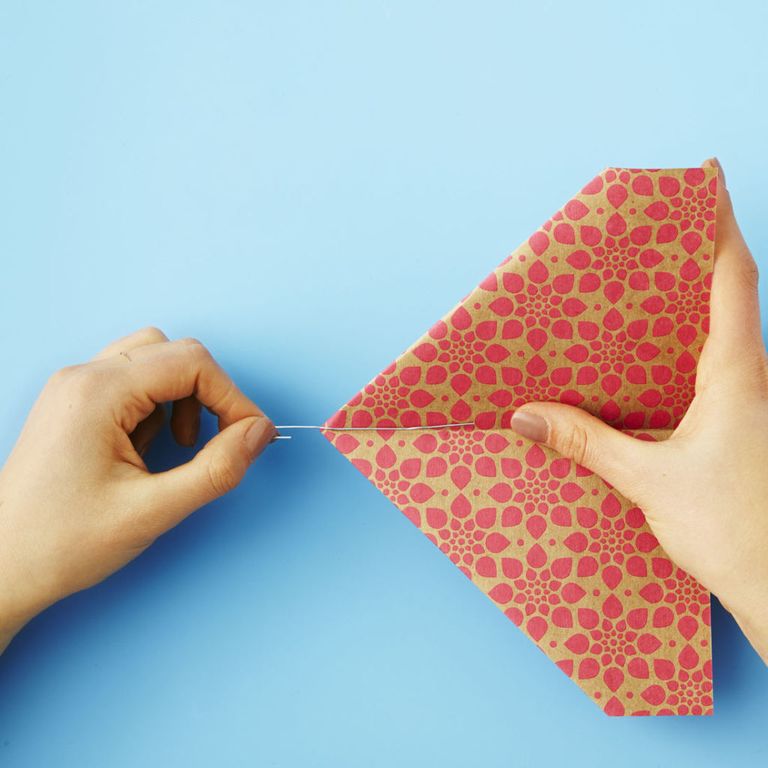 Step 5: Fold both wings down so top edges line up with bottom. Loop a rubber band around end of paper clip to launch.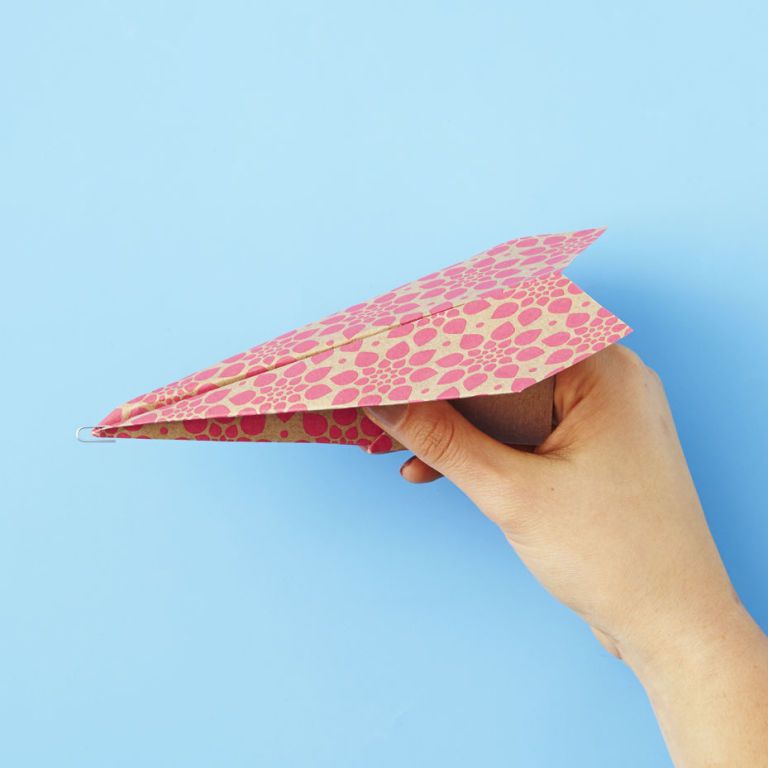 Let it fly and let the game begin.....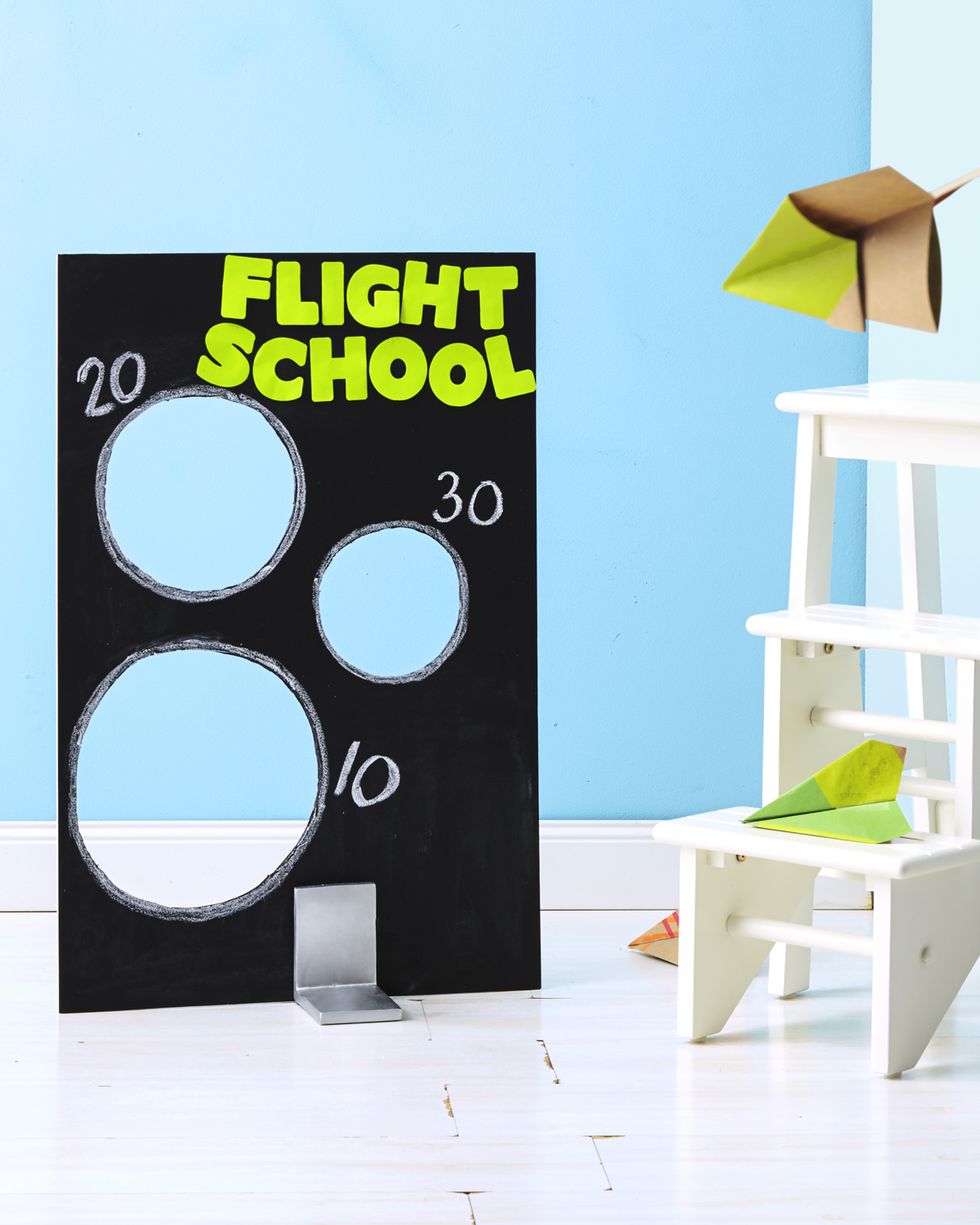 August 17th - Masterpiece Monday: Microwave Puffy Paint

I found this quick, fun craft online (Happinesishomemade.net) and filed it away for a rainy day. I honestly was starting to think we would never get to use it but today is the day!
Microwave Puffy Paint

Supplies:
Baking Powder
Flour
Salt
Water
Food colouring

Paper

Ziploc baggies
Directions:
Start with one cup of flour and mix in 3 teaspoons of baking powder, 1 teaspoon of salt and enough water to make it the consistency of pancake batter. Divide the mixture into four parts and put them into snack size Ziploc baggies along with some food coloring. Part of the fun was squishing it all around to mix up the colors!
Rubber band the baggies like you would if you were icing a cake and snip off the teeniest little bit of the tip.
Paint away on a piece of paper! When you're finished, pop the painting into the microwave for 30-45 seconds and watch the paint puff up and grow – such fun! It is completely dry out of the microwave so no worries about any extra messes or accidents.
Nothing beats cheap entertainment, especially with some fine motor skills practice and a built-in kitchen science lesson! Enjoy!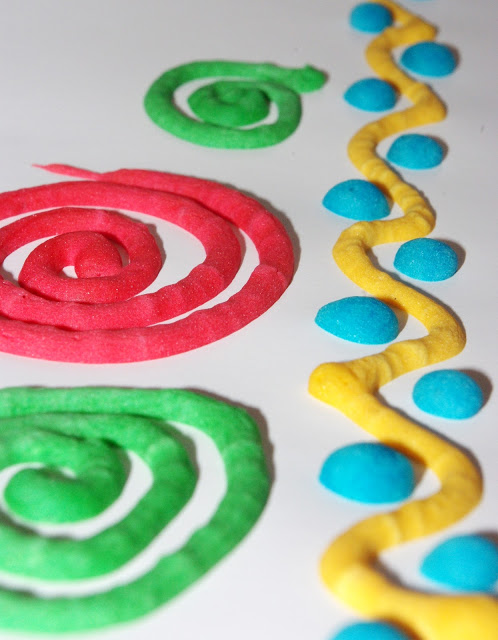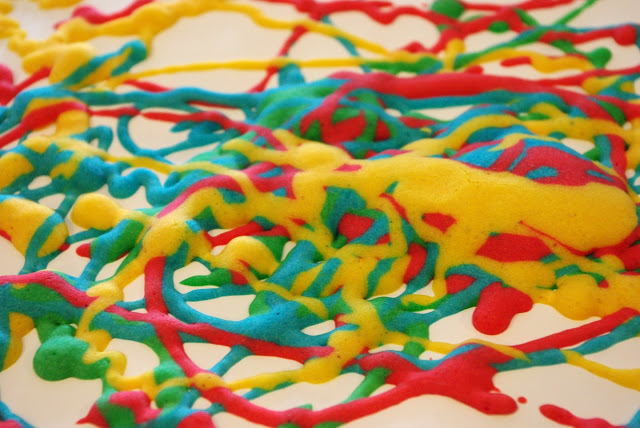 Aug 10 - Flower Suncatcher Mandelas
MATERIALS
Paper plates (the thin cheap kind)
Scissors
Transparent contact paper
Flowers and leaves
Markers
Hole punch
Yarn
INSTRUCTIONS
Step 1: Create flower suncatcher frame
Begin by making a frame for your flower suncatcher by cutting a hole in the paper plate.
Step 2: Add a center of transparent contact paper
Cut circles from contact paper to fit over the opening (overlapping the paper plate by about half an inch).
Step 3: Press flower petals and leaves to the sticky contact paper.
Arrange flower petals, petal pieces, and leaves in outwardly concentric designs on the contact paper to create your mandalas.
Step 4: Protect and hold the flower design in place.
Add another circle of contact paper over the top to protect and hold the flower design in place.
Step 5: Hang the flower mandala suncatcher.
Punch a hole at the top of the frame and tie a loop of string for hanging. Hang your art in a window and see the beauty it reflects!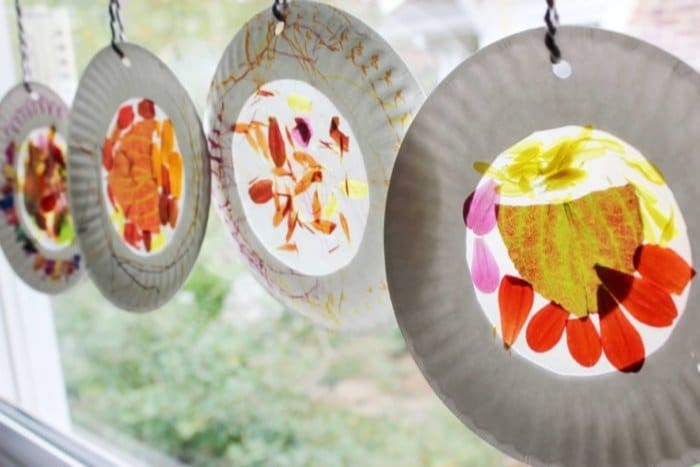 August 3rd - Masterpiece Monday

TIN CAN WIND SOCKS
Supplies:
Clean Recycled Can (any size will work!)
Acrylic Paint & Paintbrushes
Glue (i.e. Elmer's Craft Bond Glue, Tacky Glue, or a Low-Temp Glue Gun)
Assorted Ribbons (you could also use Yarn, Colored Paper, etc.)
Optional embellishments like Glitter, Stickers, Gemstones, Sequins, etc. as desired
Masking Tape or Duck Tape
Tip: Line the inside rim of the cans with a layer or two of thick masking or duct tape to avoid sharp edges!
Directions:
Start by painting the can in the colour of your choice. After the paint is dry, use glue to attach colorful ribbons to the bottom rim of the can. We also added a ribbon to the top of the can for hanging. These recycled can windsocks would make a great addition to your yard or garden!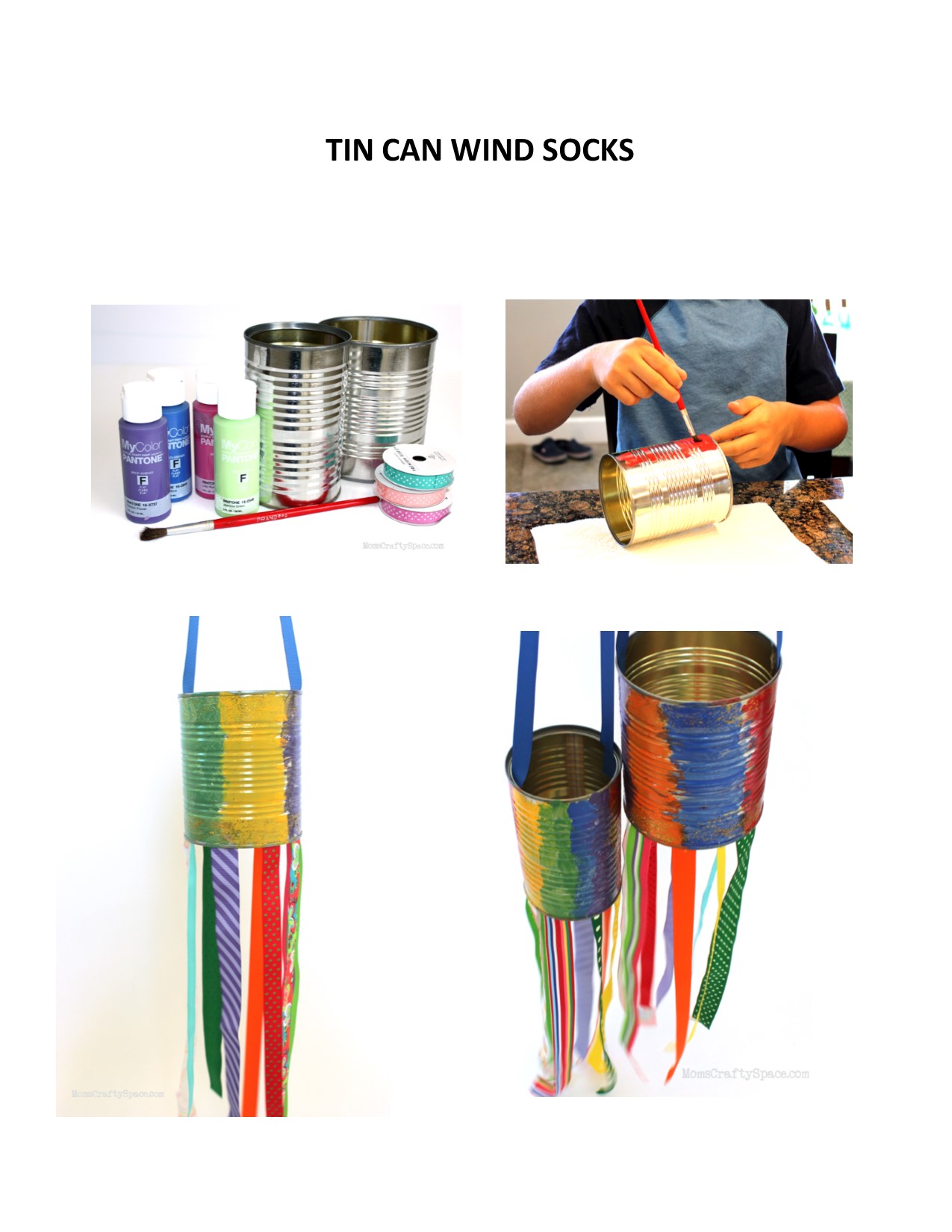 Masterpiece Monday - July 27


I found today's project online. We have another simple craft but one that the kids (and adults) will appreciate and have fun with; especially tomorrow when temperatures are supposed to soar and be hot! We're making Sponge Water Bombs!

Supplies:

Colorful sponges
String/baker's twine
Scissors

Directions:

Cut each sponge into three strips (about 1 inch wide). Stack nine strips together (3 layers of 3), tie the string around the sponges, pulling tightly, and knot in the middle. Make a double knot just to be safe. You're done! It's that easy!

The great thing about these sponge bombs is that they're durable. The kids can throw them around for hours and at the end of the day after a quick wash they're still in great shape. It's a fun summer activity when the kids are bored and it's hot outside.

Masterpiece Monday - Homemade Pinwheels

During these hot, humid days, I have chosen a craft that doesn't require a lot of energy but it will need some adult supervision. This one is from my childhood...homemade pinwheels!!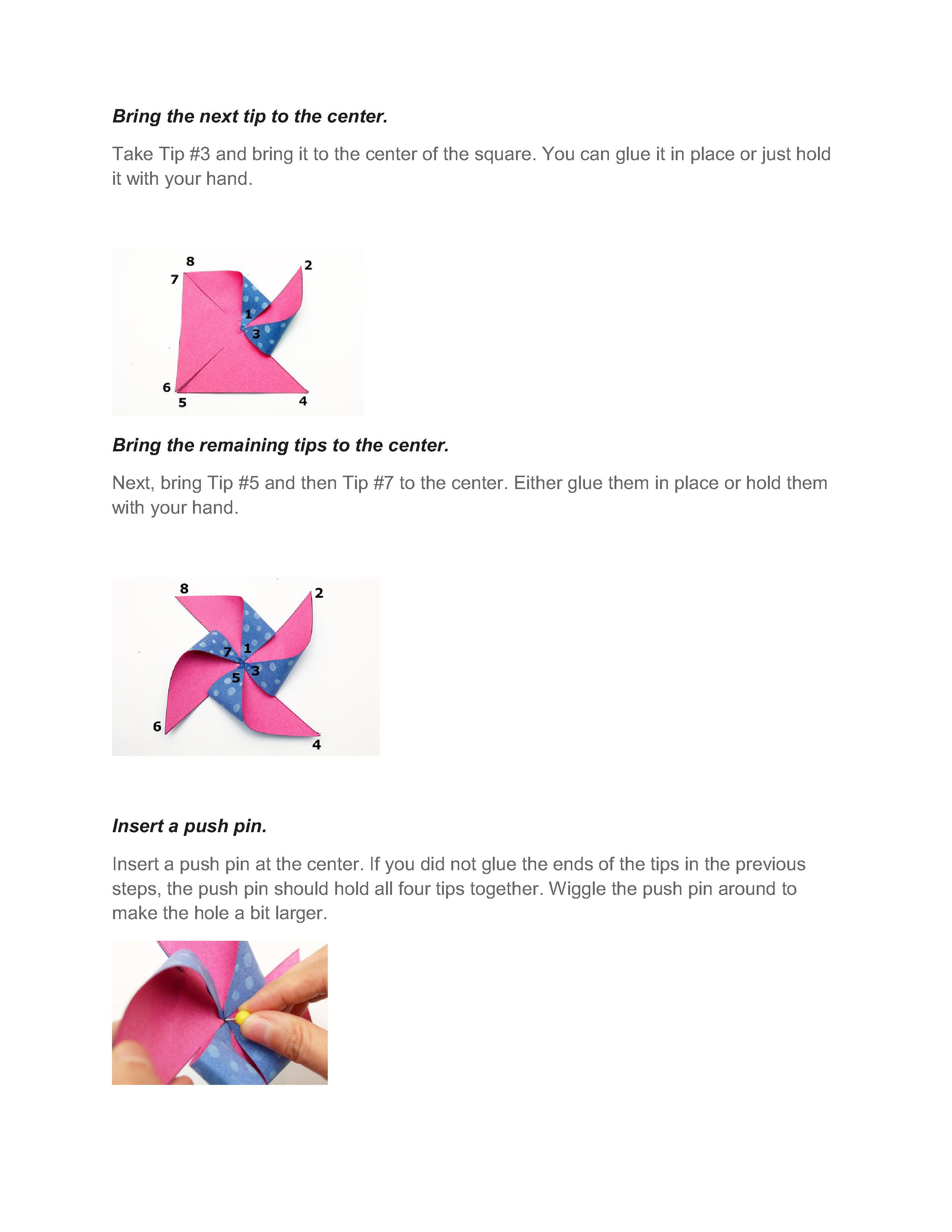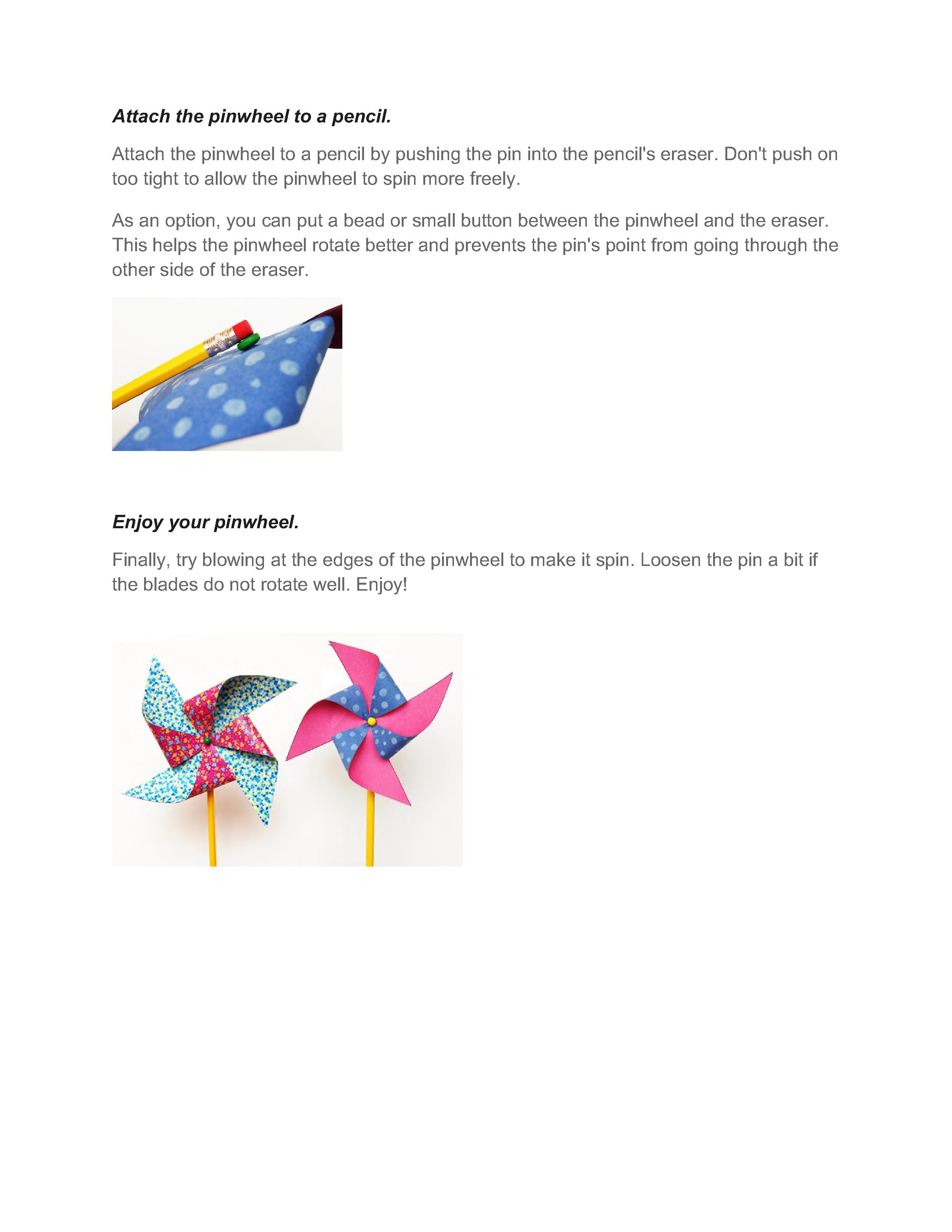 July 13th - Masterpiece Monday - Decorated rocks
During these muggy summer days I have chosen an easy,inexpensive craft that can really let your imagination run wild. When they're done keep them to decorate your room, your yard, or go hide them throughout your community and watch the smiles they bring to your family, friends, and neighbours.

Materials:

Smooth, rounded rocks (or any rocks you can find in your driveway)
Paints/markers
Paint brushes
Glue (if needed)
Optional ideas - google eyes, pieces of fabric, stickers...the only limitation is your imagination.

Directions:

Clean off the rocks, dry them and decorate, Be creative!!

Here's some ideas I found online...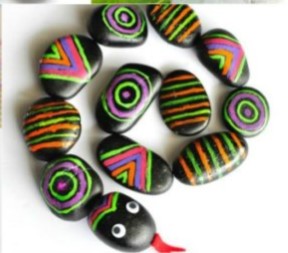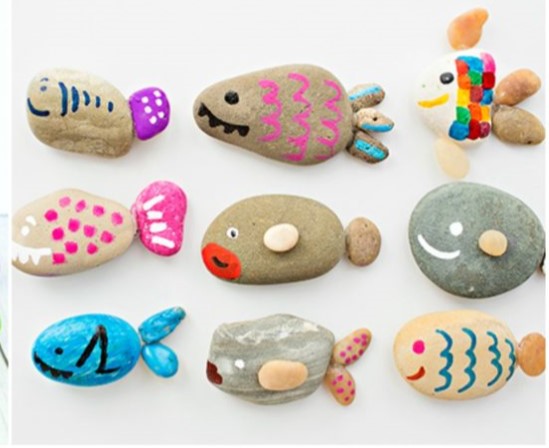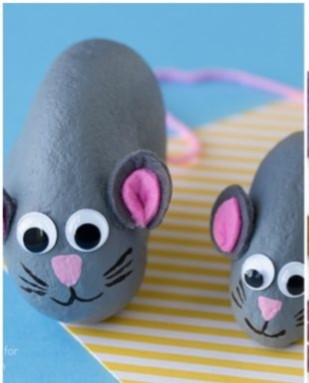 Masterpiece Monday - July 7 - Relaxing and enjoying a rainy day

Today, we are keeping things simple...we're going to colour. Choose the picture below, click on it, print it off and enjoy a relaxing day.







June 29th:
Canada Day Tin Can Wind Sock

Of course we're doing something for Canada Day!! We live in the best country ever so we have to celebrate it. This is a simple craft you and the kids can do and it is a great decoration for the Canada Day festivities. This one is courtesy of Today's Parent. Here are the easy steps:

Materials - scissors, ribbon, twine, a soup can, white paint, a paint brush, red paper, plastic jewels and a glue gun.

Directions:

Paint the can white and cut a maple leaf from the red paper. Click maple leaf for a template.

Using the glue gun, stick the maple leaf, jewels and the string handle to the can. Glue ribbons to the inside of the can's open rim.

Ta Da!!!

Yep, it's that easy!! And you can bling it up as much as you want! Have fun with this one and Happy Canada Day!













June 22 Masterpiece Monday
Daisy Chain

Have you ever heard of a Daisy Chain? Me either...but my friend discovered daisies have arrived for the season and she was telling me about a Daisy Chain. I thought this was a perfect, fun, simple summer craft to kick-off our first official summer Masterpiece Monday.

Here are the easy steps:

1) Go pick a bunch of daises.



2) Using your fingernail, crave a 1/2 inch slit into the stem on one of the daisies



3) Now take another daisy from your bunch and pull the stem through the slit of the original daisy. Repeat this with your other daisies to create a chain-like effect.



4) Once you have linked all of your daisies together, finish off the chain by connecting the first daisy to the last daisy. To do this, you must make a slit in the last daisy on the chain. But this time, instead of making the slit a half inch long, go for about an inch. This way you can link the original daisy through the slit. To make the daisy fit through the slit more readily, you may pluck the petals off of your original daisy, and pull her on through!



You could really use any flower to create this pretty chain...send me your creation at nbarteaux@annapoliscounty.ca and I'll share your masterpieces on our Facebook page.

Have fun and enjoy summer!




Masterpiece Monday June 15th:
Peanut Butter Birdfeeder - This is a great activity that our little feathered friends will appreciate...and the squirrels! Make sure there is an adult present to help you.

Materials:

Peanut butter mix (peanut butter and, if you have some on hand, oat bran - this helps birds digest the peanut butter)

butter knife

Birdseed

Twine

Scissors (to cut twine)

Pinecones

Paper (to place the completed bird feeders on)

Directions:

To start, put a couple spoonfuls of peanut butter and a spoonful of oat bran (if you have s
some) in a bowl and mix it together and set aside. With the help of a grown up, take the twine and twist in around the pinecone so you'll be able to hang it up when the project is complete. Now, carefully take the butter knife and use it to spread the peanut butter mixture all over the pinecone. Take your peanut butter pinecone and roll it around in the bowl of birdseed. As each feeder is completed on the paper and continue to make the feeders until your materials are gone.

Now, take your birdfeeders and hang them in the bushes and trees around your property where the birds will enjoy a feast!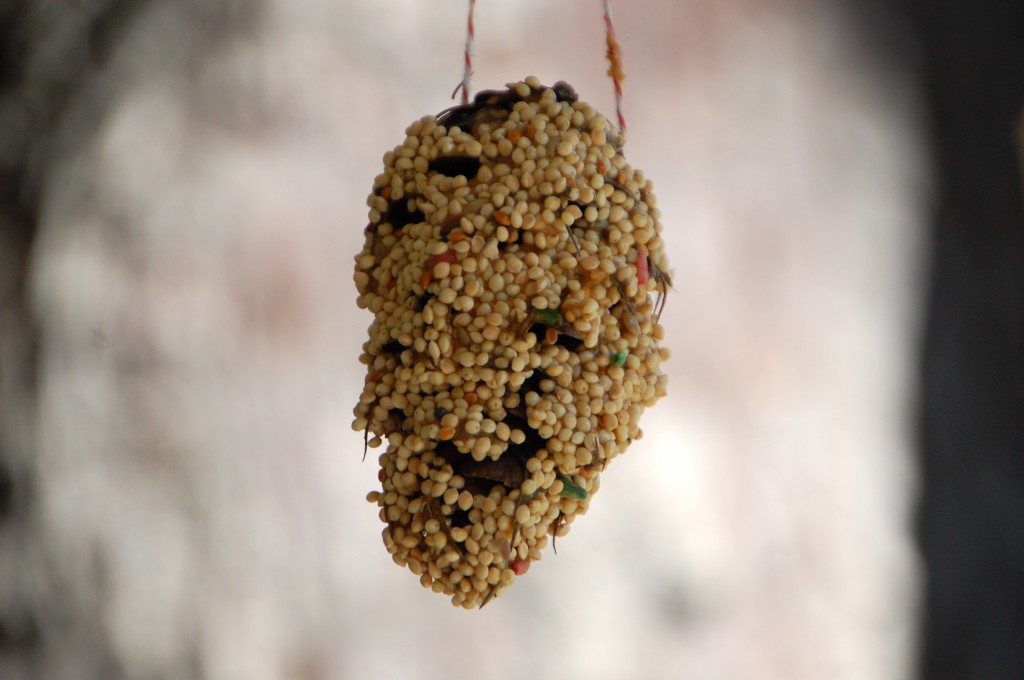 June 8th Masterpiece Monday

Happy Monday!!! Today I'm bringing something back from a few months ago. It's a creative craft my daughter and I had fun doing for Earth Day, but with all the new foliage and flowers blooming I think it would be fun to see what colourful masterpieces could be created now.
The craft is called a "Diorama". It's basically finding supplies that are all around you and creating a picture with them. This can be an inside or outside project. We chose supplies from around the yard and created a woodland scene.
Use your imagination...the possibilities are endless.


Materials:
container eg. shoe box, kleenex box
scissors
glue stick
white glue
glue gun
double-sided tape
assortment of items you can find around your house or outdoors to create your miniature world (eg. small toys, coloured paper, magazines, twigs, bark, pine cones, moss, pressed and dried leaves and flowers, etc.)

Directions:
Just cut the top off your box and you're good to go. Pick out a theme so you can decide what supplies to collect. It can be based on a book you read or a movie you saw; something you're passionate about like insects, pirates or music; travelling back to prehistoric times, to dinosaurs, to the roaring 20's; an enchanted garden; the most amazing candy shop in the world, etc. The inside of the box can be painted, or covered with coloured paper, magazine cutouts or printables. Double sided tape is great for sticking the paper on, so you don't have to wait for glue to dry before working on the rest. The rest involves filling the space with small items that fit in with your theme.





June 1st - It's Bike Week!!!

Today is more of a Master"mind" activity than a Masterpiece but either way it's fun! We're doing some bike-themed activity pages!! Try one or all of them!

Bicycle connect the dots Click Here

Bicycle Maze Click Here

Bicycle "Name the Parts" activity page Click Here

Colouring Fun:

Adult pages

Sheet I Click Here

Sheet II Click Here

Youth pages:

Sheet I Click Here

Sheet II Click Here

Toddler pages:

Sheet I Click Here

Sheet II Click Here


May 25

Dabbling in Play Dough

Today is all about being creative! Here is a super, simple two-ingredient recipe for play dough. Ask a grown up for some help! After you have your dough made and have made some fantastic sculptures, send me a picture (nbarteaux@annapoliscounty.ca) that I can share on Facebook!

Ingredients:

1/2 c hair conditioner

1 c cornstarch

** food colouring (optional)

Directions:

Pour the conditioner in a bowl, add food colouring (if desired) and mix well. Add cornstarch to conditioner and mix together until a dough-like ball forms. That's it! Start getting creative!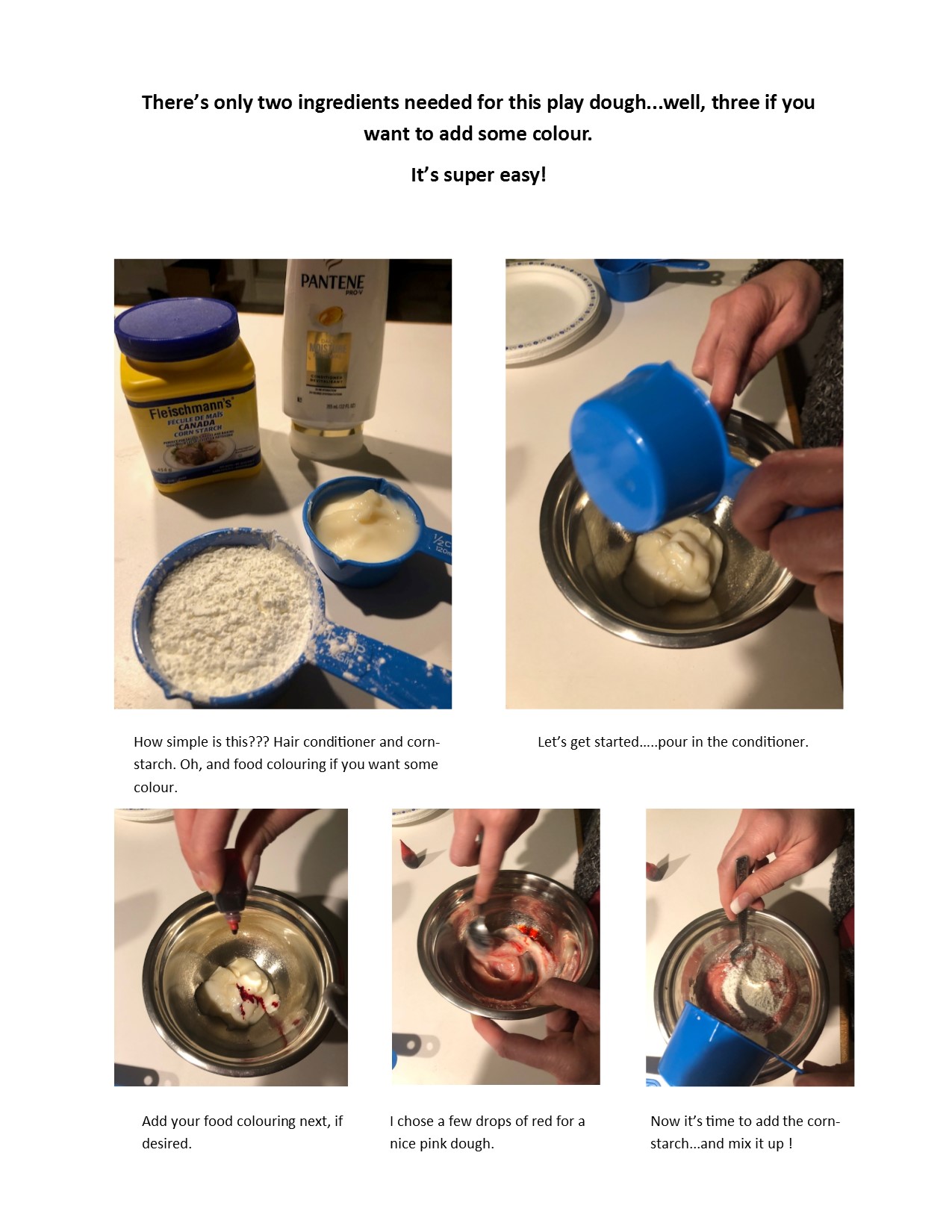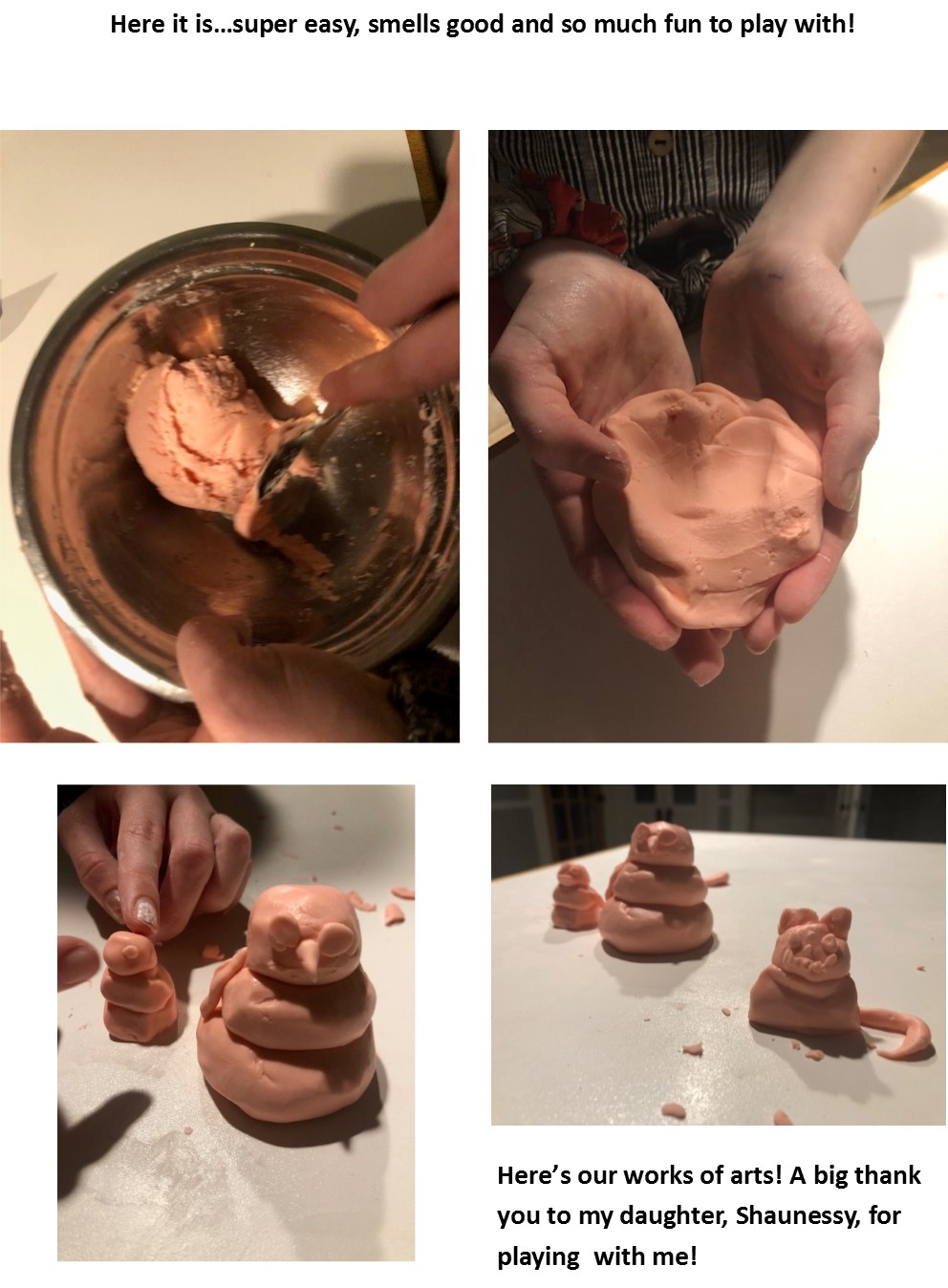 May 11

Colour Contest - Theme: Kindness

Directions: Click on the image shown below your age category, print off the colour sheet, and spend a little time relaxing in the most colourful way. Send your masterpiece via email (either scan or take a picture of your work) to nabarteaux@annapoliscounty.ca by Friday (May 15) at 4:30 pm. Your art will be shared on the County website and Facebook Page. All entries will be placed in a random draw and a winner from each category will be announced the following Monday (May 18th). The winners will receive some colouring supplies which will be mailed out to them.

Please note: Include your first name only on your picture. In the body of your email please include all your contact information (first/last name, email and mailing address). Also, please indicate if you do not wish to have your artwork posted to social media.

12 and older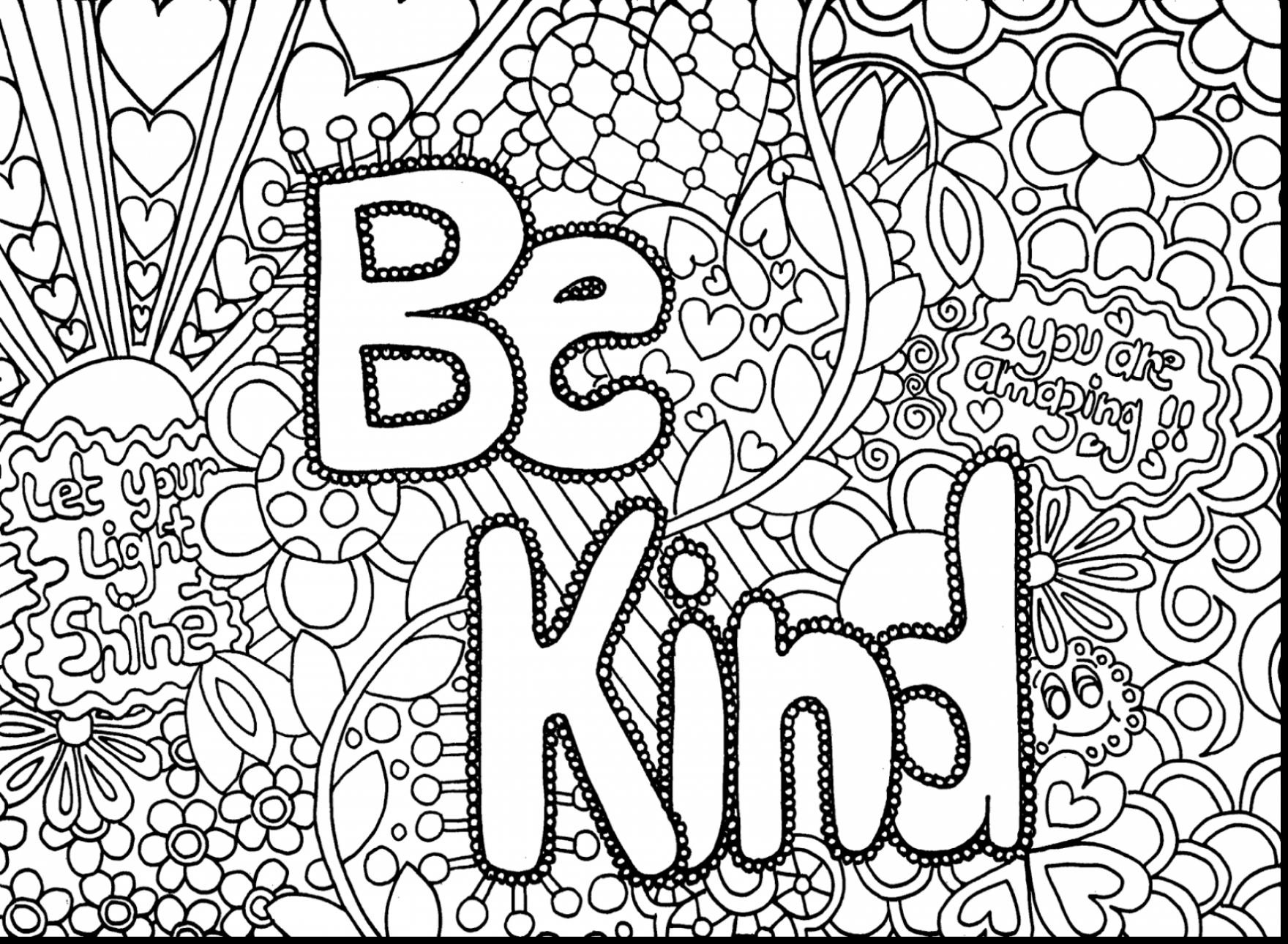 6-11 years of age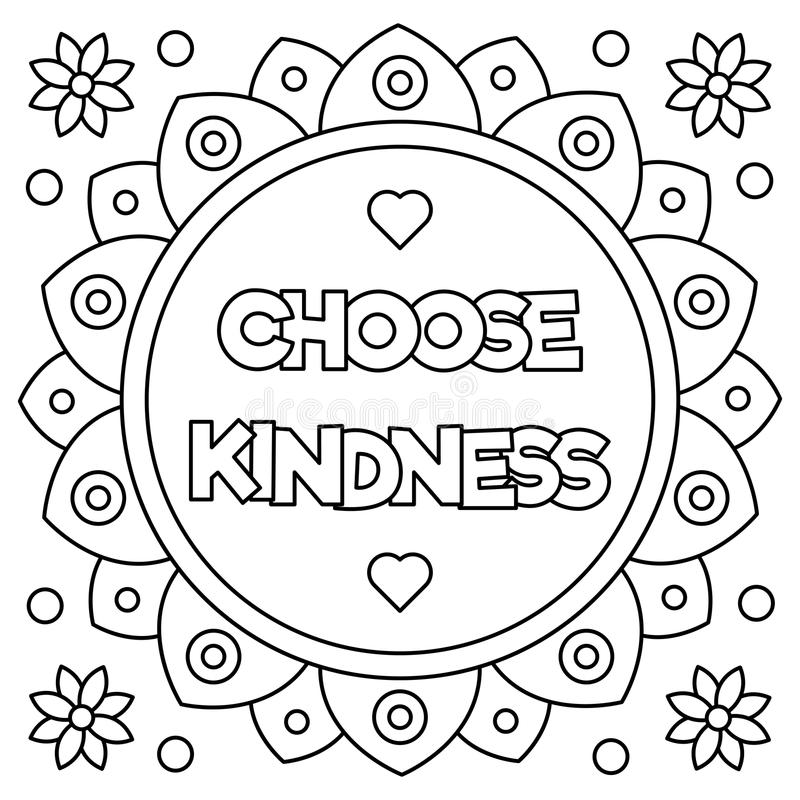 5 and under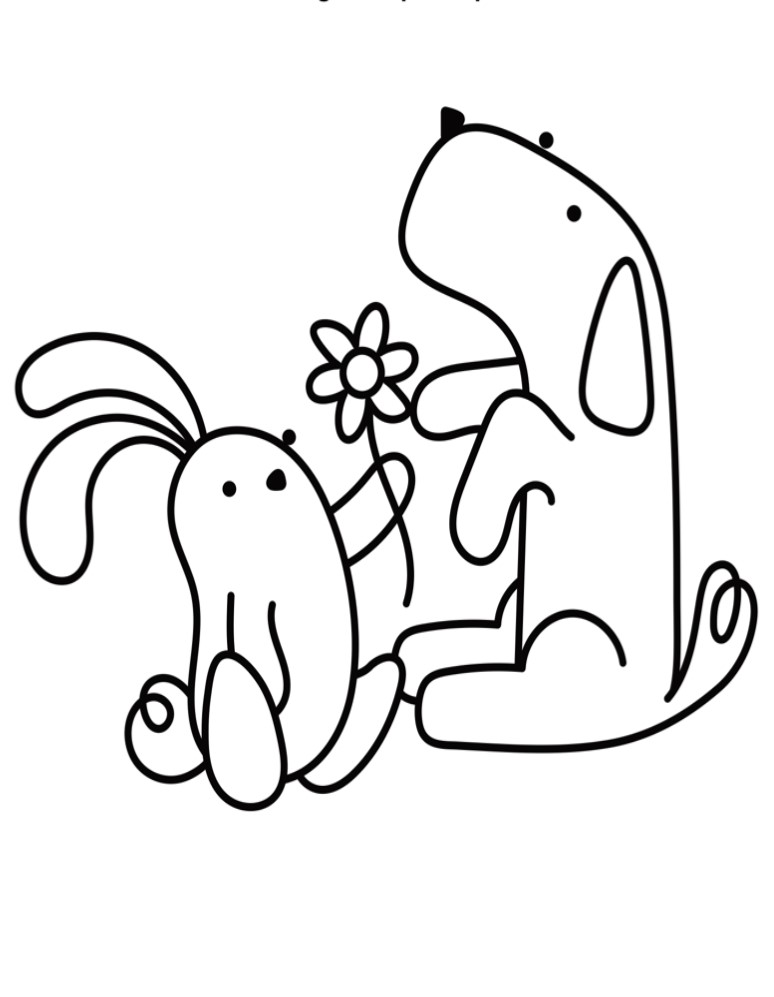 Submitted Masterpieces:

(5 and Under)

Ellie

Layla


May 18: Masterpiece Monday

Theme: Annapolis County Bike Week!!!

Today's activity is an introduction to our upcoming Annapolis County Bike Week (June 1-7) and the favourite, annual Picture Contest!

Picture Drawing Contest:

This year the picture contest is open to all school-age youth in Annapolis County!

Directions:

Print off the entry form, draw us a picture of your "favourite place to ride", and email your picture to Nadine at nbarteaux@annapoliscounty.ca with a subject line Bicycle Picture Drawing Contest. There will be one winner for each age group: Primary - Gr. 2; Gr. 3-5; Gr. 6-8; and Gr. 9-12

We will do our best to share all entries on our Facebook Page (unless you indicate you do not want your picture shared). However, all the winning artwork will be featured. Only your name and grade will be included on the social media post (no personal information). The judging will be done by a community volunteer.

Winners will have a $75 gift card mailed to them.

Be creative! Have fun!

The deadline is Friday, May 29th, 12:00 pm (Noon).

Click here to access the Picture Drawing Contest entry form.

Click here for more Bike Week information.