2020 Annapolis County Volunteer Recipients
Volunteers are truly the heart of communities across Annapolis County. Together they help to make our communities stronger, healthier and more vibrant.
We recognized Volunteer Week and all the recipients of a 2020 Annapolis County Volunteer Award; however, due to the current conditions we had to postpone our Volunteer Award Ceremony to a later date (yet to be confirmed). But, we do not have to postpone the opportunity to learn more about these extraordinary people, so throughout the next few weeks I will be featuring our 2020 volunteer recipients.
Join me in congratulating our worthy 2020 Volunteer recipients!!



Youth Volunteer:

Hailey Halliday

Individual nomination by Debra Ryan
Hailey is an outstanding youth volunteer who is modest by nature and who has made a huge impact on the community around her for the past 7 years. She recently graduated from Annapolis West Education Centre. When Hailey was 12 she started volunteering at Kings Theatre. As part of a Grade 8 project, she went to Kejimikujik National Park and National Historic Site of Canada and spent time working with the staff there to count wildlife and make repairs to walking trails etc. She was part of Student Council every year, as well as Dance Coordinator and Treasurer. One of the bigger Student Council events is the IWK dance-a-thon which she helped to organize and put on. She spent 7 years on the Social Issues Club at AWEC. Annually, she worked on the "Get the Goat" initiative to fundraise and send goats to countries hit by devastation. During her middle school years, she spoke to homerooms and coaxed them to take part and collect hundreds of dollars. In high school, she sat during lunch times collecting change from students in the cafeteria, and oversaw bake sales during parent-teacher evenings and afternoons. Hailey regularly encouraged students to write Christmas cards, Valentines cards, and/or Easter cards for seniors at the nursing home, as well as troops serving overseas. She spent almost 2 years fundraising money to participate in a service trip consisting of 10 days in Costa Rica with a community group volunteering to refresh classrooms and paint murals at an elementary school. These trips were not a vacation but more a work-like volunteer experience making a difference in small communities. In October of 2019, Hailey was asked to go up on stage at the Halifax Scotiabank Centre for WeDay (a Canada wide youth empowerment movement), to represent AWEC, in front of approximately 10,000 peers and speak briefly about their group fundraising efforts for the local foodbank (30 hour Fast for Food) . Her talk resulted in a $2500 donation from the Keg to the Annapolis Royal local foodbank. Hailey has been involved with packing Christmas gift boxes and pantry boxes for 4 children in her school who do not have access to a lot of things. She enlisted the help of some of the youth from the Social Issues Club to help out with the items to also provide a Christmas dinners. Hailey truly has a heart of gold and makes a huge effort in making her world a better place and for those around her. She have overcome the trauma of being bullied in the younger grades and has set a path that is truly outstanding. She wants to spend her life seeing the world to experience the richness of the world's cultures and helping people whenever and wherever she can. We know that whatever path she follows she will be amazing at it.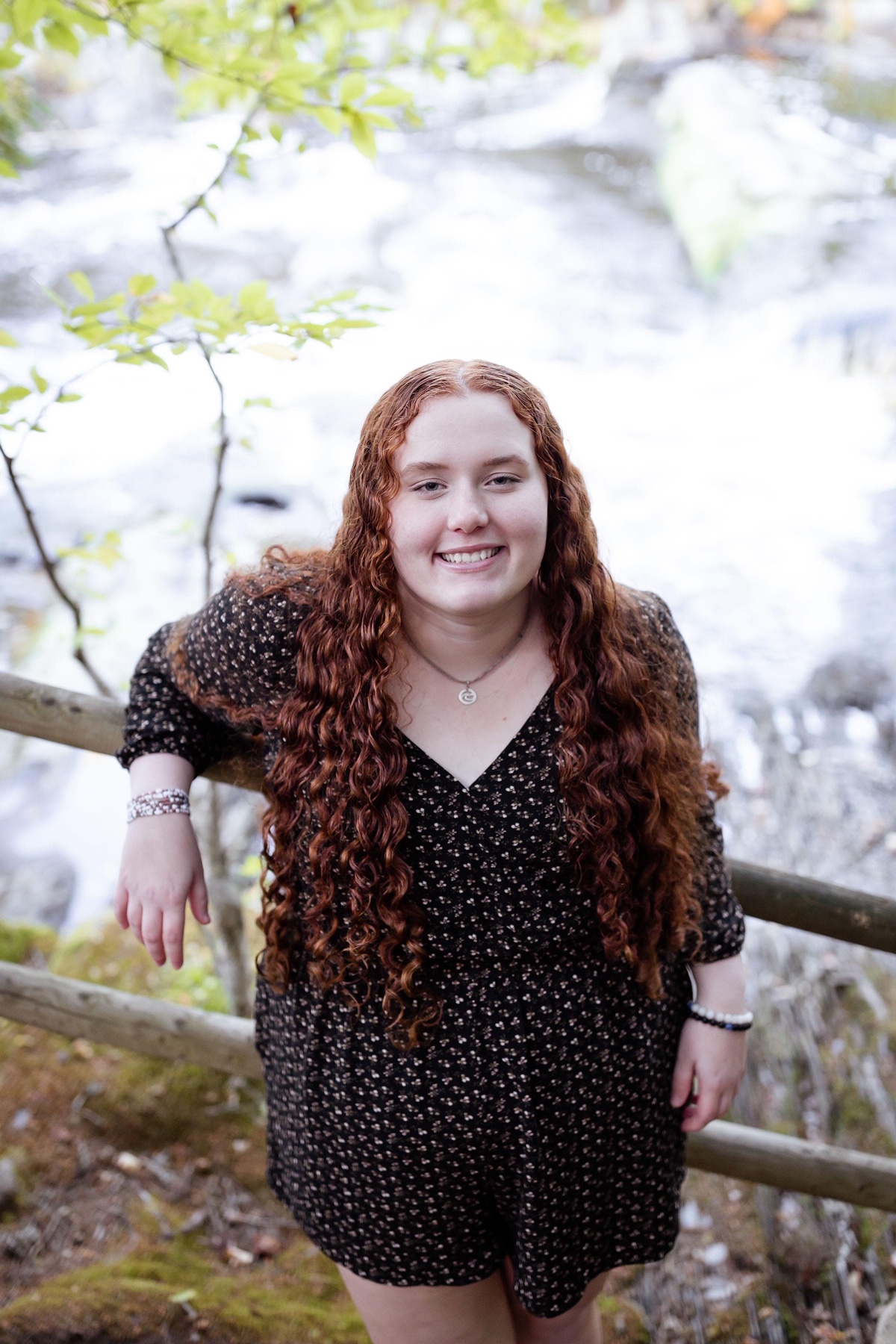 Community Volunteers:


Tammy Andrews-Tupper

The Historical Association of Annapolis Royal


Tammy started volunteering with this organization in 2015 where she was a driving force in the use of social media to encourage people to vote for our Annapolis Royal Lighthouse in the "This Lighthouse Matters" competition, sponsored by the Royal Bank of Canada, Telus, and the National Trust for Canada. Thanks to the overwhelming support received, the Annapolis Royal Lighthouse, (owned by The Historical Association of Annapolis Royal) received the most votes of all the 26 lighthouses in Nova Scotia which resulted in the $40,000.00 first prize for the preservation of this cherished landmark. The Annapolis Royal Lighthouse has been in the town since 1889. Because of this win, the Association was able to hire Sefton Squires of Heritage Renaissance Properties to fix and repair the structure so that everybody living in or visiting Annapolis Royal could enjoy and take pride in this beacon of the community for many generations to come. Tammy has been on the Board of Directors of The Historical Association of Annapolis Royal since 2016 and has contributed greatly by promoting activities and preservation events through social media. She helped launch the organization's popular "Facebook Live" broadcasts. Through her dedication and efforts, the Association has been able to record and do live broadcasts of many activities and events that are very relevant to the Annapolis Royal Area. Working in partnership with the Explorer Guide, The Historical Association of Annapolis Royal has been able to promote the area's cultural and natural heritage and preserve it in digital format for future generations. Recordings of Natal Day Parades, visit of Tall Ships, Natal Day Encampments, the Provincial Heritage Conference, Saint Luke's Anglican Church, Annual Dinner Meetings at the Port-Royal Habitation, Rose Fortune Memorial Gravestone Ceremony, Rose Fortune HSMBC Ceremony, the 100th Anniversary of The Historical Association of Annapolis Royal, the Daurene Lewis Bronze Statue Unveiling, Ghost Town activities, and the Christmas Craft Markets are just a few of the many broadcasts Tammy has done that are available for folks to enjoy now and also 100 years from now. Additionally, she has taken numerous photos of the Annapolis Royal Region and special events to preserve for future generations. Tammy stands out for the passion she has for heritage, the preparedness she displays in her all the endeavours she undertakes, her warm and welcoming personality, and her commitment to excellence. She has helped President Durline Melanson with many of the activities over the last 4 years and is always willing to go the extra mile. The Historical Association of Annapolis Royal is thrilled to have Tammy on their Board of Directors because it is individuals like her that will ensure the Association can serve a role in heritage preservation and presentation for another 100 years. They sincerely thank Tammy for helping them showcase and share Annapolis Royal with the world.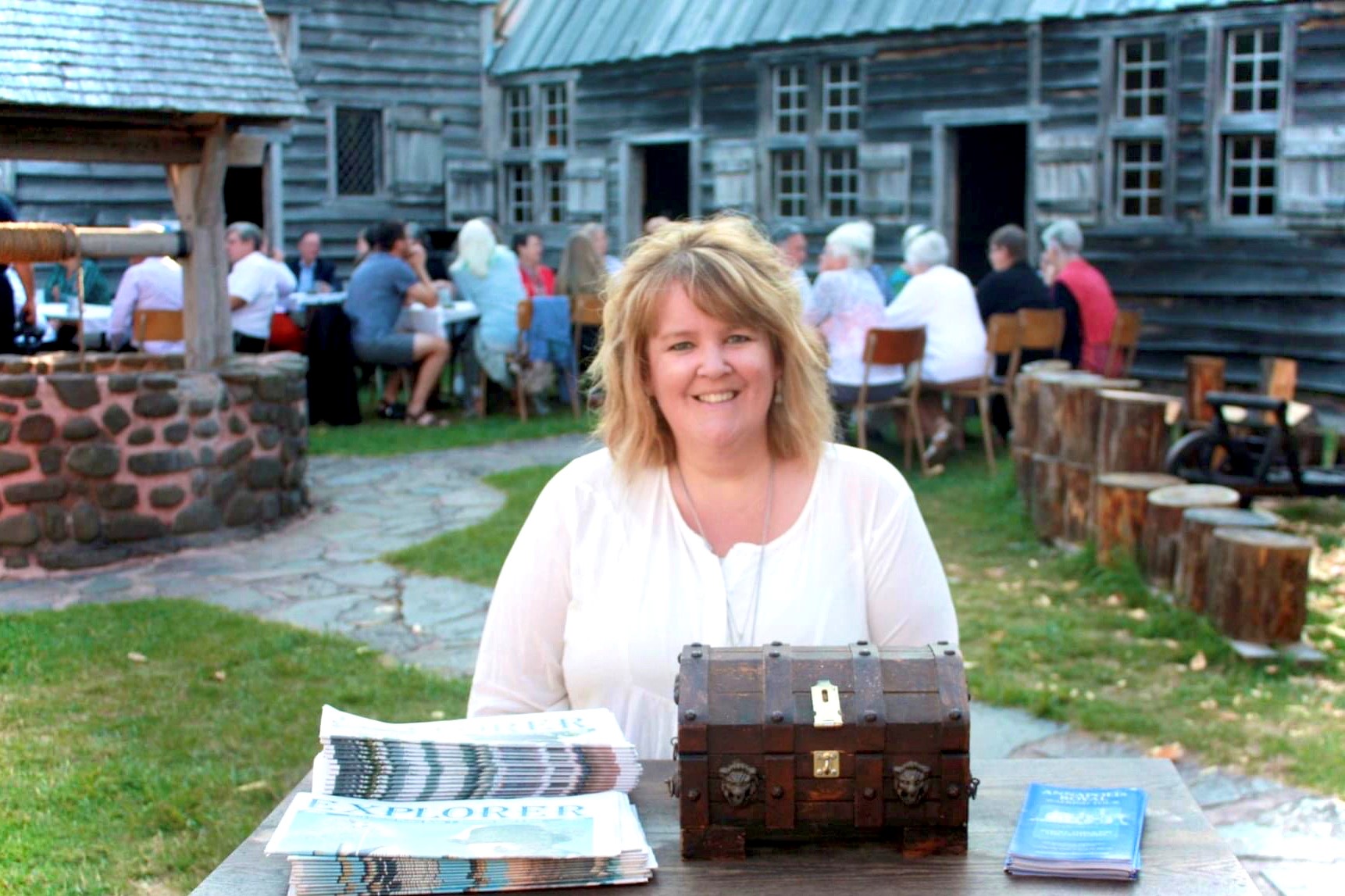 ________________________________________________________________________________________


Elsa Beattie

Town of Annapolis Royal


Elsa Beattie has lived in Annapolis Royal for many years. She is a caring woman who is always open to listen when someone needs her support. She shows this love for others with phone calls, cards, and donations to ACHC Palliative Care. Elsa loves music and loves to share her gift with others; she sings alto in both Annapolis Voices and the United Church choir. Elsa and sister, Susan, sing once a month at the Annapolis Royal Nursing Home, as well as does monthly visits with the United Church Choirs. She also volunteers her time during the holiday season performing at various celebrations. Elsa's biggest impact has been her work as a Lady of Good Cheer. She has welcomed many new homeowners over the years by collecting welcome items and resource pamphlets and delivering them to the new residents at their home.
"Annapolis Royal has such a special place in Elsa's heart, and so she willingly and caringly shares herself in so many capacities," says loving sister Susan Baltzer.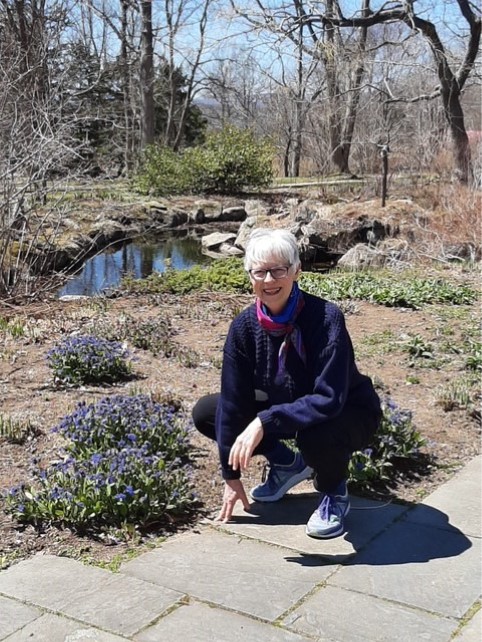 _______________________________________________________________________________________


Louise Boates
Wilmot Community Centre
Since 2010, Louise has been a vital part of the Wilmot Community Centre as one of the original directors, and a member of the community since 1974. Louise plays a key role as the Treasurer/Bookkeeper. Her knowledge for this position comes from over 25 years' experience working with financial institutions. Louise was also able to use these skills to assist with record keeping as Treasurer with the Annapolis Valley Car Club for 2 years. Louise's background and work experience has been a crucial factor in the Wilmot Community Centre's successful grant applications over the years. Her dedicated work has helped with the addition of wheelchair accessible washrooms, kitchen renovation, and the installation of heat pumps to reduce expenses. She has also been a key member in the development of the increasingly popular Jam Sessions. She can be found at the Centre every other Thursday evening volunteering in the kitchen organizing the snacks and refreshments. Louise is very deserving of this award as the community of Wilmot has been a huge beneficiary from her tireless volunteer hours.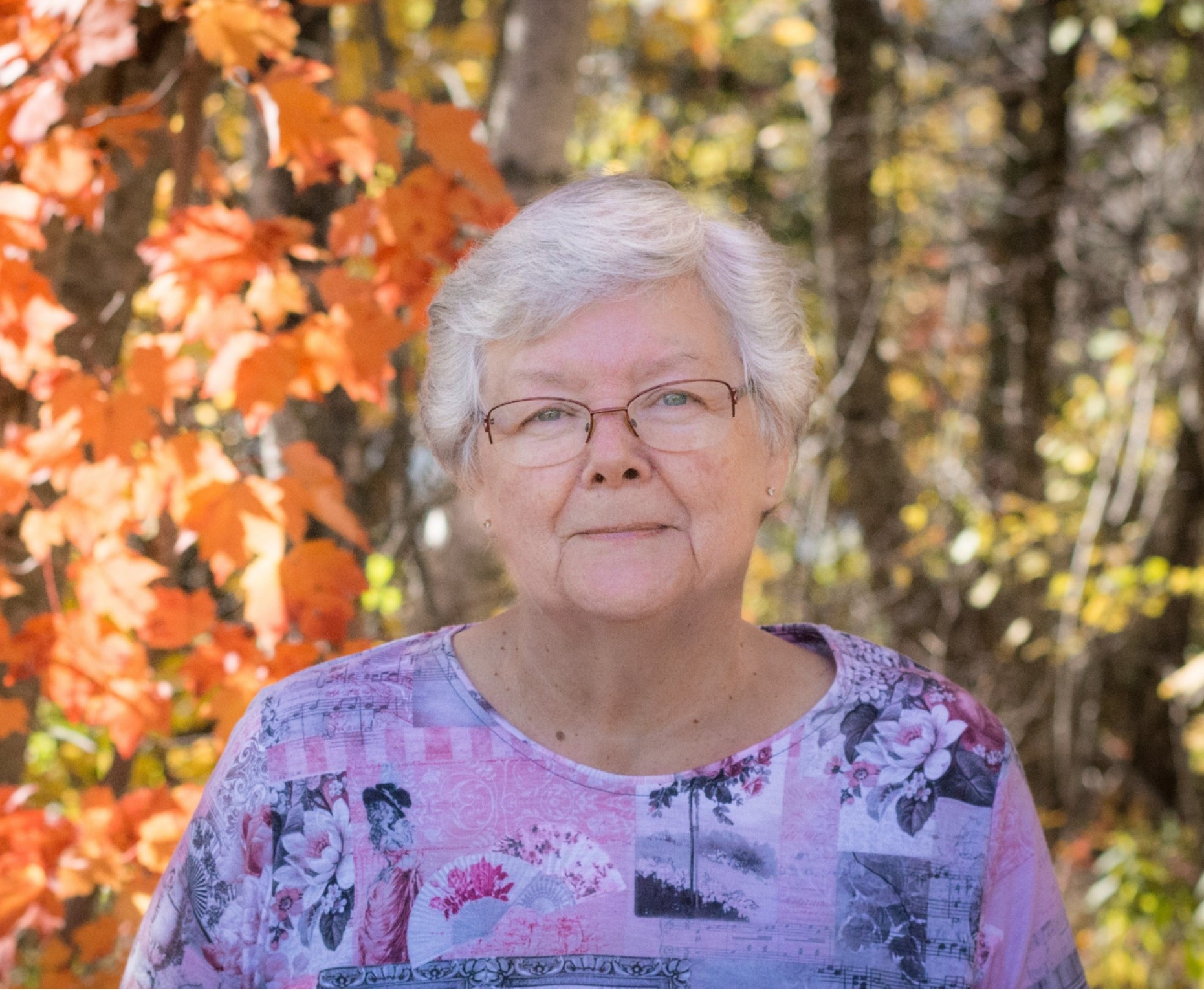 ________________________________________________________________________________________________________
John Bobbitt

Clementsport Legion
John is a retired veteran with many decades of service in the Canadian Army. Over a decade ago, he turned his attention to community affairs and joined the Clementsport branch of the Royal Canadian Legion. Demonstrating prowess in many areas, John has excelled in both the practical and administrative aspects of Branch life. In the recent past, he was the main designer and overseer of construction of the new large outdoor upper deck. This structure has greatly increased the number of Legion events available to branch members and to the general public. The Legion branch building is a large, two-floor structure containing rooms of various sizes that serve a multiplicity of meetings and functions. Thus, the maintenance and replacement requirements of both interior and exterior are many and frequent. John has approached this latter circumstance by drafting a "repair and replacement" chart, listing what needs to be done now, and in the mid and long term. This will ensure that future work is orderly and well implemented. On the Legion administrative side, John is now a member of the Executive and serves as Second Vice-President. This enables him to keep abreast of and offer suggestions on all aspects of the Branch. John is a true asset the Legion and community.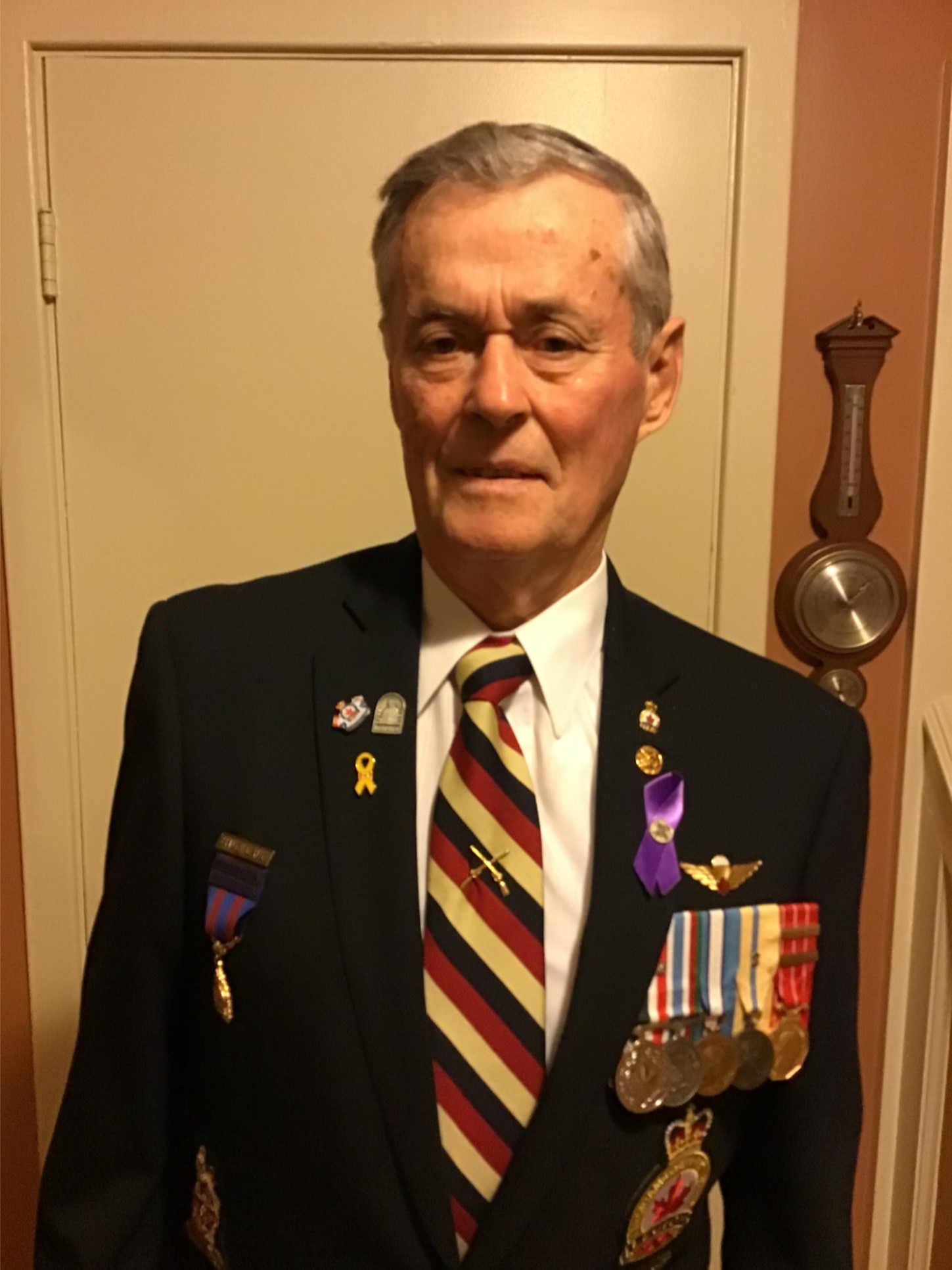 __________________________________________________________________________________________


Jane Borecky

King's Theatre Society


Jane Borecky lives in Young's Cove. Her work for local community groups and events over the past seven years exemplifies her commitment to her Annapolis Valley community. Jane served from March 2016 to March 2020 as Vice Chair on the King's Theatre Society Board of Directors in Annapolis Royal. She was also active on the Special Events, Fundraising and Nominating Committees and the Tournament of King's Committee - the major fundraiser for the Theatre. Her efforts in these areas not only helped to expand the Theatre's presence in the community, but were also key in positively impacting its sustainability. "As Chair of the King's Theatre Society Board of Directors, it has been my pleasure to work with Jane. Her generosity, determination, and devotion to King's Theatre have been invaluable." - Sheila Duggan. For six years Jane has served as President of the Bridgetown-based Ernest Buckler Literary Event Society, a not-for-profit group formed to keep alive the memory of local son and celebrated novelist, Ernest Buckler, and to encourage a wider appreciation of Canadian literature. "I have worked with Jane for many years on the Ernest Buckler Literary Event Society and am delighted that she is being recognized for her work. She is collegial, generous and throws everything she's got into whatever she tackles." - Anne Crossman. Jane served as a volunteer at Fidelis House in Kentville for four years. Fidelis House offers a 'home away from home' for patients at Valley Regional Hospital and their families. It is staffed around the clock by volunteers. Jane's duties included: reservations, payments, check-ins, and an overnight shift monthly. "Jane came to us after she moved to Young's Cove. We couldn't believe that she wanted to drive all the way up to Kentville. But once a month up she would come and do a shift from 9pm Saturday to 9am Sunday. Jane is a go-getter and totally deserving of this nomination." - Jane Downie, Board of Directors, Fidelis House. Jane volunteered for two years at the Annapolis Royal Health Centre, spending the time brightening long hospital days for patients. "Jane has been a volunteer at the ACHC since 2015. She has undertaken roles as a patient visitor and as a support person for the Diabetes Centre. Jane was very well liked by staff and by patients and we always appreciated her time and compassion." - Daniel Marsh, Health Services Manager & Western Zone Research Facilitator, ACHC. Jane was Parish Council Secretary for St. James Anglican Church in Bridgetown for four years. She is currently a member of the Anglican Church Women's Group, the primary fundraising organization for the church. This past year Jane has been active locally with the environmental group, Extinction Rebellion. She has participated in local marches and protests, including a demonstration at Corbett-Dalhousie Lake which, resulted in a halt to clearcutting on delicate nesting grounds. Jane's energy, leadership and dedication on behalf of her community has earned her the admiration and respect of everyone who has worked with her.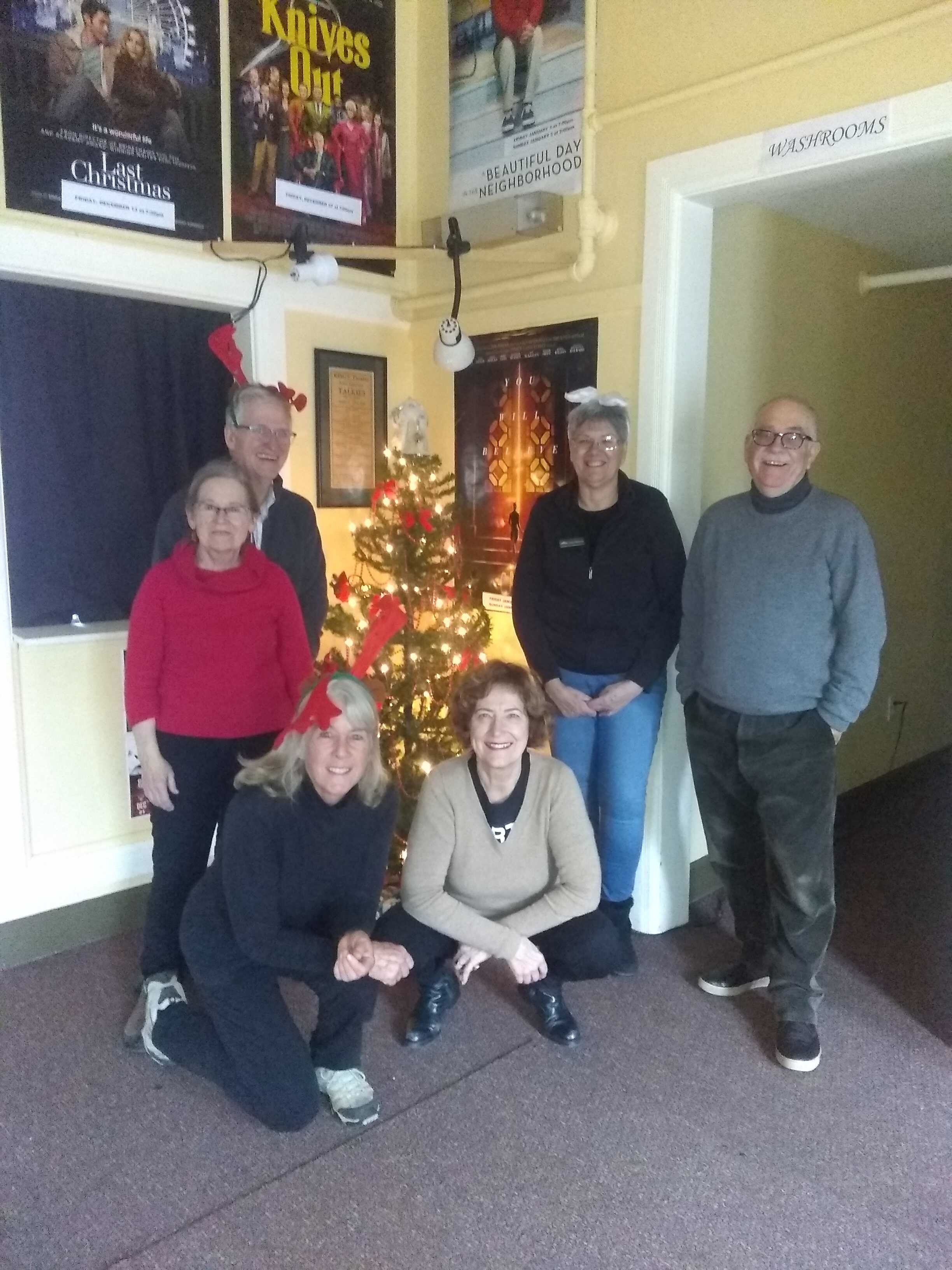 Left to right: Everett Lavender, Sheila Duggan, Jane Borecky (with the droopy antlers), Flora Hall, Nancie McKinnon, Nigel Wallace
______________________________________________________________________________________


Dr. Ken Buchholz

Fundy YMCA


Dr. Buchholz has been a volunteer at the Fundy YMCA since 2012 when he became a volunteer with the Taekwondo program. This is a family-friendly program for those eight years-old and up, focusing on non-contact martial arts. With the support of committed volunteers like Ken, the program has seen growth over the years and become a staple of the Fundy YMCA. Members describe Ken as always being cheerful, and non-judgmental. He is supportive in and outside the classroom, helping both participants and his colleague, Shirley. He is always willing to help with the planning and reviewing of classes, and teaching class when Shirley is unavailable. Ken also volunteers his time helping out with belt grading. His support of the TKD program includes donating not only his time but also equipment - uniforms, protective gear, and a TV are just some examples of his generosity. Over the years, Ken's involvement in the YMCA has grown to include new programs, such as "Walk with The Doc" initiated in 2009. This is free community program is open to everyone and sees participants enjoy a walk around the YMCA track with Dr. Buchholz once a month. Various topics of interest are discussed including managing heart disease and other chronic illnesses. Occasionally, he will bring other health care practitioners with him to share their expertise. Ken is always open to new ideas and willing to help in any way he can. The Fundy YMCA is appreciative of all the time and effort Ken puts into the YMCA and the greater community. He is a shining example of a true volunteer.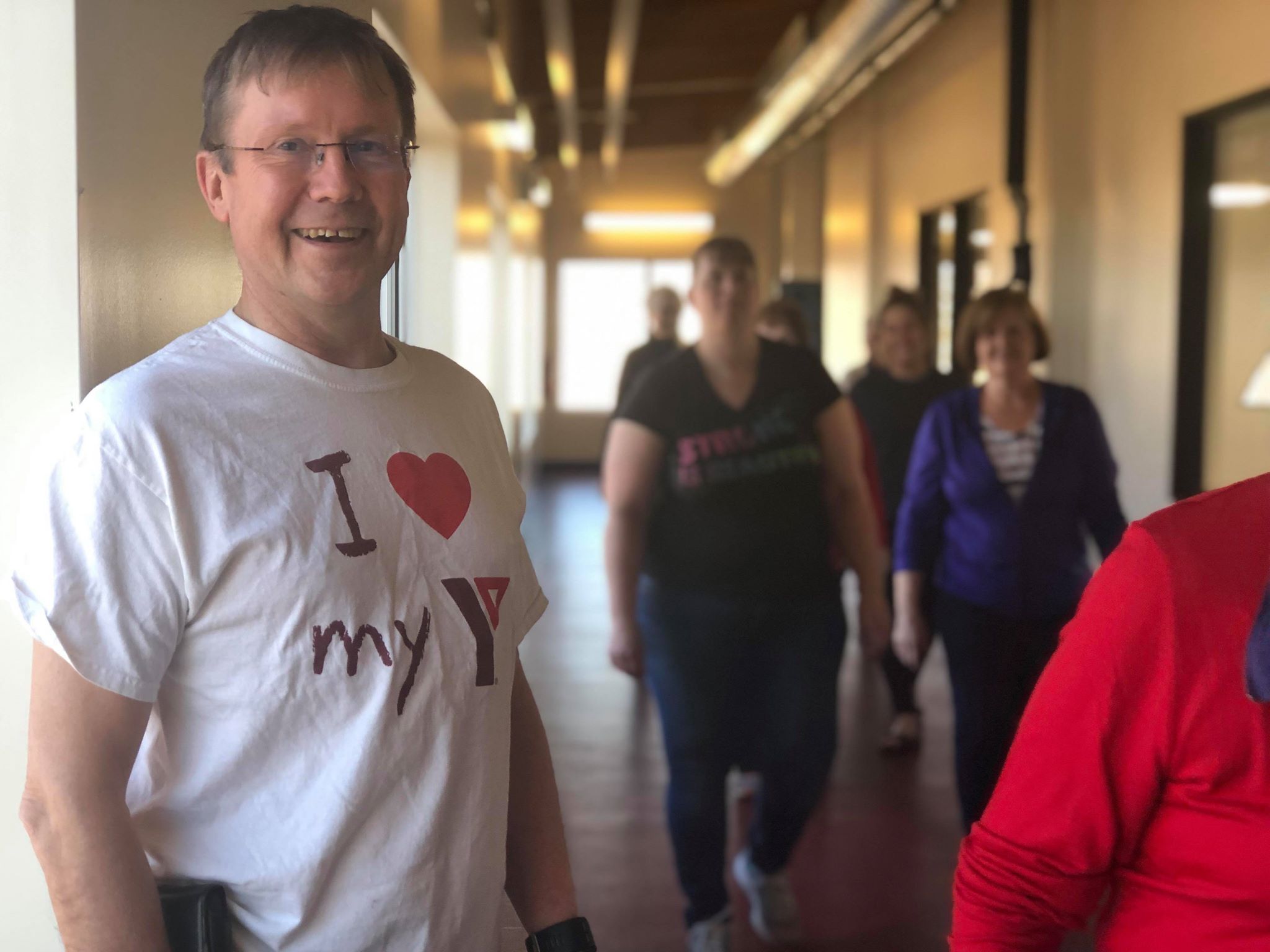 ________________________________________________________________________________________

Steve Campbell

Bridgetown and Area Lions Club


Steve began his teaching career at Islands Consolidated School and while there (1980- 1985), he took on the role of Senior Girls Basketball Coach, Track and Field Coach, Yearbook Committee Advisor and Senior Student Council Advisor. In 1986, he transferred to Weymouth Consolidated School where he coached the track and field team for two years. Two years later, Steve moved to Bridgetown Regional High School (BRHS) where he continued to volunteer as an advisor for many of the extracurricular activities that are a part of a student's school life. He was Junior Student Council Advisor, Junior Boys Volleyball Coach, Junior High Rocket Club Advisor and a Track and Field Coach. During this period, Steve found time to be Vice President of the Bridgetown Tennis Club. From 1996 to 2012, Steve spent his final teaching years at Annapolis East Elementary School where he was the Grade 6 Basketball Coach, Chairman of the Bully SMART-Anti-bullying Committee (2007-2012), on the Crisis Response Team (1996-2012), a member of the AVRSB Guidance Regional Lead Team, and the AVRSB Critical Incident Response Team. He was the Gr. 6 Basketball Coach at BRES, the Senior Girls Softball Coach (2001-2008) at BRHS and the Under 9 Summer Soccer Coach in Bridgetown (1998). Outside of teaching, he was a director on the Valley Credit Union Board (1989-1991), a Trustee of Gordon Providence United Church (1989-1991) and a committee member of the Bridgetown Food Bank. Bridgetown's annual Triathlon is regarded as one of, if not, the best triathlon held in the province. Steve has been a member of this committee for the past six years; serving as Treasurer and Swim Co-Director for most of that time. As a member of CARP (Clean Annapolis River Project), Steve played a major role as Co-Chairman in creating the Annapolis River Festival; an event that promotes the Annapolis River and is a fundraiser that nets between $20,000 and $30,000 each year. Steve was also part of the Bridgetown Dock Committee that saw the construction and installation of a floating dock at Jubilee Park, and a member of the steering committee working diligently as the overseer of the development of the new regional outdoor sports facility where BRHS was once located. This sports facility is one of the best in the province and will serve the western part of the province for many sports activities. Presently, Steve is a member of the Bridgetown Lions Club where he is part of the Northwood in Touch team that installs medical alert units for seniors and others who live alone and may need assistance. He is always willing to help in any of the Lions activities. The time and energy that Steve has displayed has led to the success of many organizations in Bridgetown and surrounding areas.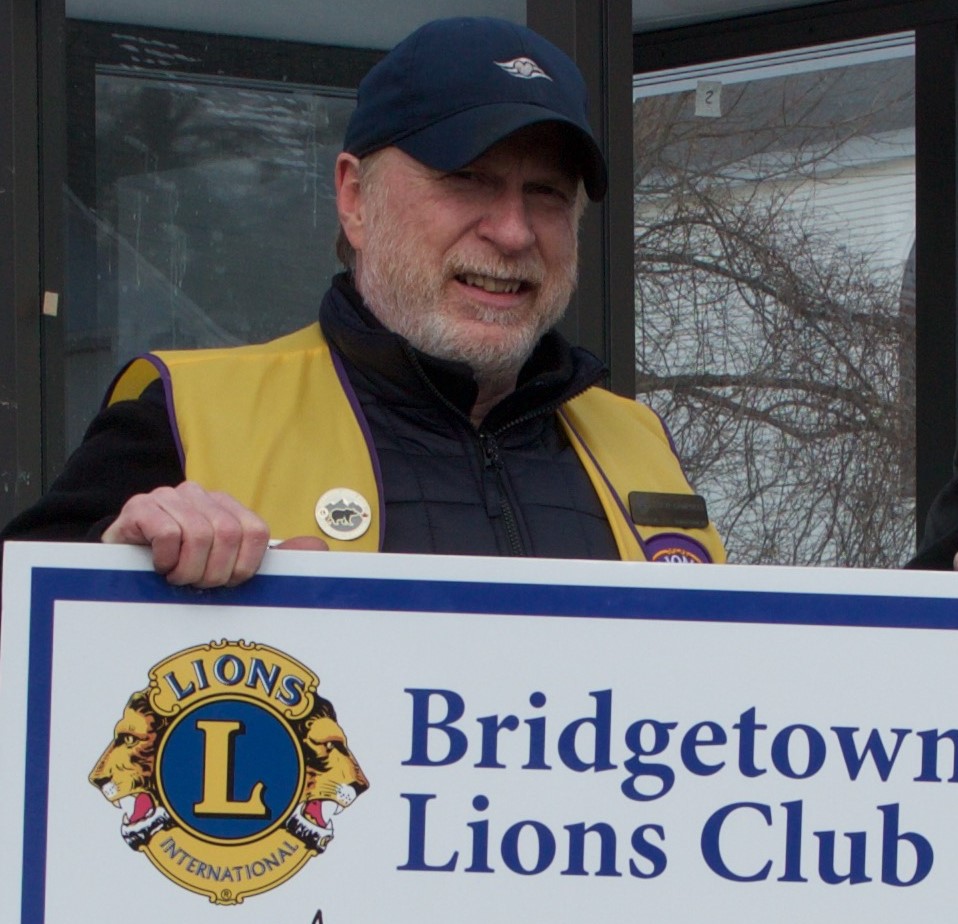 __________________________________________________________________________________________
Michael Charlton

Annapolis County 4-H Leaders Council

Even though Michael is no longer eligible to be a 4-H member, he continues to be a 4-H volunteer; an organization that has had a major impact on Michael's life. For some people, volunteering comes naturally, for Michael this was not the case. It was through Michael's 4-H experience that his volunteering started. As a 4-H member, Michael would be one of the first to volunteer for different activities at the Club level and County level, like the canteen or help in the barn. He can be found at the Lawrencetown Cattle Sales and the last couple of years with the Annapolis Valley Exhibition. Michael is someone who would help anybody. Annapolis County 4-H is honoured to nominate Michael as its volunteer of the year.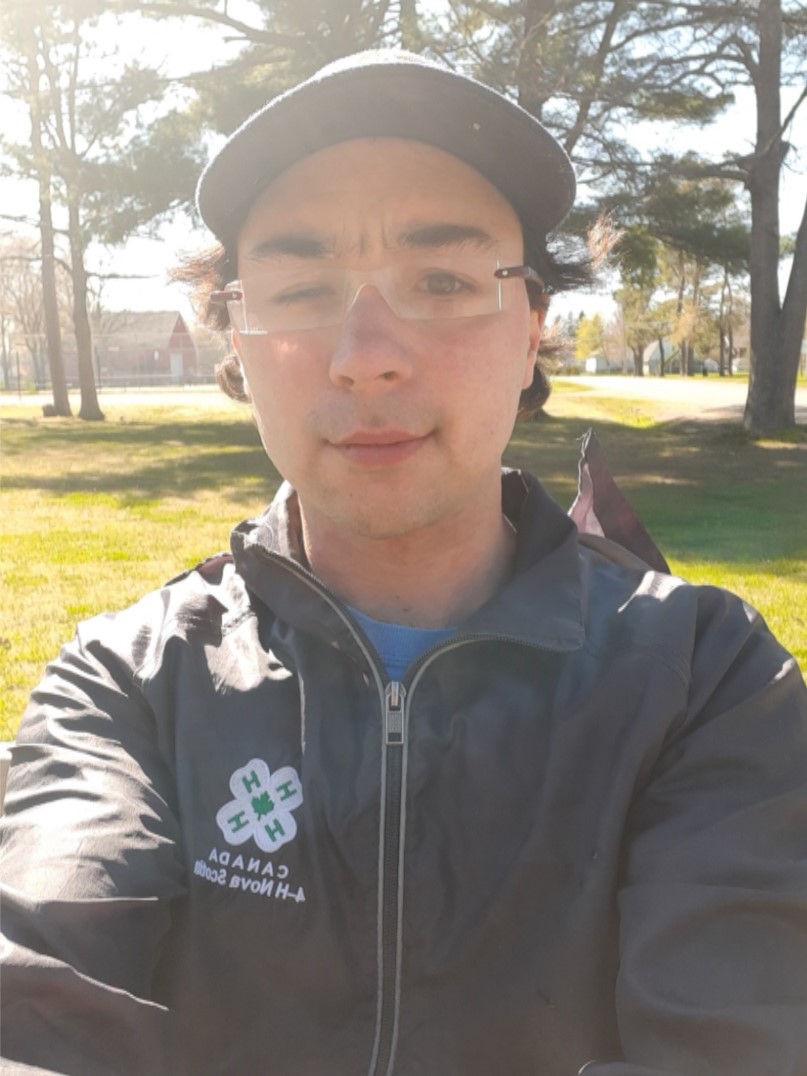 ________________________________________________________________________________________

Alex Cranton

Annapolis Royal Volunteer Fire Department

Alex has been a Level-One trained firefighter at the Annapolis Royal Volunteer Fire Department for the last 9 years. He has climbed the ranks to the title of Captain, and guides all of the members with experience and knowledge both on the fire scene and off. Being on call 24 /7 is no easy task but he is always willing to stop everything and come to a stranger's aid. Alex sets aside his safety and goes above and beyond to assist many people in his role as a firefighter. One particular incident was the truest form of selflessness when he witnessed an altercation with a local policeman and without any forethought, he stepped in to ensure the police officer had help. Alex also attended the Rescue Boat Challenge where the best-of-the-best compete. During the open houses held at the fire hall, Alex can be found talking with community members about fire safety, fishing and maybe a little hunting too. He attends weekly training sessions, monthly meetings, volunteers for Natal Day, and during this past year, Alex was heavily involved in a fire department fundraiser's Chase the Ace where he sat on the Committee as second in command and was one of the faces for the fundraiser's social media campaign. Beyond the fire hall, Alex takes time out of his schedule to spend time with a local community member every week where he learns important life lessons from days gone by, showing how different generations can still be great friends when commonality brings them together. For such a young man, Alex's devotion to his community is well beyond his years, his energy and kind heart represent true selfless volunteerism As a volunteer, fur-dad, and husband, Alex truly represents what makes a selfless volunteer.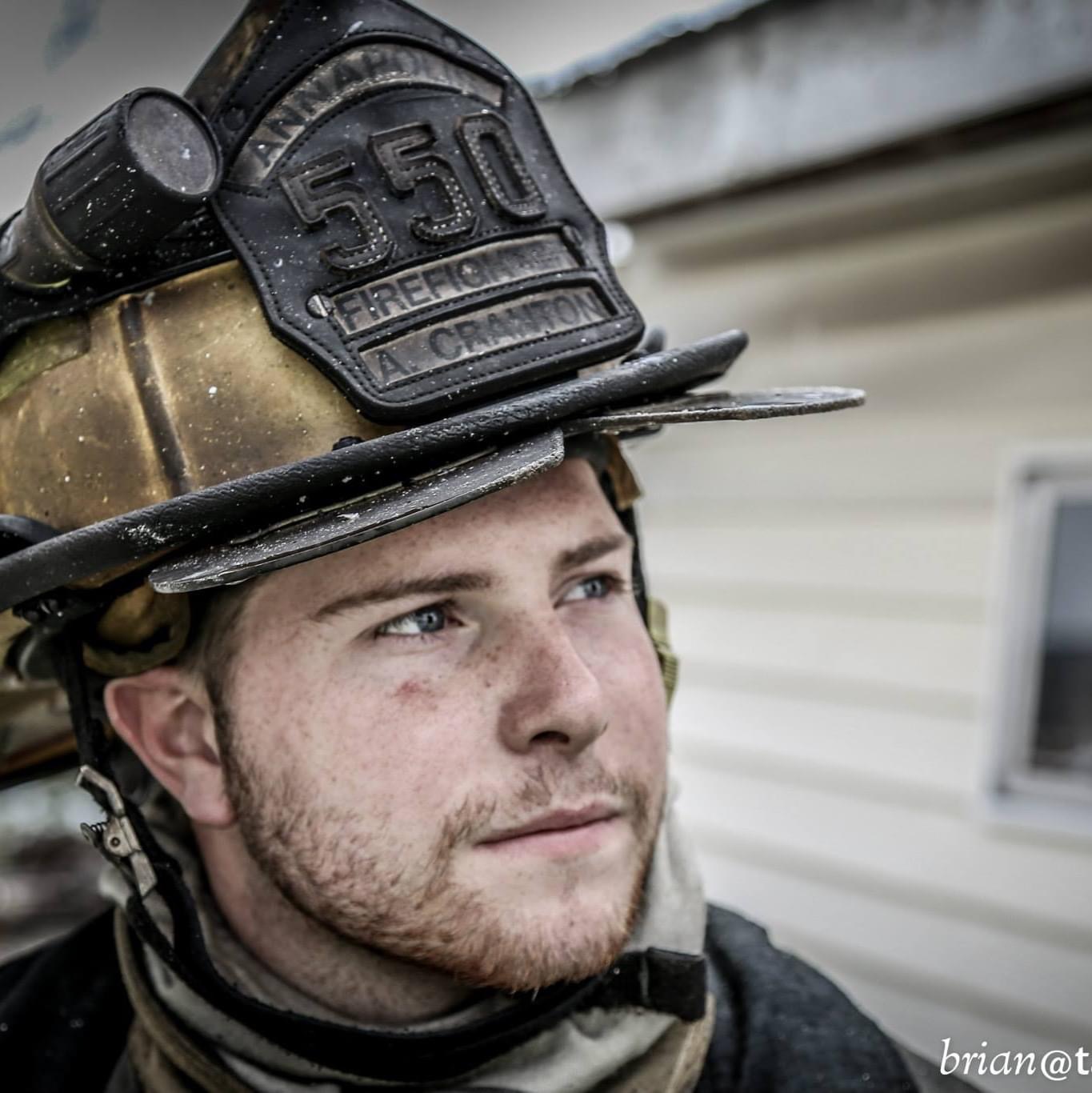 _________________________________________________________________________________________


Bill Crossman

Centrelea Community Hall


Bill Crossman has been a stalwart volunteer with the Centrelea Community Hall since 2010. While his official title is Treasurer, he has been the go-to guy for many things that needed to be done at the hall. He has dealt with the septic system, making repairs to the water system in unkind weather, keeping the lawnmower in shape and doing anything that needs to be done at the fundraisers (including the dishes). He is the keeper of our Christmas tree, the front door lock repairman. He always steps up to the plate, his support services have been invaluable. Bill has been a volunteer in Annapolis County over the years as a board member for the Marine Resource Centre in Cornwallis Park; a centre that worked with the fisherman and clam diggers a number of years ago. He has also been the Treasurer for the Centrelea Cemetery Company that looks after the cemetery behind the Centrelea Baptist Church. This company looks after the maintenance of said cemetery. Bill's latest project on behalf of Centrelea Community Hall is to establish a solar array behind the hall and sell the power to Nova Scotia Power over 20 years. This will establish a source of funding to sustain the viability of the hall. He is a passionate environmentalist and has been for many years. He has covered environmental issues as far back as the 1960s as a freelancer for CBC radio. The solar project for the hall fits in with his beliefs and adds to his faith in the importance of community halls. Bill is a wonderful addition to ther community and an invaluable member of the Centrelea Community Hall team.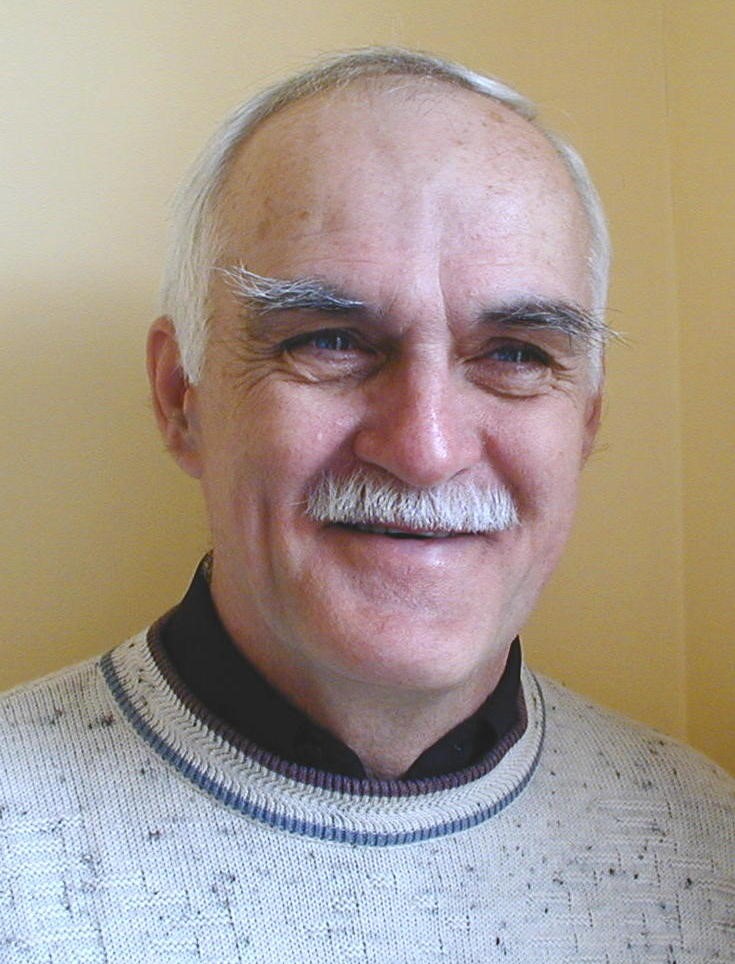 __________________________________________________________________________________________
Linda Elrick

Clementsport Legion


Linda Elrick is the consummate volunteer – quiet, in the background, always there when needed, and always looking for additional opportunities to serve. For many years, she has been at virtually every function of the Cornwallis branch. She believes in the purposes of the Legion and is a strong, principled supporter. She works in one specific area of activity – but her successful actions reflect on the Legion at every one of its functions. Linda is the person in the kitchen who is responsible for ensuring that each piece of cutlery, china and all other cooking and serving instruments are clean and ready when required. She pursues her duties with a positive manner and a dedication to duty that is unequalled. She makes positive suggestions for improvement and, of course, is open to suggestions. She is the epitome of what a volunteer should be.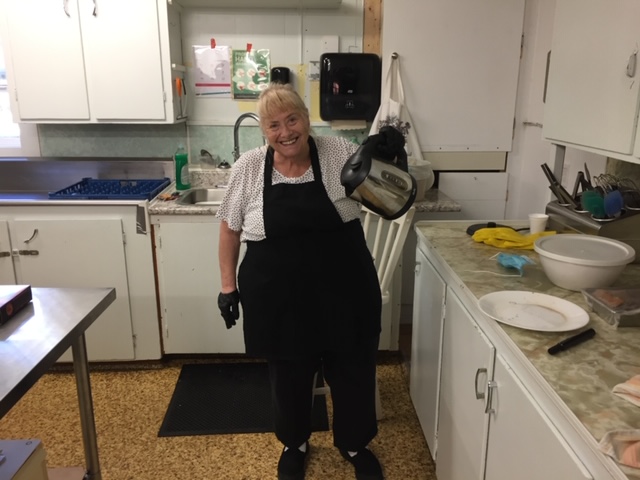 ____________________________________________________________________________________
Russell Ernst

Annapolis Valley Exhibition


Russell plays a vital role with the Annapolis Valley Exhibition as the 2nd Vice President. He is currently in his second term on the Board, and is a key member of the team, involved in many of the activities taking place on the grounds during our spring to fall season. He willingly volunteers his skills and heavy equipment for many projects. Russell is always there to lend a hand and says he is only a phone call away. During this term, Russell is on the Planning Committee, Redneck Rodeo Committee, leading the Electrical Upgrade project, and assists with winter storage move in/out. His energy and desire to see the organization thrive is limitless.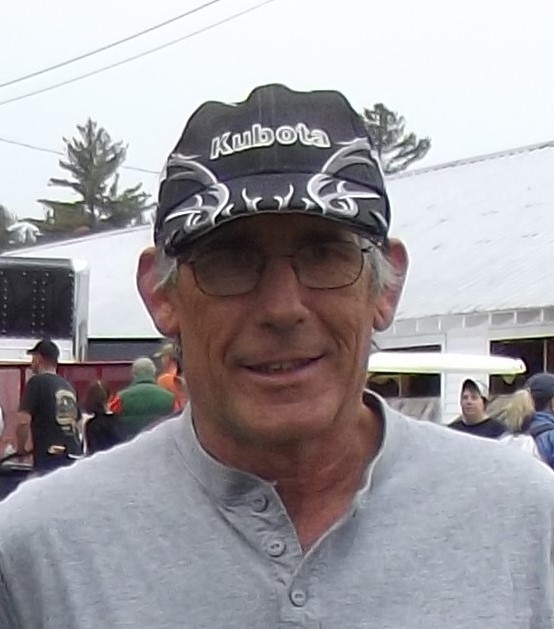 _______________________________________________________________________________________________________
Martha (Marty) Felker

Cornwallis Park Community Association


Marty began volunteering when she was 15-years-old, accompanying her mom to events at their church. As a 17-year-old, Marty volunteered at Camp Hill Hospital, Halifax where she describes veterans sitting around with their limbs missing, shell-shocked (what we now call PTSD). Marty became a Navy wife and her volunteerism became "whatever was necessary" as she and her family moved from posting to posting. This ranged from fundraising for what is now the IWK, becoming the Secretary/Treasurer with a Parent/Teacher Association, ongoing involvement with her church wherever she was, becoming an Assistant Scout Leader while her husband was attached to the US military, and becoming the liaison between the US Navy and the Canadian Navy wives in Argentia, NF. After retirement, both Marty and her husband, Stan, continued to volunteer, joining the ESL Program while they were RV'ing in Texas to teach Spanish-speaking adults English. In 1997, Marty and Stan moved to Cornwallis Park where she quickly took on the role of typist for the community newsletter, "The Cornwallis Villager". In 2000, Marty became the Co-editor of the newsletter, a position she held for the next 16 years with its many responsibilities and deadlines. Marty also became the Volunteer Manager for the community centre, a role she has continued to define for the last 20 years. In 2005, Marty became a member of the Cornwallis Park Community Association's Board of Directors, a position she has held for the last 15 years. The Cornwallis Park Community Centre was renamed Felker Hall Community Centre after Stan's passing (1937-2013), the only honour the organization was allowed to confer on him. Here, Marty's title is currently Chair and ensures that everything runs as smoothly - from regularly scheduled activities led by others, to an event that Marty organizes and coordinates herself such as the monthly breakfasts or annual auction, or to assisting others with setting up their events such as birthday parties, anniversaries, and so on. Marty contributes the community's success to the volunteers. "Our volunteer base is great! People are always willing to help out… they're so generous with their time. It's not hard to find volunteers when you thank them for their contributions and when your philosophy has always been I worked from day one as part of a team."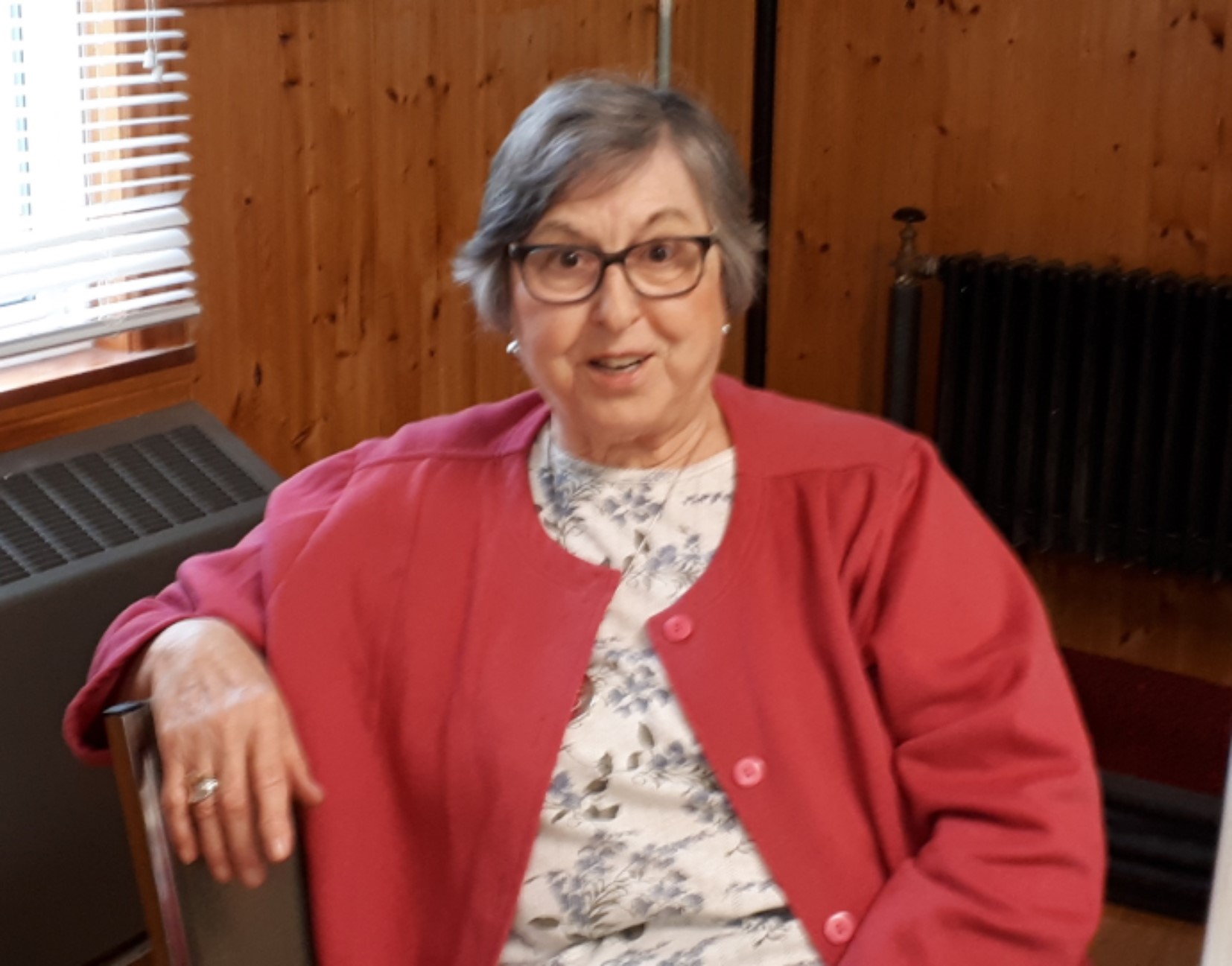 _______________________________________________________________________________________________________
Jeanne Fox

Anglican Parish of Annapolis


Jeanne has lived and worshiped in the Parish of St. Luke's Annapolis Royal for a great part of her life, both as a child and later in life. She has been a member of the church choir for many years, she also belongs to the community choir, "A Royal Consort". Jeanne is the Envelope Secretary for the parish, and serves on the Parish Council. She has assumed responsibility for recruiting, training, and scheduling the Volunteer Tour Guides that keep the doors of the historic church open throughout the summer months. Jeanne has been active on the Projects Committee of the parish for several years. She is always willing to look after promotion for any project, and can be found in the kitchen whenever a fundraising meal is being served. Outside of her life as a volunteer at her parish church, she is busy at King's Theatre, both taking tickets and ushering patrons to their seats. She takes on much of the fundraising duties for the community choir she sings with, as well as some of the promotion for their concerts. Jeanne is a faithful visitor at the local nursing home where she looks after several friends of the parish who are now residents there. She is active and concerned for other shut-ins both here in the community and further afield. Jeanne is a caring and concerned volunteer. The parish is blessed to have her working and worshiping with us.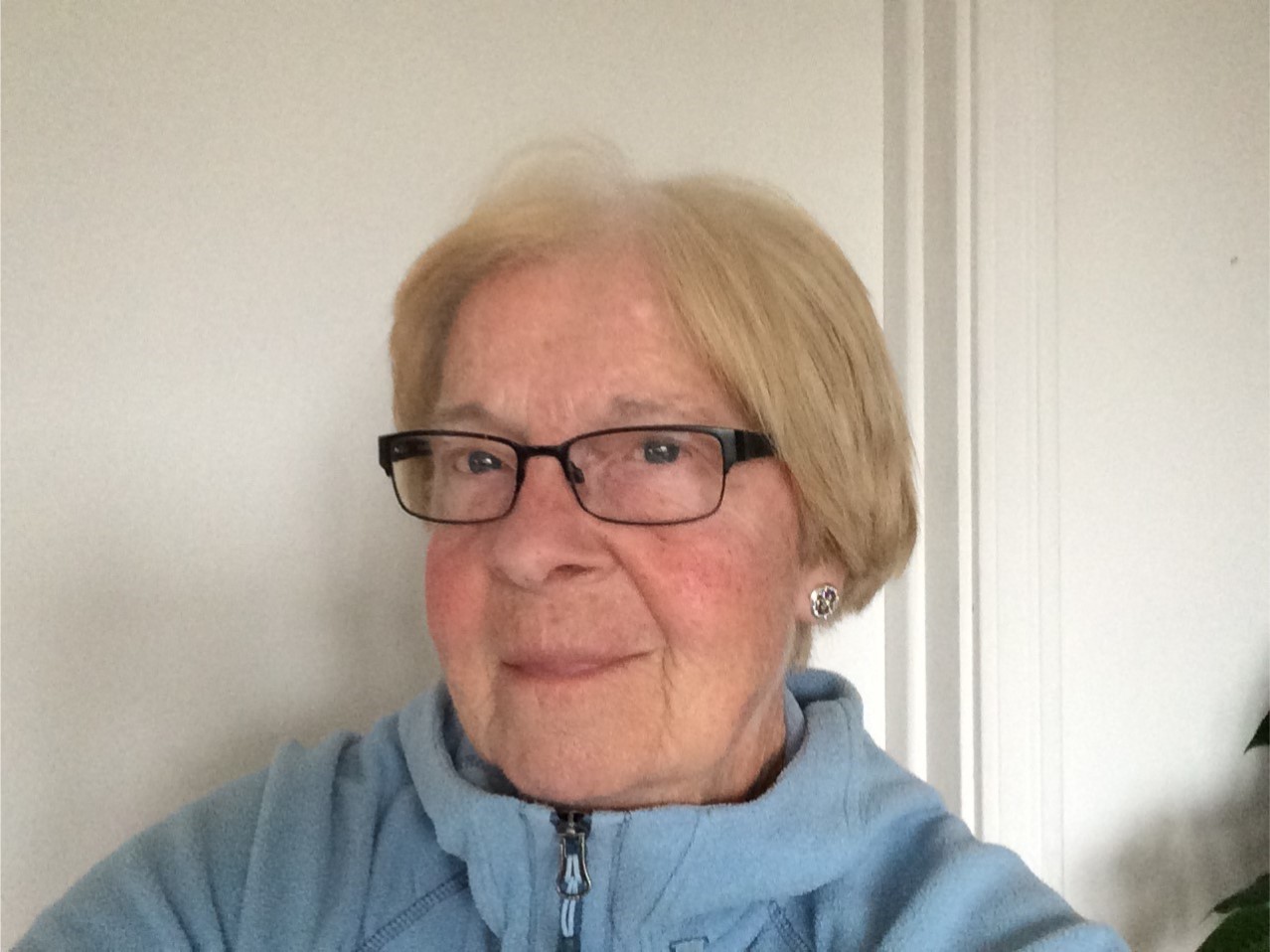 ________________________________________________________________________________________

Brenda Frail

Clementsport Legion
Brenda is a long-time member of the Clementsport branch of the Royal Canadian Legion. She has served in many important capacities and has contributed greatly to the success of the activities conducted by the branch. In fact, if not in title, Brenda "manages" and oversees events and general affairs of the Legion. The regular Wednesday morning "Community Coffee Break" has been enhanced due to her assuming responsibility for various aspects. At the moment, her main area of concentration is the conduct of the weekly bingo. She arranges for regular presence of assistants, manages the conduct of the sessions, prepares the financial statements, presents them on a frequent basis to the Branch Executive, and, in sum, her Bingo Nights contribute much to enabling the Branch to carry out its many services to veterans and members of the wider local community. In addition, Brenda cooks on a rotational basis for the regular Friday evening public meal. Her cooking prowess was much in evidence recently at night two of the annual dinner theatre. It was due to her preparation of the main course that contributed greatly to the success of the evening.
________________________________________________________________________________________

Bob Gesner

Annapolis Valley Exhibition


Bob Gesner is a special person in the communities of Bridgetown, Paradise and Lawrencetown. He has been a fixture of the Annapolis Valley Exhibition for many decades. Bob has held many meaningful roles with the Exhibition - President and Chair of many committees. Bob continues as a valuable volunteer organizing our annual winter storage, and assisting with the annual Volunteer Corn Boil & Bon Fire. He is a wealth of information and is just a phone call away to advise, make recommendations and help. Bob has been involved in many organizations throughout his life beginning as a Boy Scout Leader, Village Commission, Lawrencetown Volunteer Fire Department, Fairview Cemetery and Eden Golf Course, just to name a few.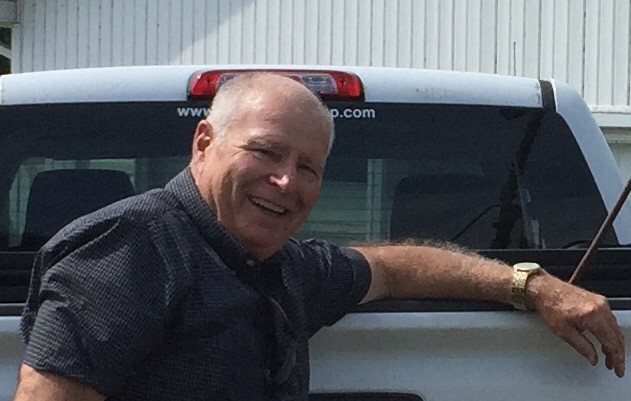 ___________________________________________________________________________________
Nicole Hackenschmidt

Bridgetown Triathlon Society


Nicole has been a volunteer in Bridgetown for many years. In the past, she has been a Board Member for Minor Hockey, and Home and School. She was the Spring Fling Coordinator, Curling Club Junior Instructor, and a member of the Bridgetown Lions Club. Currently, she is even busier as the Race Director for the Kids Triathlon, and the Treasurer and Volunteer coordinator for the Adult Triathlon. She serves as Vice President and Minor Ball, a rep for Bridgetown Community Recreation Association, as well as Director and Coach for Bridgetown Minor Baseball, sometimes coaching multiple teams in a year. She has also been co-leader of the Bridgetown Learn to Run, and Bridgetown Regional High School Band Parents Association - Fundraising Director since 2018 (a member since 2016). Nicole puts maximum effort into all of these organizations to ensure their success. There are times when she is so busy, that she will be late for meeting as she is busy with another organization. Her time commitment is sometimes so great that her husband asks her not to get involved in anything else. Nicole is a great asset to Bridgetown; the community would not be the same without her.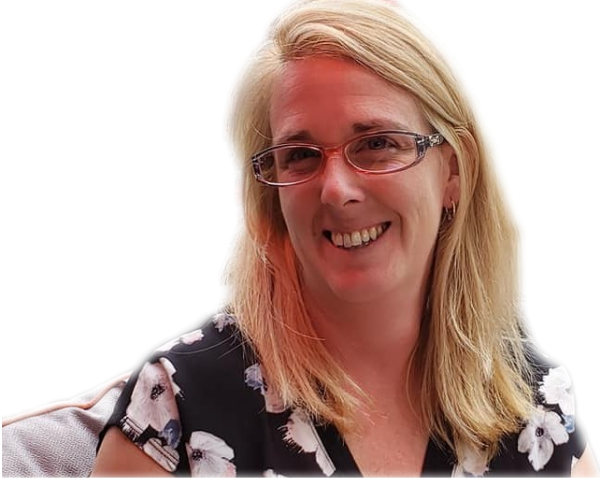 ________________________________________________________________________________________
Mabel E. Haynes

Rosemary Chapter IODE


Mabel was motivated to volunteer at a very young age, enjoying the giving of self and responding to the needs of others in the community. That is why she decided to become an LPN, working with patients in a hospital. Now retired, after over 22 years of employment at Soldiers' Memorial Hospital, Middleton, she continues to volunteer her time and talents to many different organizations, often using her nursing experience. For ten years she volunteered as LPN Preceptor for nursing students at Soldier Memorial Hospital in the Vet's Unit and is now a member of Soldiers' Memorial Hospital Auxiliary. Married with 3 children and 4 grandchildren, she served as Girl Guider in Charge for 8 years and Deputy District Commissioner for 2 years. While her husband served in the military, Mabel joined the Protestant Chapel Guild. She has been a member of Kingston United Baptist Church for over 25 years and is currently treasurer of the Social Benevolent Club at her Church. For the past five years, Mabel has been President of her Beta Sigma Phi Chapter in Greenwood and has been a long standing member for the past 34 years. She also volunteers with the Order of Eastern Star, Mayflower Chapter #2, Middleton, holding many important positions. She is presently Worthy Matron and has been a member of the organization for the past 27 years. Mabel became a member of Rosemary Chapter, Middleton, in 2014 and soon took on the responsibility of Secretary for monthly meetings. Twice yearly, she assists with our Spring and Fall Rummage Sales, bringing her joyful demeanour with her and assisting where needed. This past year, Mabel co-chaired the Centennial Celebrations of the Chapter at a reception held at the Middleton Fire Hall. The task of assisting with projects at Soldiers' Memorial Hospital is very important to Rosemary Chapter and the organization is thankful to Mabel for continuing to volunteer her experience, time and talents for the benefit of the people and community of Middleton and area.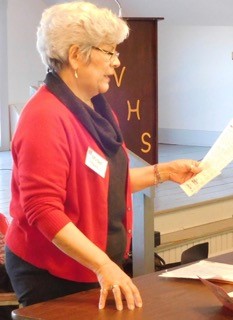 ____________________________________________________________________________________
Gord Hepburn

Granville Ferry Community Hall


Gord moved to the community eight years ago and he has been President of the Hall Association for six of those years. He has always respected the values of the old building with its proud heritage and a culture of affectionate stewardship. Gord works well with community members who have lovingly maintained and thoughtfully upgraded the Hall, and he takes care to publicly acknowledge their many contributions. Gord has ensured that three important enhancements have been completed - the placement of large historical photos on the exterior, installation of sound baffles on the interior, and improvements to the kitchen, where Gord took a more active approach. He struck a committee to ensure that the specifications of the kitchen upgrade would meet the needs of the people who actually use it. He arranged for a number of contractors to complete the work, using a very professional process. He made sure that the Association approved all the expenses for all these projects up front. As Chair, Gord never gets sidetracked even with agendas that are often full of a wide range of items. He somehow gets through each one quickly with the meetings usually ending within the hour. Gord has served as a member of St. Luke's Church Parish Council for a number of years; as a Parish Warden the last four years. He is a member of the Parish Finance Committee and has served as Chair of the Parish Property Committee. He was responsible for coordinating the major restoration work carried out by a local contractor on the steeple. Gord also sings in the church choir and is a great supporter of the music ministry. In addition, he often finds time to assist with the gardening in the church grounds. Gord was a member of the Board of Directors at King's Theatre for four years, offering perspective on policy issues and helping out with volunteer projects. He and another member of the Facilities Committee designed and completed the deck that allows patrons outdoor access before shows and during intermissions. Also, he served as the secretary of the ARCAR committee that was responsible for the settlement of the first refugee family in Annapolis Royal. Gord has a disarmingly humble way about him. He always enjoys the many contributions of others who work with him and constantly admires what they are able to accomplish.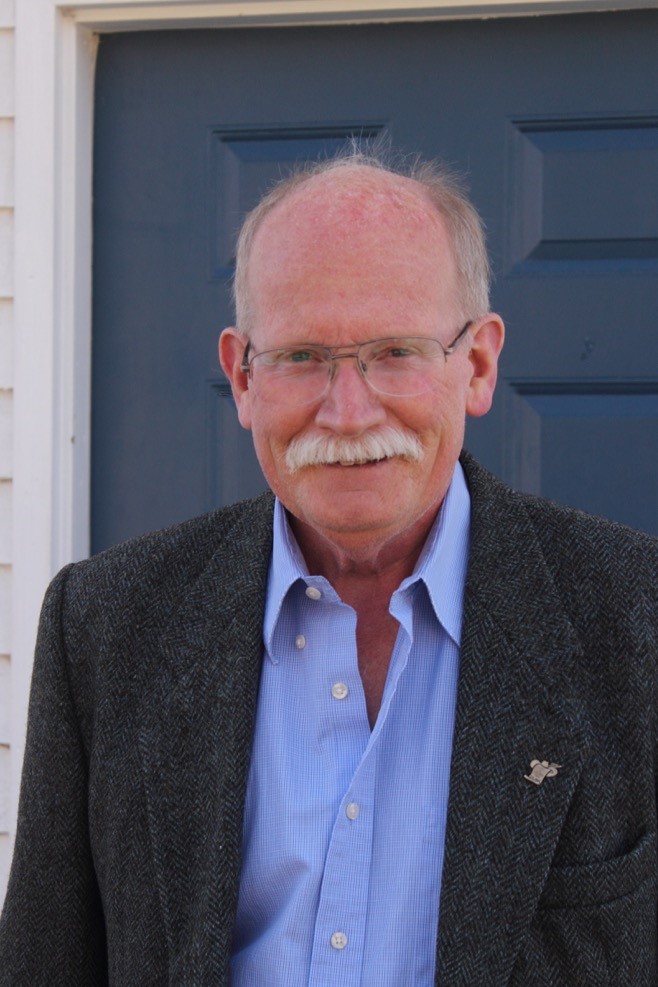 __________________________________________________________________________________________
Jo-Ann Hightower

Annapolis Valley Historical Society


Jo-Ann moved to Middleton from Ontario and quickly became a part of her community. She joined the Annapolis Valley Historical Society two years ago and signed up to volunteer at Macdonald Museum, helping out with events and administration. In May, Jo-Ann became a member of the Board of Directors and took on additional roles as chair of the Fundraising Committee and Volunteer Committee. She has spent countless hours working to organize events and volunteers at the Museum. She is always available to help and her selfless nature, dedication and enthusiasm have been invaluable to the organization. Jo-Ann has given of her time and talents repeatedly and we wish to honor her many hours of volunteerism.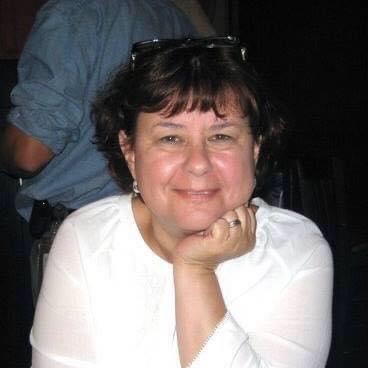 ________________________________________________________________________________________
Amanda Kaulbach

Bridgetown & Area Friends of the Library


Amanda has been a volunteer in the Bridgetown area since junior high school. Her volunteer experience includes Bridgetown Show & Shine (2 years), Tupperville Strawberry Supper (7 years), Tupperville School Museum & Ice Cream Festival (1 year), and Bridgetown and Area Friends of the Library (5 years). Amanda works full time while raising two, teenage girls. Amanda is currently Vice Chair for the Bridgetown & Area Friends of the Library for the second year. Whenever asked, or when volunteers are needed, Amanda always steps up. She can be counted upon to fulfill her commitment to the best of her ability. She's a true asset to the Bridgetown & Area Friends of the Library and the community.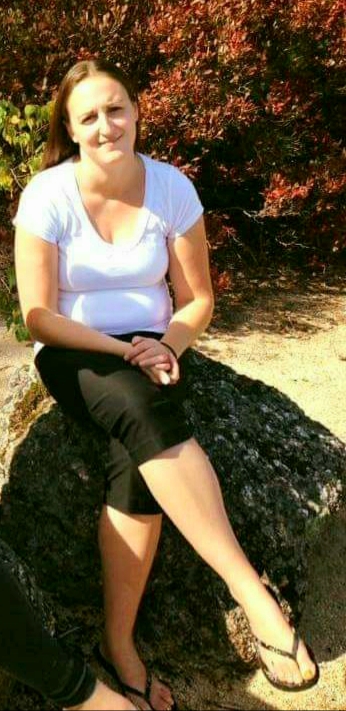 ________________________________________________________________________________________
Miles Leahy

Round Hill Community Hall

Since moving to Round Hill in 2016, Miles immediately wove himself into the fabric of the community with his service. He quickly got involved with Round Hill Community Hall, first as a general member and in the last year as Vice Chair, but his real title should be "on-demand handyman". He has helped build a wheelchair accessible ramp onto the building, done countless repairs to electrical and plumbing, is the go-to person for arranging contractors, regularly keeps the grounds tidy both in summer by mowing and winter with snow blowing, and he sorts and takes out the garbage. He has even been known to be auctioneer at fund-raising events. Miles is currently working on the hall's kitchen, preferring to rearrange appliances, tidy, and build new storage with his own skills rather than the hall hiring someone to do so. Miles continuous service doesn't stop there, he is also a volunteer at the Annapolis Royal Nursing Home, helping out at gatherings by serving food to residents and entertaining them in sing-a-longs. He even performs as Milo the Clown, his alter ego for more than 30 years, and in the past year has dressed up as an elf and even Santa to put a smile on the faces of everyone at the nursing home, both residents and employees alike. Miles is also an active member of the Annapolis District Drama Group. He has performed on stage, directed plays, and is regularly called upon to help build and paint sets. The best part about Miles' contributions is his compassion, kindness, and his sense of humour. Everyone he volunteers with appreciates his willingness to help out cheerfully and with full commitment.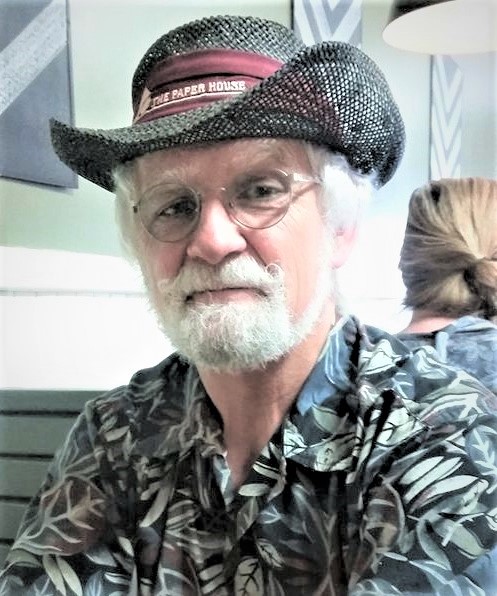 _________________________________________________________________________________________
Steve Lewis

Individual nomination: Gregory Heming

Steve is a true advocate for the well-being of the environment. A member of the Tobeatic Wilderness Committee since 2000, he works to protect, maintain and expand the Tobeatic Wilderness Area, adjacent to Kejimkujik National Park in SW Nova Scotia, the largest protected area in the province. In the Tobeatic Advisory Group (Nova Scotia Environment), Steve is a representative of the Annapolis Field Naturalists Society, (2001- 2004) where he was appointed to the advisory group to help create the management plan for the Tobeatic Wilderness Area. He was a founding member of several organizations that serve to protect nature and all that exist in it. Such organizations are, the North Mountain Preservation Group (2004-2007), created to protect all of the North Mountain from being quarried for aggregate; the Companion Animal Protection Society (2004-2005), Team TNR (2005-2011) which has greatly and humanely decreased cat over-population with County support; Trapping Awareness Project (2007-2009), to strengthen regulation on where trappers can place traps near people and their companion animals; Granville Ratepayers (2017-present), to preserve the historic and pastoral character of the Granville Road with the goal of urging and advising the County to establish sustainable land-use regulations/zoning; and Extinction Rebellion, Annapolis County (2019-present), to support Council in its Declaration of a Climate Emergency and adaptation/mitigation to the impacts of the climate emergency. Steve is a community-minded and caring individual who is dedicated to helping make life better for everyone.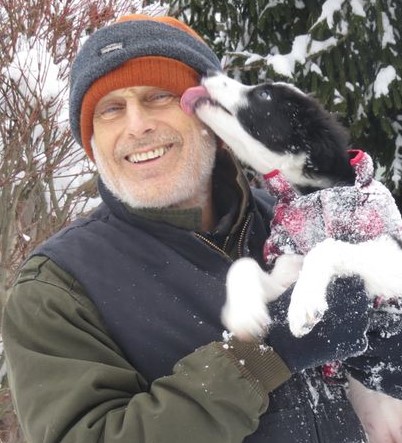 _____________________________________________________________________________________
Wenda Maclaughlin

Individual nomination by Greg Fitzgerald


Wenda has volunteered in many capacities for years – the Margaretsville Fire Hall support through leadership in dinners, breakfasts etc.; board member on the Margaretsville Shore Society; community hall worker; and so many other volunteer capacities it's impossible to mention them all. Her generosity, kindness, and untiring commitment to helping others truly shone through during last fall's Hurricane Dorian. Wenda went right to wok providing food and comfort to those who needed it. Her dedication and efforts were impressive and valuable. She was full-tilt leading, organizing, and working to help people for during that week. Although we always knew it, she again proved that she truly is a pillar of the community.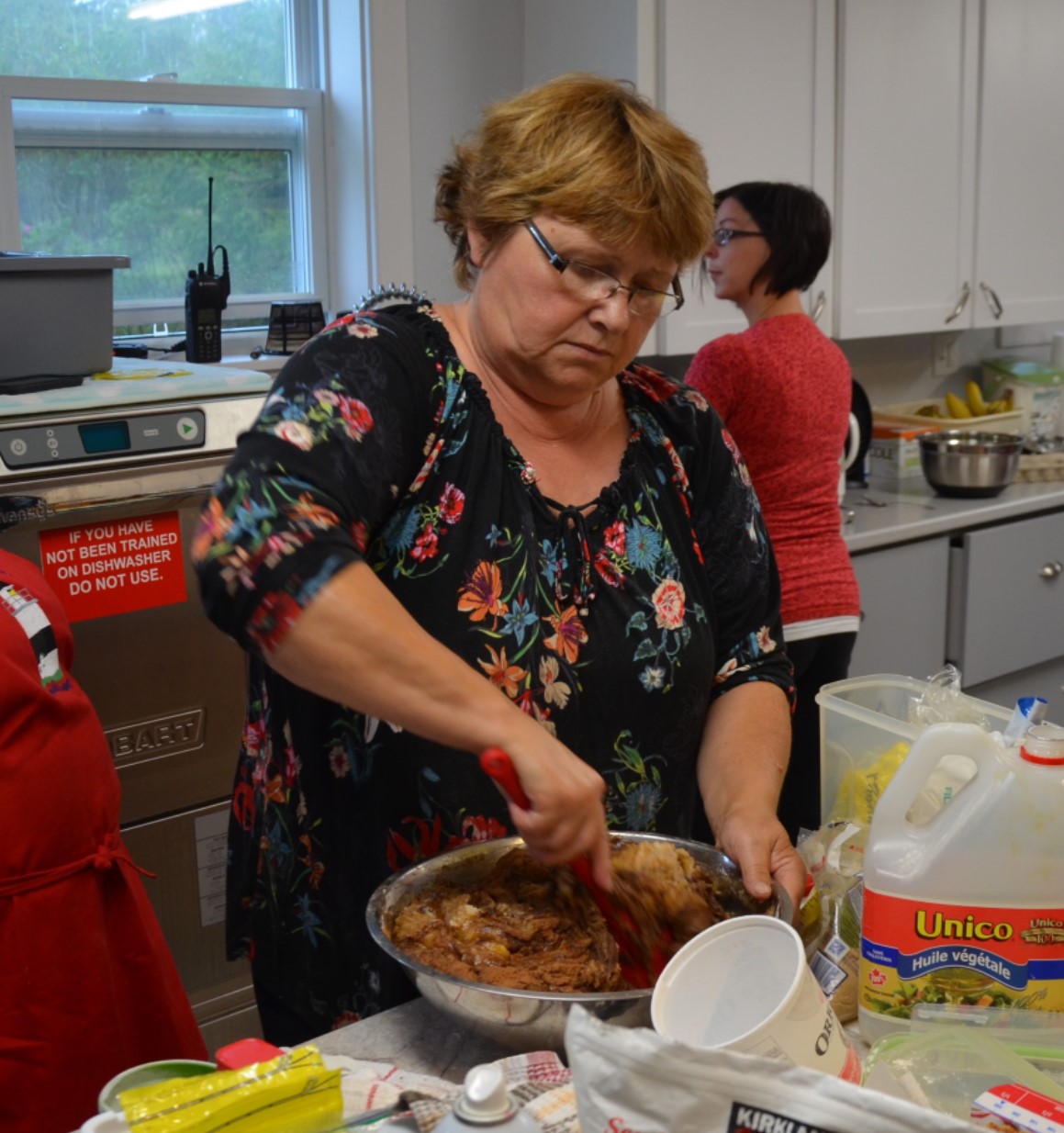 ____________________________________________________________________________________
Neville Magarvey

Annapolis West Education Centre (AWEC)


Neville has been volunteering at AWEC's breakfast program for many years. Neville's desire is to be a positive role model for many students and providing them with a nutritional meal before starting their day. Many of the students live with economic challenges and often do not have a stable father figure in their lives. Neville always has a smile on his face and a welcoming comment for each and every student he encounters. He believes the ability to fill their bellies is crucial for the teachers to be able to fill their minds with knowledge. The program is only open for a short period of time prior to the beginning of class...his commute is far longer. But, he is very dedicated to providing our students with much more than food, he also provides a safe positive environment from a male figure. He is such a selfless individual and very worthy of recognition for his ability to impact our youth on many levels!!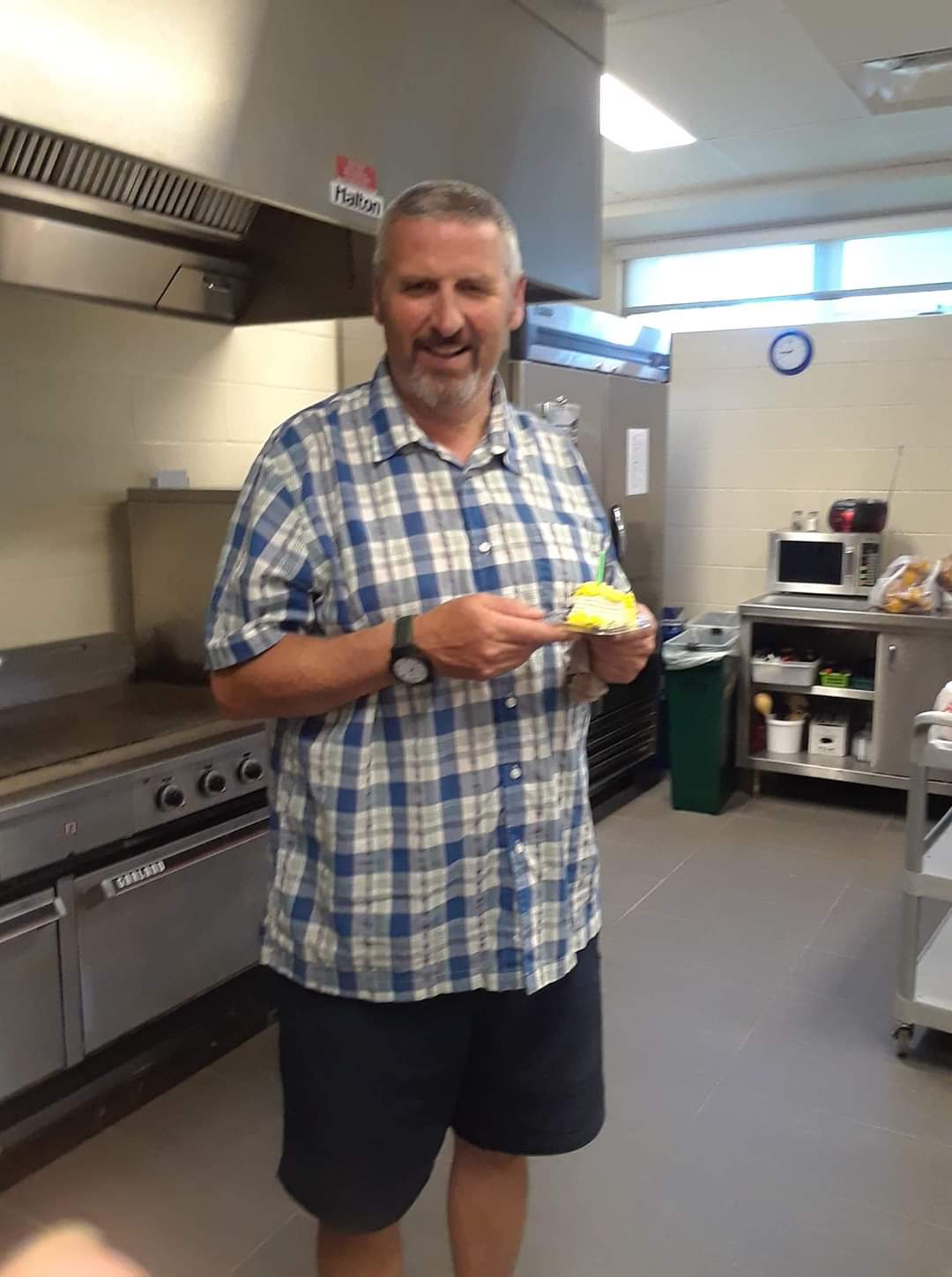 _________________________________________________________________________________________________________
Danny McClair

Friends of the Annapolis Pool Society


In April 2019, the pool found itself without a Certified Pool Operator (CPO). This position is necessary for the maintenance of water quality, and the inner workings of the pool facility. We cannot run the pool without a trained CPO, but as a non-profit society, we needed to find a volunteer to fill this job. Danny was an obvious candidate because no one knows more about quality liquids than Danny McClair! Anyone who knows Danny knows how busy he is. The Society felt a little hesitant to approach him with this idea, but when asked he said YES, without hesitation. Then he was told him he would have to sit in a classroom for an entire weekend to take the CPO course…after a few pints, he again immediately said yes. Danny's impact on the pool's 2019 season was immediate. If you swam that year you enjoyed the best water quality the Society has ever had, and the warmest showers as well! Danny saved the pool thousands of dollars by coming up with an innovative way to fix a leak, resulting in water cost savings and a much warmer pool. He installed a new hot water tank, fixed plumbing leaks as they occurred, increased sand-filter capacity, and worked behind the scenes to ensure safe and beautifully crystal clear water for the entire season. We know he had some help with the heavy lifting. They say that behind every successful man there is a woman, rolling a 50 gallon barrel up a grassy hill. And, in Danny's case, this saying is true. The Friends of the Annapolis Pool Society would like to thank all of our volunteers who made 2019 so successful, including grocery packers, brunch servers, murder mystery actors, kitchen workers, yard-sailors, pool scrubbers and our Board of Directors. However, we single out Danny McClair for special recognition because without his CAN-DO attitude, enthusiasm and volunteer spirit we could not have had such a great year! Thank you Danny!
__________________________________________________________________________________________
Phil & Liz Milo

Annapolis Valley Exhibition


Phil & Liz Milo moved to Lawrencetown in 1963 and have been involved in community events ever since. From the Lawrencetown Winter Carnivals of the 1960's and 1970's to strawberry suppers, school trips to horse shows, societies to public office, Phil and Liz have contributed to their community for many years, both on their own but more often as a team. Much of their volunteer time over the last 40+ years has been focused on the Annapolis Valley Exhibition. Both have volunteered with various Exhibition committees while their children were growing up and attending horse shows. They volunteered with the Fundy Pony Club, and were mainstays of the Fundy Pony Club Hunter Show held at the Newcomb farm in Wilmot for over 10 years. Liz joined the main office staff as a secretary and worked there for 25 years, "retiring" in 2001. She stayed on as a volunteer, acting as the Light Horse Show Secretary for the Ex for the next 20 years. She also served as the secretary for the Light Horse Show Committee. Phil served as a member of the Exhibition Board of Directors, and also was Chair of the Light Horse Committee for many years. He worked as Ring Crew Chief, course designer and announcer (occasionally all three at once!). He was often seen around the grounds on his own tractor, helping to mow the parking lots and trailer court, moving equipment and cleaning out barns. He built and repaired jumps, trailers, and other show ring equipment, and on many occasions supplied his own speaker and microphone for use in the second show ring. Phil is an enthusiastic supporter of the Antique Tractor Parade at the Exhibition, and works with exhibitors to ensure a successful parade every year. Liz and Phil remain involved as members of the Program Committee, and Phil still works as the main show ring announcer. Phil was a member of the committee which created the Farm Museum located in the Agricultural Demonstration Building on the Exhibition grounds. Phil and Liz donated many items to the museum and worked with others to document and coordinate the displays. Beyond their tireless efforts for Exhibition, Phil and Liz are also involved in many other aspects of their community. Phil served several terms on the Village Commission, twice as Chair. Liz was a proud member of the Weavers' Guild for many years, with her fabrics still in use around the Province, including the Fortress of Louisbourg. She was a volunteer librarian at Lawrencetown High School and a Sunday school teacher at St. Andrew's Church where she still serves on the Parish of Wilmot Council. This dynamic couple truly represents the meaning of community support and spirit.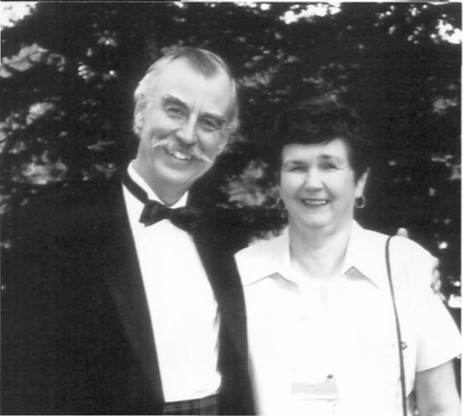 ________________________________________________________________________________________
John Montgomerie

Crosskill Court Tenants Assocaition

John has spent more than 50 years providing musical entertainment for the public. For 21 years, he has entertained the residents of Crosskill Court in Bridgetown; as well as volunteering at William Black United Church, and is supply organist at Annapolis Royal, Hampton, Middleton and Port Lorne churches. He plays the piano at Mountain Lea Lodge, and Saunders Rest Home. John plays at the monthly church service at The Meadows and the annual Christmas dinners at the Bridgetown Fire Hall. His family is originally from Newfoundland with members serving in World War I. His grandfather served at Beaumont-Hamel and was one of the few to return home. In connection with this, John made a presentation on World War I to The Order of Good Cheer. John sings in several choirs, such as Middleton Choral Society, Lawrencetown Male Choir, and A Royal Consort of Annapolis Royal. As part of his singing contribution, he sang three times with Canadian Amateur Musicians in Carnegie Hall in New York; a Unisong choir at the National Arts Centre (Ottawa) for Canada Day; and the Really Big Chorus of 1000 voices in Royal Albert Hall in London, England. This event was for the National Autistic Society. With a background as an English teacher, John has become involved in writing for various magazines such as The Valley Register, The Valley Harvester, The Chronicle Herald, Organ Canada, and The Amateur Musician Journal. Also, he has been involved in writing for the Ernest Buckler Literary Event Society. John organizes concerts at the Dawn Oman Art Gallery in Bridgetown. He is a charter member of Bridgetown Area Friends of the Library, and Bridgetown and Area Health Centre Society. John continues to serve the Valley with musical contributions.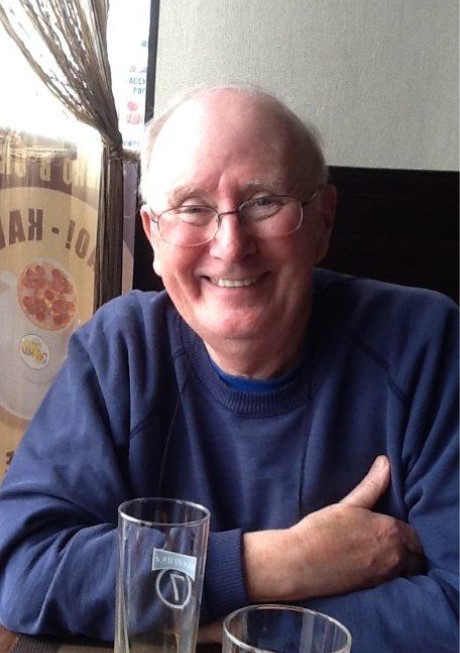 ____________________________________________________________________________________

Pete Nordland

Cornwallis Park Community Association


Pete's volunteering began back in the 1970s during the early days of his military career where he was President of the Curling Club in Shearwater and at his next posting in Germany, and while in Winnipeg he volunteered as the Cadet Liaison with two Royal Canadian Sea Cadet Corps. In 1997, Pete took up his final posting at the Pearson Peacekeeping Centre. That fall Pete started up a Cribbage Club and he and another resident also started a Bridge Club. After retirement in 2000, Pete became a Volunteer Director for four years in what is now known as the National Association of Federal Retirees where he supported former civil servants and military members. In 2003, Pete became interested in the Seniors Games. He and about 25 other folks got together and decided to make a go of organizing Nova Scotia 55+ Games. He said he somehow walked out of there as President. In 2004, Pete was a member of the 18-person team that represented Nova Scotia for the first time at the Canada 55+ Games in Whitehorse. His game: duplicate bridge. Over the next year, Pete and a small committee developed a Nova Scotia 55+ competition which was held in Cornwallis Park. There were 152 participants and 15 non-players for the three days of games. Pete was President of the Nova Scotia 55+ Games for four years. He became a Board member for the Canada 55+ Games in 2004, Vice-President in 2005, President for six years beginning in 2009, and Past President and Technical Director for three years. His tenure with the Canada 55+ Games ended in 2018 after 14 years of service. At the local level, Pete was a member of the Cornwallis Military Museum serving a two-year term as Treasurer and five years as President. Pete continues to be a key volunteer at the Felker Hall Community Centre in Cornwallis Park. He is a member of the Cornwallis Park Community Association Board of Directors, which operates Felker Hall, and has held executive positions, including Chair. Pete has been the coordinator, annual invitational tournament organizer, and statistician for the Felker Hall Cribbage Club since its inception 23 years ago. He's also the statistician for the local Bowling League and the Felker Hall Dart League. Pete works at the Felker Hall breakfasts, is one of the volunteers that maintains the Felker Hall Library, is a BBQ'er extraordinaire for the July 1st BBQ event, is one of the auctioneers for the annual Felker Hall Auction, is a great Santa at our annual Christmas Party, and assists with the generator and other activities when Felker Hall is activated as a Comfort Centre. Pete has used his skills and abilities to make a huge contribution to our local communities, throughout Nova Scotia, and across Canada.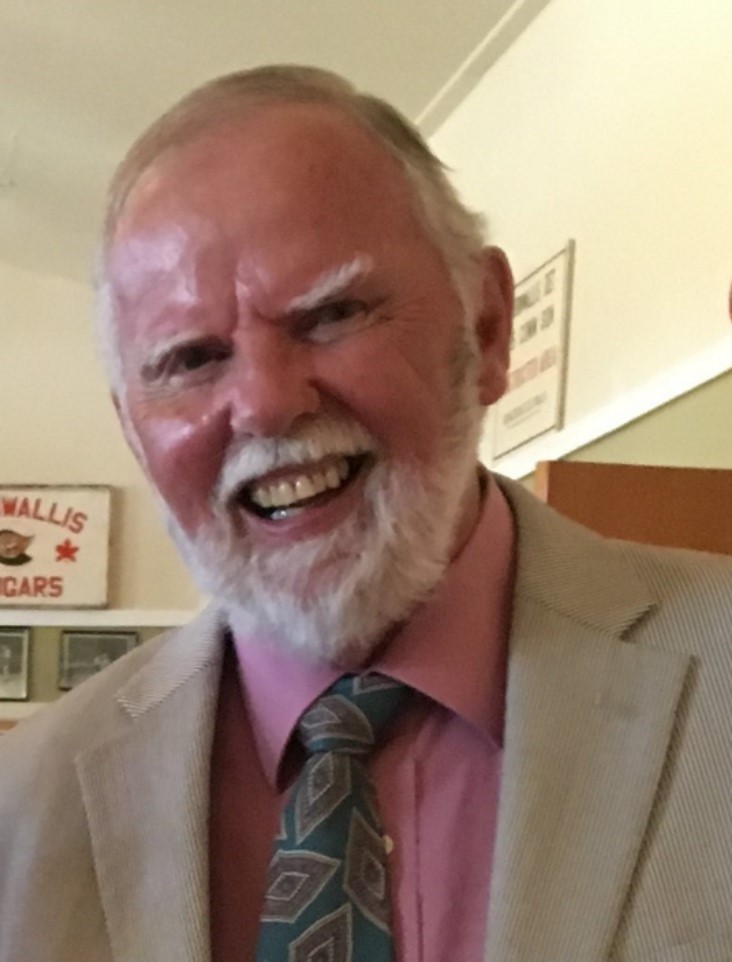 _________________________________________________________________________________________
Susan Olin

Tupperville School Museum


Getting involved in all aspects of life and volunteerism, Susan volunteers in International organizations such as NAACP, and locally, she has been active as a board member and volunteer on the Tupperville Community Hall for 20 years. Her first appearance as a volunteer at the Tupperville School Museum was in 2000 when she was elected to the Board of Directors. She has been serving the museum in both capacities continuously, currently leading the Board as Chair. Over the years, she has been responsible for championing many of the activities that the museum has offered. Significantly, in 2018, the museum was evaluated by the Association of Nova Scotia Museums leaving it to meet the same criteria as ALL provincial museums. Many of the smaller museums, such as Tupperville School, were caught off guard. Nevertheless, her leadership in identifying and assigning tasks to board members and keeping the members on track to meet the deadline, resulted in a respectable passing grade. Susan's influence since her recent election to the Board as Chair has resulted in a more organized and coherent conduct of business. This structure has increased the efficiency of the Board. This leadership will greatly assist the Board in being prepared for the 2022 evaluation. Under her leadership, as Board member or Chair, the museum has created a website and a Facebook page. Just recently, with the assistance of a grant from Annapolis County, the museum now has a drilled well. The museum is well on its way to future improvements allowing greater handicap access to the planned playground upgrades; as well as a much needed picnic area and handicap accessible washroom. It is the Board's pleasure to recognize all of Susan's contributions.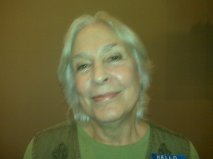 __________________________________________________________________________________________
Betty Parks

Mountain and Meadows Care Group


Mountain Lea Lodge is a long term care facility with 107 residents, all with different needs, likes and differences. Volunteers are a vital part of its recreation program. With the number of residents it's not always possible to have everyone attend all our daily programs. This is where such amazing volunteers as Betty comes in. She has been a dedicated volunteer at Mountain Lea Lodge for over 5 years. She comes in with a friendly smile and helping hands every week. Whether it be helping our residents with bingo, playing cards, one-to-one visits, or even the odd checkers game, Betty is always happy to help. The number of years she has dedicated to volunteering at MLL and the commitment of her time is what makes Betty such a deserving recipient of this volunteer award.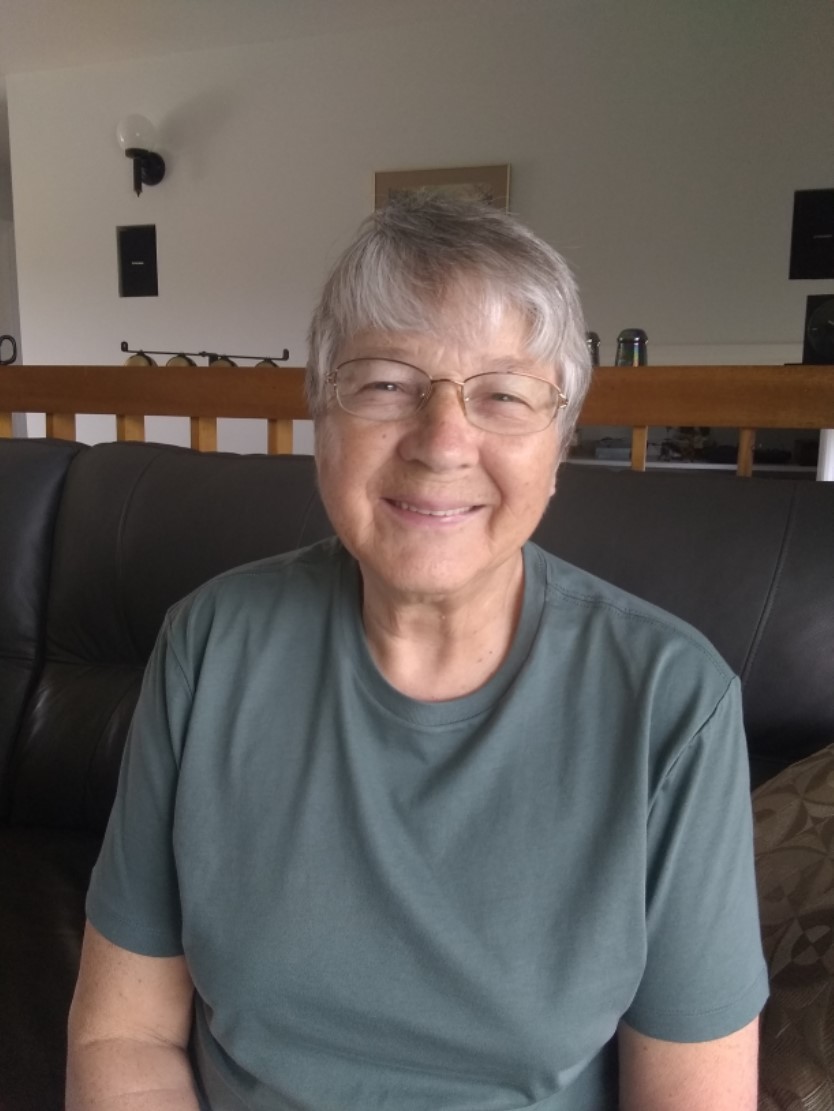 _________________________________________________________________________________________
Jack Pearle

Annapolis Valley Exhibition


Jack has been involved with the Annapolis Valley Exhibition since he was a child, helping his father who was an exhibitor and a Director for a time. Jack was very involved with 4-H in his younger years and, about 40 or so years ago, became involved in the Board of Directors taking on several positions, including President on two different occasions. He is very proud of the work he was involved in to bring about the Riverside stage, now known as the John R. Longley Memorial Stage, probably one of the best venues for entertainment in the Province. Jack has always been available and more than willing to do most anything when called upon - you can always can count on him! Jack was also involved with the Annapolis County Federation of Agriculture where he served as President for a time. He was also on the Cattle Sales Committee, and the Annapolis County Woodlot Owners Association. Jack is often called upon to help out in several Paradise community organizations where he is always more than willing to do his part and more.


_______________________________________________________________________________________
Shelly Parsons

Annapolis Valley Exhibition

Shelly is being recognized for her hard work and dedication to the 4-H program, the farming community and the Annapolis Valley Exhibition. She is the General Leader of Mountain Ridge 4-H Club and has been the backbone of the 4-H canteen for more than 20 years. Shelly puts in countless hours, making sure the canteen is stocked, running smoothly, and that everyone is well fed. Getting up at the crack of dawn to do prep work and getting everything organized for the day. The canteen is a busy spot during the Fluff n' Buff weekend where all home cooked meals are prepared by Shelly for 4-H youth. Apparently, you have not had a western sandwich until you have had one of Shelly's! She has also supported our youth by acting as a chaperone for the Royal Beef team many times. Her kids describe her as "4-H crazy". Shelly's dedication and hard work is appreciated and does not go unnoticed. She is very deserving of this nomination.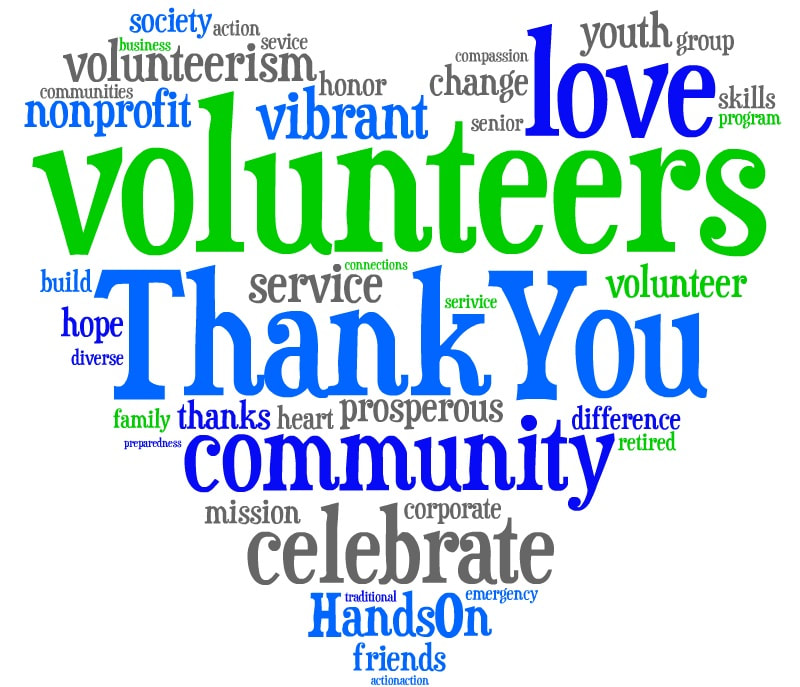 _____________________________________________________________________________________


Steve Raftery

Annapolis Valley Skating Club


Steve was one of four individuals who started the Annapolis Valley Speed Skating Club over 8 years ago and is the only remaining founder. During these 8 years, he has written many grants, partnered with many other speed skating clubs to obtain the safety pad required for this sport, and short track speed skates for rental (reducing the cost to participants). He has been in the role of supporter, treasurer, and president. Steve also sits on the board of Speed Skate Nova Scotia being a voice for rural speed skating. In 2019, he went to Canada Games for over a week as a volunteer manager for the Nova Scotia Team. Steve has been, and continues to be, a strong advocate for speed skating in the Annapolis Valley and Nova Scotia. He is tireless in his commitment to ensure that this sport is provided as a low cost option for youth. Without his grant writing expertise, this Club would be challenged to continue to offer this low-cost option for children in Annapolis Valley. Steve also volunteered with the development of the outdoor playground at Bridgetown Regional Community School. He helped with the funding applications and has been active on implementation of the playground purchases. These are just two of the volunteer initiatives that Steve has been involved in but he is a great "sounding board" for many other initiatives happening in Annapolis County and very deserving of this volunteer award.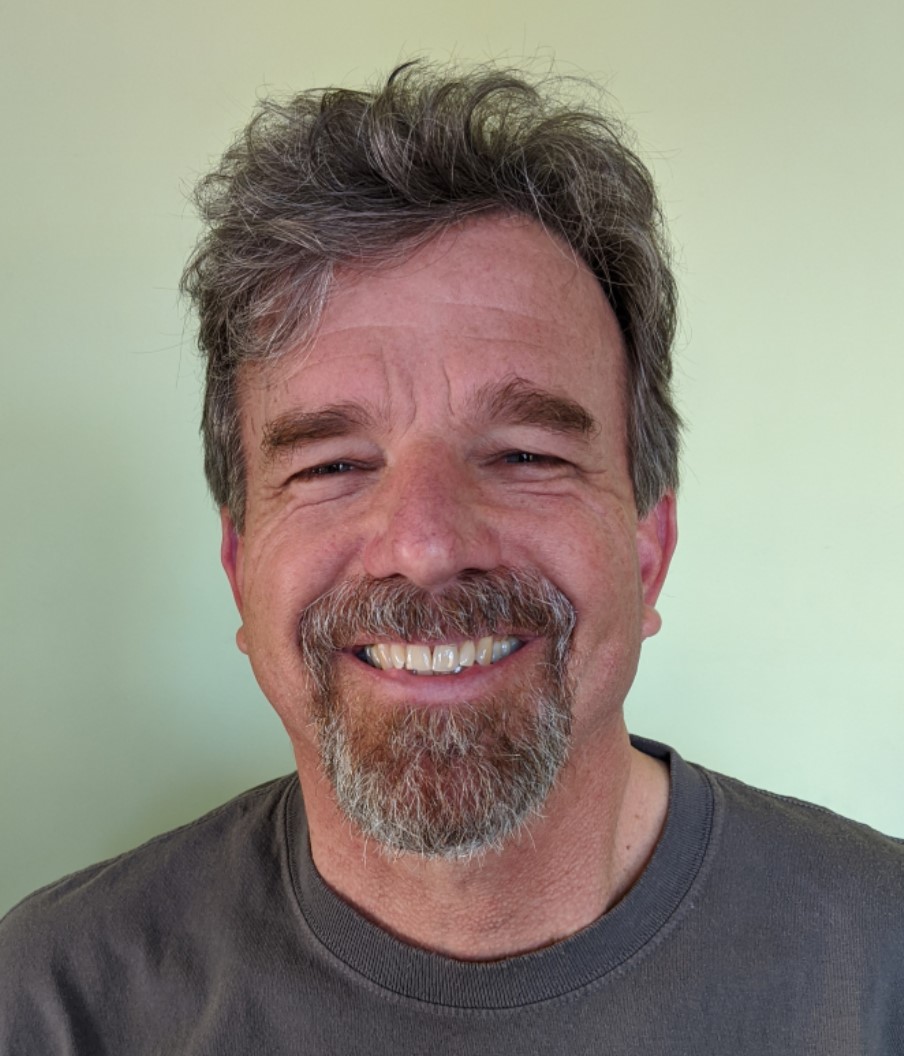 ________________________________________________________________________________________
Val & Charlie Richards and Milford House staff

Milford and Area Community Association

Please note: Although the nomination was made in Val's and Charlie's name, they both wish to express that this award is for all the staff at the Milford House.


Charlie started working at Milford House in the late 1980's. Val first started working at the front desk and managing the dining room of the Milford House more than 10 years ago. During the fires at Milford House, both times, the Milford Area Community Hall hosted and helped with many of the events and meals for the guests at Milford House; keeping things moving forward and onward without a glitch. Both Charlie and Val have always been supportive and helpful when they can for this reason. A few years ago, Val and Charlie offered up the facilities at the Milford House to the Milford & Area Community Assoc. for a Harvestfest fundraising dinner. They donated to the community event the full use of the dining room and kitchen facilities at no cost, also offering up anything in the cupboards and fridges that could be used or needed to prepare the meal. The most inspirational moment from that Harvestfest was after closing those doors that Saturday, after a long exhausting season, and in the midst of her own health concerns, Val was there, sleeves rolled up and digging in to help and serve the guests with a smile and joke. In the spring, Val and Charlie are a big help during the Milford Hall's Maplefest dinner. They have donated meals and overnight stays at Milford House to be raffled at the event, helping the Hall to maintain its own facility. Outside of their Milford life, they donate their support to other organizations and fundraisers and have helped people out in personal financial situations throughout the years. Quick to lend a hand, make phone calls and help to organize--they have always been there. The Milford area is so very lucky to have wonderful people around like Val and Charlie.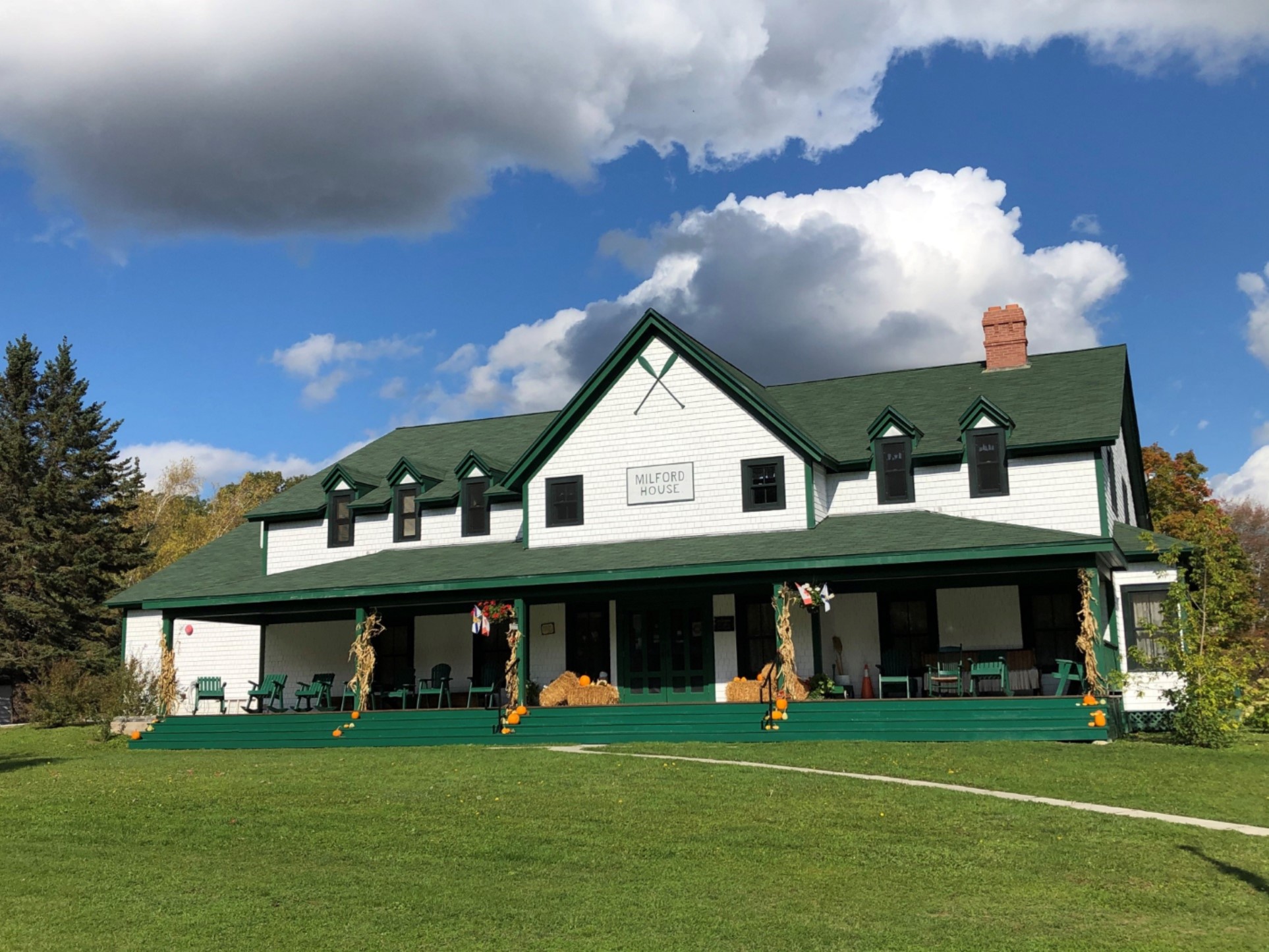 _______________________________________________________________________________________
Sue Smith

Bridgetown Area Garden Club and Bridgetown and Area Food Bank

Since moving here eight years ago, Sue has made a positive impression on our community by volunteering for a variety of local organizations, including Bridgetown Area Garden Club, Bridgetown and Area Food Bank and TOPS (Take off Pounds Sensibly). Her unique style, enthusiasm and work ethic are hallmarks of her contributions as a volunteer. Regardless of the task at hand she invariably demonstrates a positive attitude and her sense of humour makes the most tedious chores enjoyable. Sue has been a member of the Bridgetown Area Garden Club for several years. During this time she has attended almost every event and turned her hands to whatever was needed. As Club Treasurer for the past four years, her meticulous attention to detail has been the hallmark of her term. In addition to keeping the financial records, she was also responsible for applying for grants for a variety of community projects: the Jubilee Park Canoe Planter, the Butterfly Garden renewal, Canada Day Youth Activity and the Queen Street planters. Sue has been a volunteer with the Bridgetown and Area Food Bank for five years. She does a variety of jobs from packing the food baskets to restocking the shelves. Sue does all this with a smile on her face. She is always willing to assist in any way possible. Sue can be counted on to do whatever is needed, she willingly covers for others when necessary. She is a big asset to our food bank. As secretary of TOPS for the last five years, they could not have asked for a better person for the job. Minutes were concise and funny at times, given in that great British accent. She is a fantastic person who goes out of her way to help. She loves the job and everyone lovse her for doing it in her own unique way.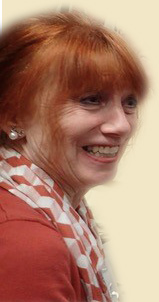 ______________________________________________________________________________________


Kirk Spicer

Annapolis Valley Exhibition


Kirk has been a dedicated volunteer and supporter of the Annapolis Valley Exhibition for several years. He has been an intricate part developing a part of the grounds to meet the needs of our Redneck Rodeo for an area to hold events. Last year, the midway area sustained damage, Kirk spent many hours repairing the site to ensure it was brought back to a better state for the midway to set up. Kirk and his family consistently demonstrate the importance of giving back to their community and supporting local events.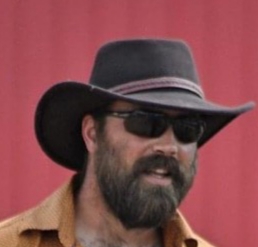 _________________________________________________________________________________________
Janet Swansburg

Individual nomination by Nancy Sherman


When her children were younger Janet directed the high school drama group for five years which included a major production at Kings Theatre. She co-lead the local 4-H group with Wille Troop for over five years where they developed a horse day-camp into a week-long event where 4-H members could stay for an entire week. The two would sleep on concrete floors with the campers and cooked all the meals. For seven years, Janet took her dog Barclay, to the Annapolis Royal Nursing Home to visit with residents. She made sure she had training with St. John Ambulance Pet Therapy Screening Program. For the past five years, she has participated in the Canada Revenue Agency's Community Volunteer Income Tax Program (CVITP) program in which she does tax returns free of charge to assist people in need with modest incomes. Over the last couple years she has done about 300 tax returns annually which include referrals from Social Services and Stephen McNeil's office. Janet, in cooperation with Wendy Fletcher, set up an outreach program at Annapolis St. George and St. Andrew United Church called "The Paperwork Project". They offer services to people looking for help with applications for Social Assistance and the Guaranteed Income Supplement. She also set up free tax clinics at the church during the income tax season which include approx. 60 to 70 clients. Janet worked with the "Green Churches Network" and she fundraises for the annual $ 100.00 membership and works to deliver on unique environmental projects. As a participating member of her "Church in Action" or "CIA" committee they created a survey about environmental concerns. Janet and others have teamed up with other environmental groups which include "Humanity Against Plastic Pollution". She sold over 100 well made, lined, and study bags. The funds have supported bike racks for the town and other projects inside the church. Janet is the congregational secretary which keeps her very busy and she is on two committees at the church. One is working towards achieving the designation of an "Affirming Ministry", a United Church of Canada initiative affirming congregations "publically declare their commitment to inclusion and justice for people of all sexual orientations and gender identities." Her most recent commitment is the church's "Sustainability Working Group" looking at long term sustainable opportunities. Janet thoroughly enjoys her volunteer participation and is a committed volunteer not only for her church but for the greater Annapolis Royal community.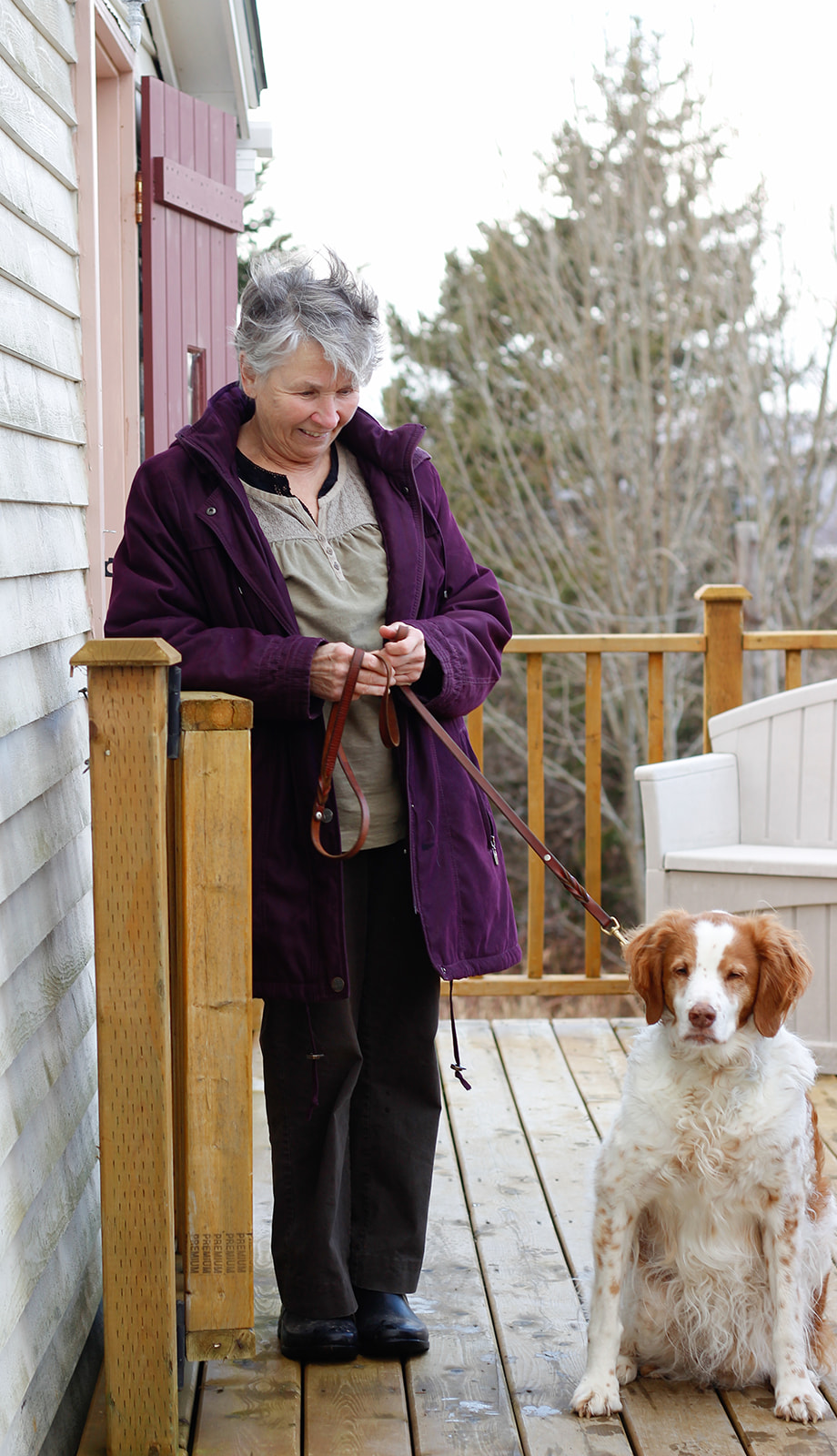 Janet and Barclay
__________________________________________________________________________________________
Sweis Ubels

Annapolis County Recreation Department

Sweis makes a concerted effort to know what is going in his community and to be aware of the needs in it. He has volunteered in every community he has lived in. From volunteer firefighting and working with food banks, to leading a boys club and coaching soccer. Since 2009, he has been working to bring the geocaching community together, organizing events and promoting the hobby. Sweis finds great joy in helping people and growing his community. An avid outdoorsman and soccer fan, Sweis spent some of his favorite down-time during the spring of 2019 helping out with the County of Annapolis Recreation Department's 'Lighthouse Geocaching Series', as well as coaching the U-7 soccer team in Middleton. Sweis always finds meeting new people the best part of any venture he partakes in. He greatly appreciated and respected those he worked closely with in the Recreation Department, as well as his assistant coaches on the field.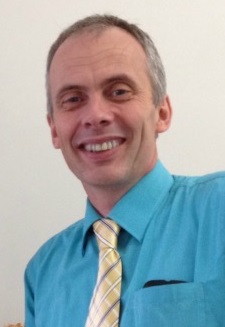 _________________________________________________________________________________________


Peter Whiteley

Annapolis County Recreation


Peter starting volunteering in Annapolis County shortly after moving here in 2013. He was approached about becoming involved with the Order of Good Cheer. One year later, he became the secretary, he has been the treasurer, and is now currently the Vice President of this organization. Peter is currently volunteering with several organizations including the Lions Club, the Royal Canadian Legion, The Bridgetown Triathlon Committee, the Bridgetown Ciderfest Committee, and helps with the local food bank. With all of his volunteer work, Peter is always willing to help and not afraid to put his best foot forward. He has always liked to help people and finds it hard to say no when asked to help someone with a community event. In addition to his work with committees, he always lends a hand and has hauled the Bridgetown float in several parades and driven the Santa Bus for the annual Holiday event in Bridgetown. Overall, Peter's volunteer career has spanned many years. He is now the Race Director for the Triathlon Committee, and is currently on the Ciderfest Committee where he organizes the car show. He also serves on the Board of Directors for the food bank, and is the buyer of groceries of the Lions Club Breakfast. Peter has a positive impact on every organization he belongs too. The community of Bridgetown would not be the same without his efforts, dedication and hard work.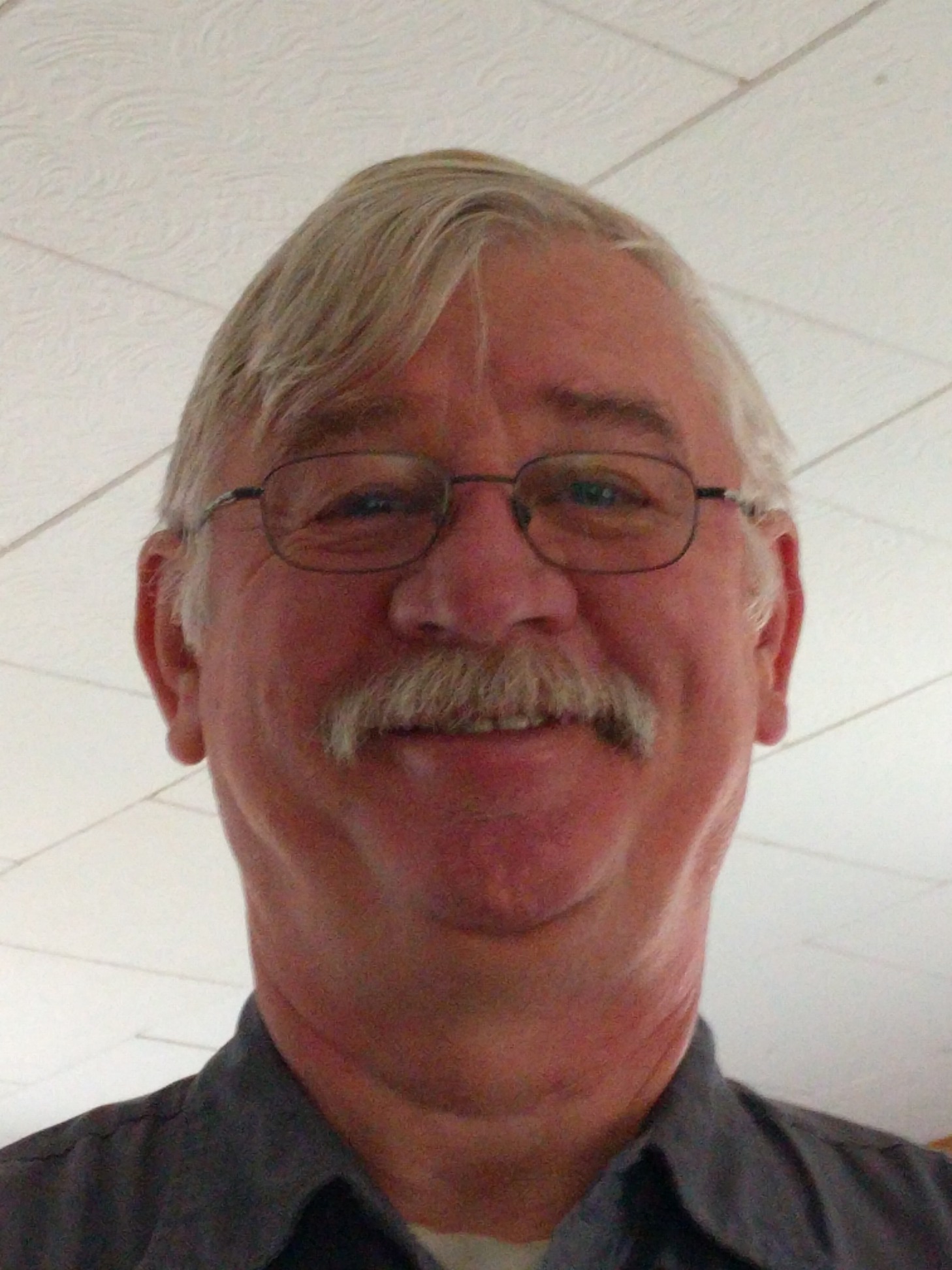 ______________________________________________________________________________________________________
Joyce Wilson

Clementsport Legion
Joyce is a Canadian Armed Forces veteran who has been a member of the Clementsport Legion for many decades. Her positive influence on branch structure, organization and operations cannot be over-stressed. Joyce is a person of few words but also of efficient and sustained action when needed. Her work as a member, and president, of the branch Ladies Auxiliary has ensured a sound and inclusive approach to branch-wide activities. Joyce's hard work has contributed greatly to such events as the Annual Remembrance Day breakfast held for all students and staff at Clark Rutherford Memorial School. In addition, she is a stalwart participant in planning and conducting the Halloween and Christmas parties held each year that welcome folks from far and wide. Her skills with a telephone have been honed by many years of contacting members and reminding them of how much their attendance at functions would be appreciated. In the past few years, she has assumed leadership of the "bottle collection and redemption" committee. This task illustrates the details of day-to-day Legion support activities. By serving as the collection point and carrying out the redemption for the permanent year-round bottle drive, she has facilitates the raising of hundreds of dollars each year that support the myriad of branch activities.




_____________________________________________________________________________________________________
ProvincialRepresentatives:

Allen Cress

Annapolis Royal Volunteer Fire Department

TOWN OF ANNAPOLIS ROYAL'S PROVINCIAL REPRESENTATIVE

Allen has dedicated over 25 years to youth, community, and family; all for the simple accolades of a thank you. He started volunteering in 1993 with Annapolis County Ground Search & Rescue. As a strong community-minded person he also supports and continues to volunteer for his local community Recreation Commission. Hours of his time have been spent on the maintenance and upkeep of Bishop Park and for some time Allen coached the local softball league. Allen also spent approximately four years of his time volunteering in an amazing program that provided youth the courage to explore their Head, Heart, Health & Hands - 4H. Providing guidance in animal husbandry and many other aspects of their 4H motto, all three of his children relished in this guidance. Allen is also a Level One Trained Fire Fighter (2013) at the Annapolis Royal Volunteer Fire Department for the last 11 years. Being on call 24 hours a day, 7 days a week, is no easy task but he willingly stops everything and comes to a stranger's needs. Allen took an extensive Pumper Operators Course which is crucial to aiding his fellow firefighters when fire fighting. Not only is he on call 24/7 but also attends weekly training sessions, monthly meeting, and volunteers for an amazing community event such as Natal Day. When asked to describe Allen and his foundations of who he is as a person I use the words humble, giving & kind which is what every selfless volunteer represents. Allen attributes his love of volunteering to being raised from an early age to help others whether it was in his community, county or wherever he was needed. Allen feels that these things he offers are about giving back. At any given time you can find his smiling face greeting you whether it is shopping at the local grocery store or in the middle of the night heading to a fire call. Allen is the epitome of what Volunteer means.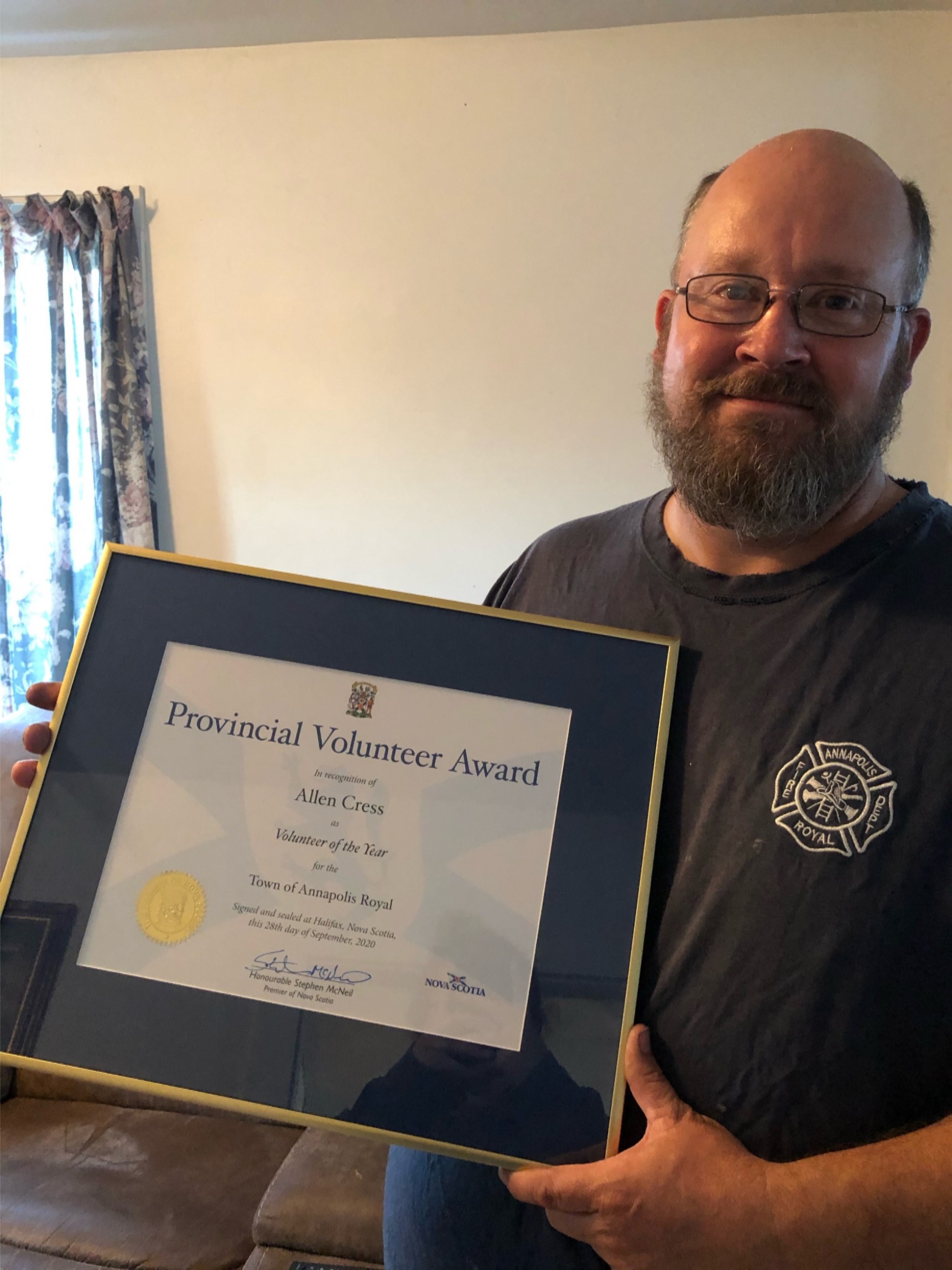 ________________________________________________________________________________________

Tina Uhlman

Middleton and Area Soccer Club

TOWN OF MIDDLETON'S PROVINCIAL VOLUNTEER REPRESENTATIVE

Tina has been a Beaver leader in the Wilmot Scouting unit for 20 years, and involved in Guiding for 30 years; 20 of those years as a leader in Guiding in Wilmot (Sparks, Brownies, Guides, Pathfinders and Rangers). She organizes weekly meetings, outings and camps for both groups as a leader. Tina has been involved in volunteering with Relay for Life 10+ years. She has volunteered in various roles for many years before taking on more of an leadership/organizational role in recent years. She has been involved with coaching soccer for many years and, in the past 4 years, has taken on an executive position recruiting and organizing volunteer coaches (not and easy role). She ensures everyone stays on their toes with posting information on our soccer website, equipment purchasing and organization, and many other tasks that make a volunteer organization run smoothly. She is always willing and able to help. For the upcoming year, Tina has stepped it up and will be the new incoming President for Middleton and Area Soccer Club. Working full time and having a busy family hasn't stopped her from volunteering in the community. She is a hard working, dedicated volunteer and if she agrees to do something you know it will be done and done well. The Club feels very fortunate to have someone of her caliber volunteer with their organization.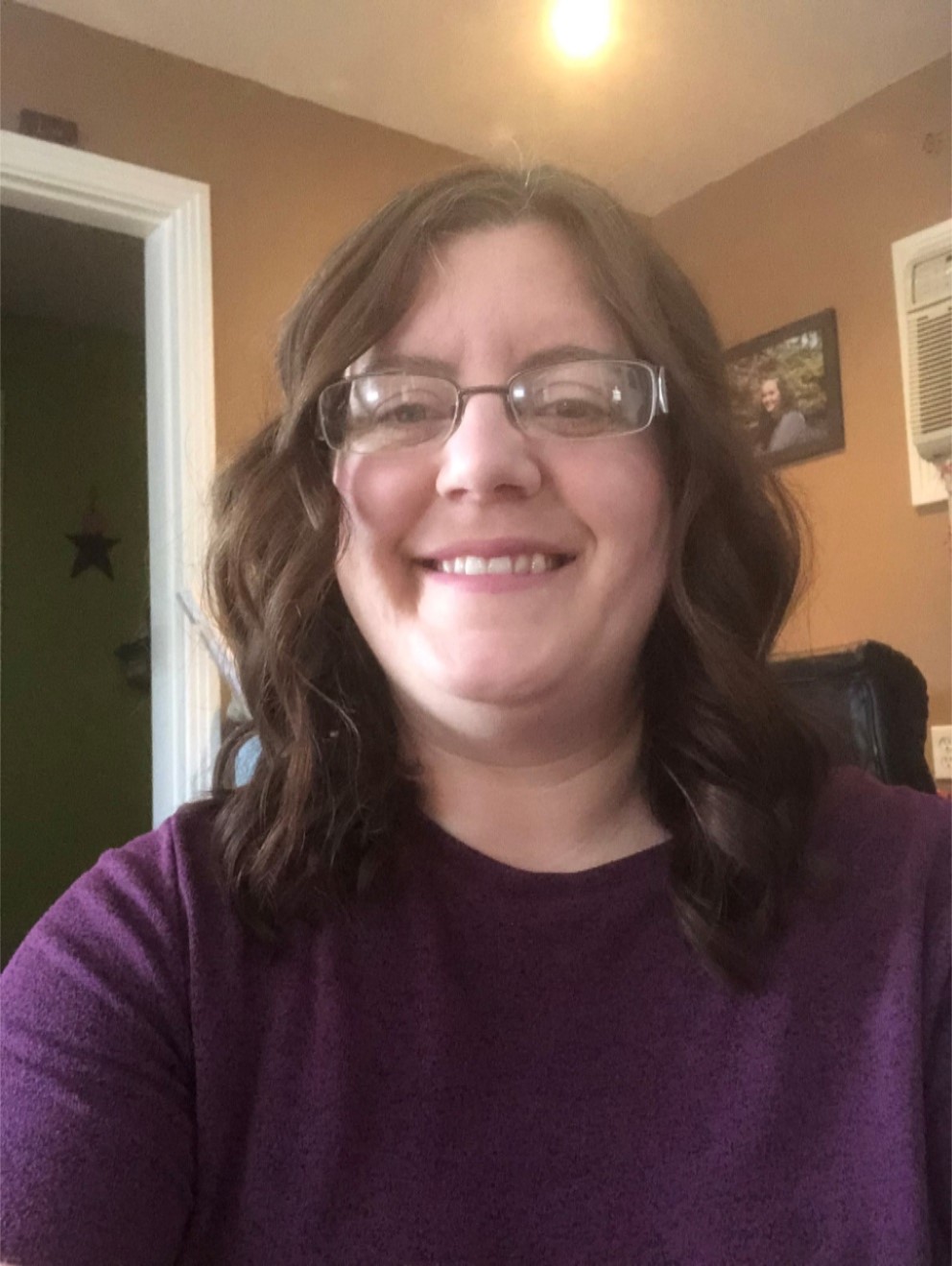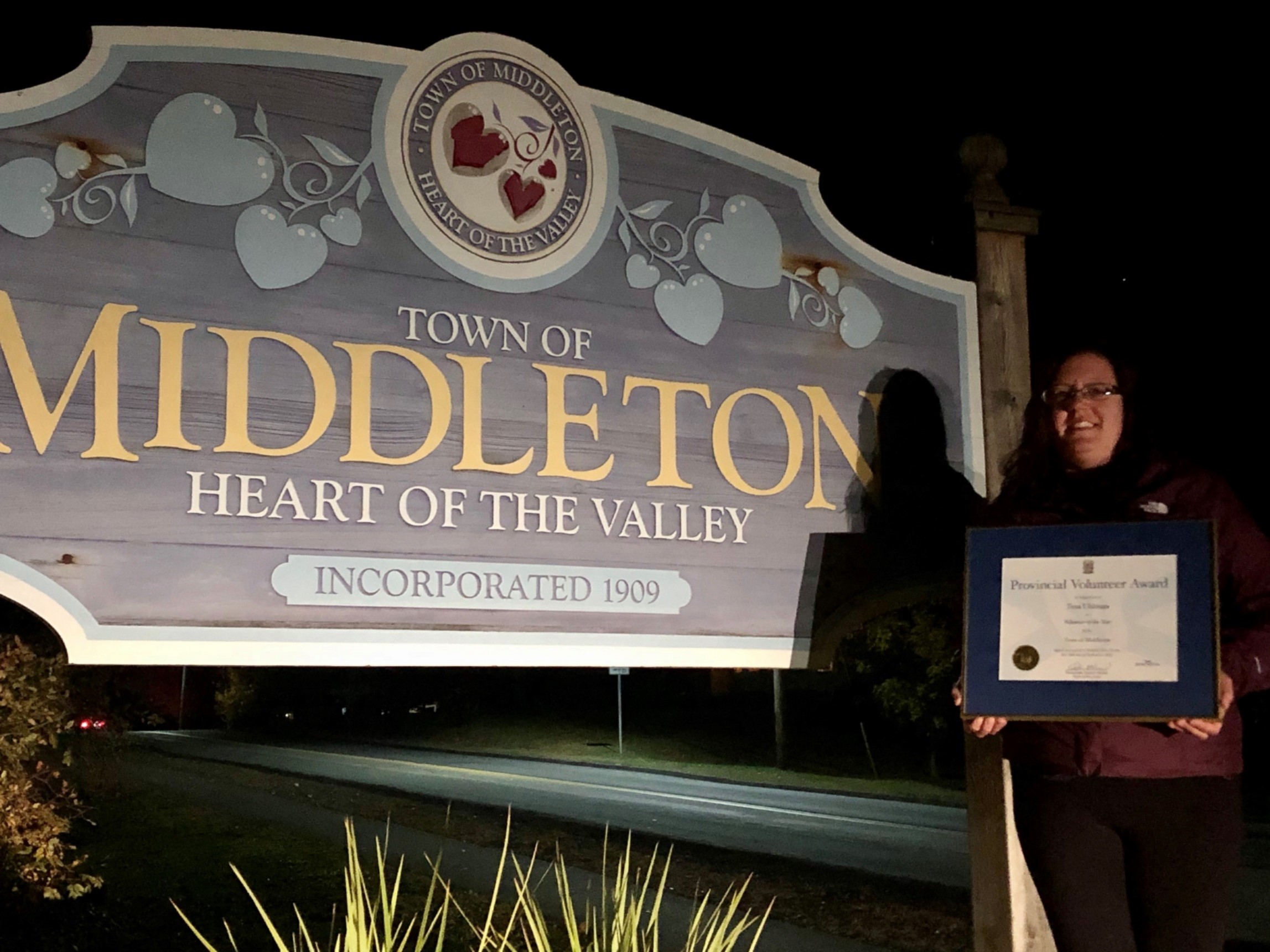 _________________________________________________________________________________________


Nancy Price

Individual nomination by Debra Ryan

ANNAPOLIS COUNTY PROVINCIAL VOLUNTEER REPRESENTATIVE

Nancy Price has been a volunteer in Bridgetown and area for over 40 years and she is still going strong. Her volunteer career is extensive. She and a team of volunteers had the James House Museum designated. They got the house donated, hosted lunches and started the afternoon teas that provided the fundraising opportunity for the museum. Nancy initiated the Soldiers Memorial Hospital's (SMH) Fitness Project, forming a committee that secured funding to purchase exercise equipment. This was a huge accomplishment for SMH as the district approved $10,000.00 in funding. When the community felt there needed to be a new school built in the Bridgetown area she agreed to sit on the Steering Committee. That process started in 2006 and ended when the new school was built in 2017. She jumped in to ensure there was a playground on site and chaired the Bridgetown School Playground Committee which raised over $180,000 for playground equipment. She worked with the committee looking at designs, recommending solutions to the school board and to influence the project the best they could. She spent hours writing grant application after grant application, and approaching businesses to donate for the project. Nancy was one of the first people to say "yes" to sitting on an Advisory Committee looking at a new track for the Bridgetown area. She dedicated enormous amounts of time working with the Steering Committee giving input and providing advice throughout the last four years never missing a meeting. Nancy is no stranger to track as she has coached hurtles for the past 15, she was a figure skating coach, and a driver at the school for sport events. She cheers on the youth at various sporting events which she continues to do to this day. Nancy has helped the garden club each season with their beautification of the community, and has served many years on the B.A.S.H. Committees to welcome back former graduates of the Bridgetown high school. In 2016, she chaired a Christmas Streetscape Decorating committee to decorate and light up the downtown including the municipal office. She involved local artists who came up with a plan and she explored funding solutions to make it a reality. That year Bridgetown was featured in the local newspaper as a result of the decorations. It took a lot of work by a lot of people. She lobbied to get new LED lights on the Bridgetown bridge so that it could be part of the holiday season. That was four years ago and they are still engaged in decorating the downtown. In 2019, she agreed to chair a subcommittee of the Bridgetown and Area Chamber of Commerce to coordinate a plan to create a Bridgetown Streetscape and Beautification Plan. They created a design plan for beautification of the old Irving parking space next to the former Town Hall, and worked in cooperation with the County to write grant applications. Over the years, Nancy's nursing career has inspired her to promote fitness and active lifestyles too numerous to mention. This lady is humble, community driven and an inspiration to anyone that knows and works with her. Nancy does not back down from big projects and her gentle and caring attitude inspires others. She believes if there is something missing in a community, you have to go out and make it happen.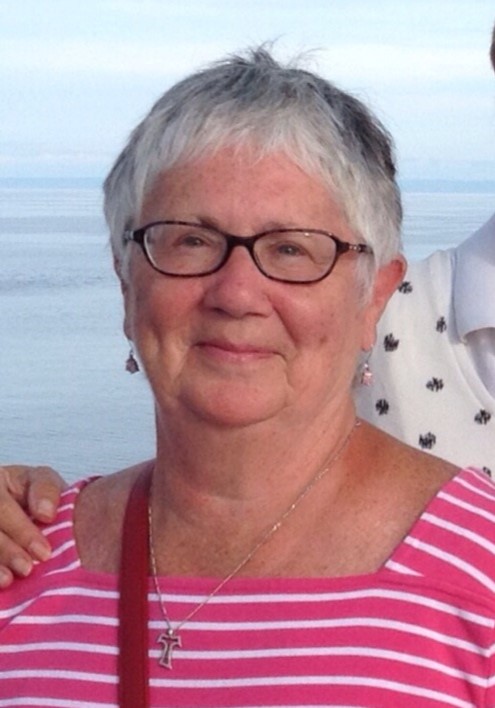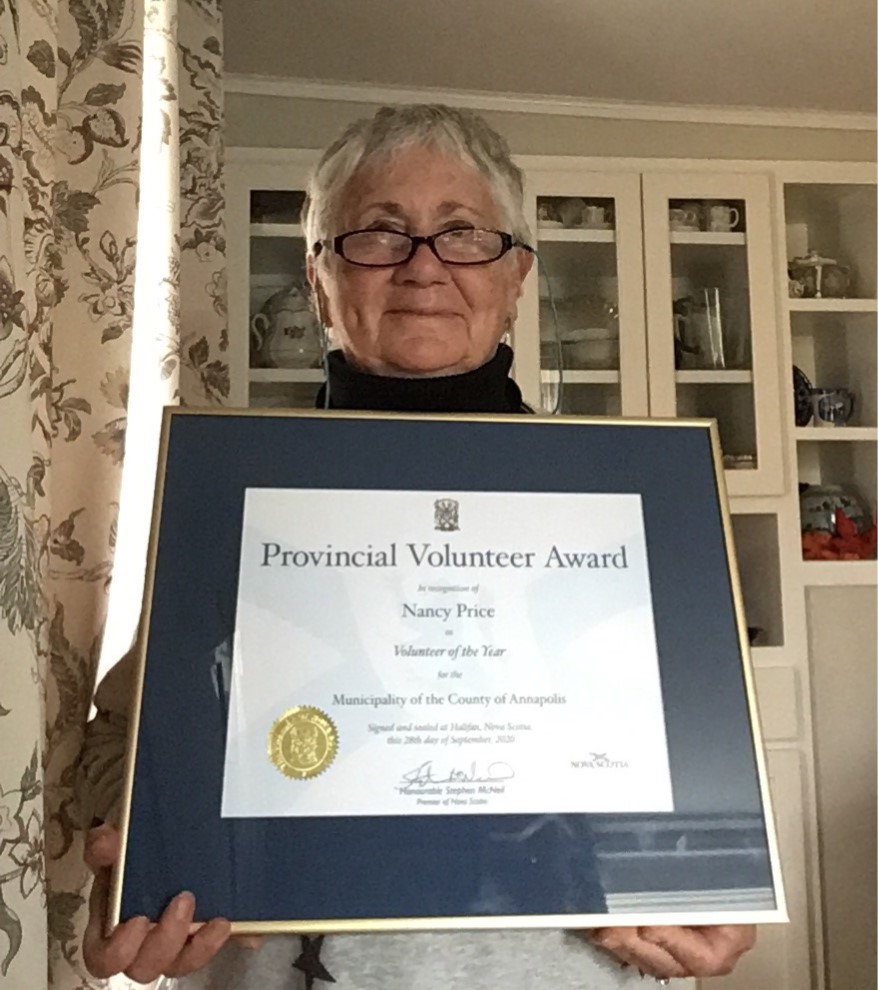 ___________________________________________________________________________________